Jun 5, 2008

From my new article at AssociatedContent.com:


In the past, business could rely on methods, rules, and practices that they have used and improved upon since the early days of the industrial revolution. Now, all the rules have suddenly changed.

Every year brings new internet advances and technologies, and every year businesses must decide which of these technologies will bring the most benefit to their business.

Unfortunately, these decisions are often being made using pre-internet business processes and rules, where people with little or no ownership of or interest in the website are required to make crucial decisions about it. For example, this can be seen in the vast number of businesses who seem to have websites simply because their main competitor has a website.

Read Article (Offsite Link)

Photo ©iStockphoto.com/onurdongel

Imported from external blog
May 30, 2008

Check out my new article on my dog's experience with Rimadyl (Carprofen) at AssociatedContent.com:



According to rimadyl.com, Rimadyl (Carprofen) "is a 24-hour, non-steroidal anti-inflammatory drug (NSIAD)..." that provides "...relief of pain and inflammation due to canine arthritis, orthopedic and soft tissue surgery.

Like most human medications, drugs designed for dogs can have side effects ranging in severity from mild to dangerous or even fatal. Rimadyl is no exception.


Read Article (Offsite Link)

Imported from external blog
May 21, 2008

From my new article at AssociatedContent.com:


Amazon Mechanical Turk is a great website for making money in your spare time. However, not many people know that Mechanical Turk makes it easy and fun to cheaply promote your website or blog content. Even better, you can use it to promote your articles, videos, and other content published here at Associated Content, provided you are careful not to violate AC's Terms of Use.

According to Amazon.com, Mechanical Turk allows you to "Ask workers to complete HITs - 'Human Intelligence Tasks'..." or tasks that require human logic to complete instead of computer input. For example, you just published a video tutorial here at Associated Content. You want to promote your video, so you create a HIT on Mechanical Turk that asks workers to write an honest review of your video, and post their review and a link to your video on their blog or website.


Read Article (Offsite Link)

Photo © iStockphoto.com/apeiropa

Imported from external blog
May 12, 2008
I recently read an article in which a famous person stated "Family is Everything". I thought about that for a while, and I don't agree. What I believe is this: "Family is wierd."

Now, I have nothing against my family, or families in general. I just find it strange and interesting that if I take a thoughtful look at my close and extended family members, I find that the majority of them are people that I would not choose to hang out with as friends because of age difference, different interests, etc. Yet somehow, when we get together, we have a great time.

Anyway, Happy Mother's Day! (Yes, I know it was yesterday. I'm congenitally late. Runs in the family.
)

Imported from external blog
May 11, 2008
In honor of my cousin's high school graduation and moving on up to college (Proud of you, girl!), here is a true story of my college life as a work-study student.

While I was doing my undergrad work I got a work-study job in my university's media center/secondary computer lab. The lab was shared by the college of education and the college of nursing, but was in a wing of the college of nursing (Yes, this will be important). Lab assistants were expected to troubleshoot the computers, copy machines, take media equipment, etc., to and from classrooms, as well as oversee the supplies such as construction paper and rubber cement that were available for student's use. On Saturdays, there was only one lab assistant on duty -usually me... which was fine until the day the lab caught fire.

It was a typical Saturday, and I was in the back room (again) trying to find a video that a student needed to watch, when I heard shrieking and a girl ran in and screamed, "It's on FIRE!" I dashed into the lab to find a small crowd of students standing and staring at copious amounts of blue smoke pouring from the back of one of the copiers. I calmly shouldered my way through the crowd, unplugged the machine, and pulled it off the carpeting into the tiled hallway. The entire upper back of the copier was melted and the innards exposed, but there weren't any flames, so I just left the thing in the hall. After I had assured everyone that there was no need to call 911 and opened all the windows and doors to get rid of the fumes of melted plastic, I called (as per emergency instructions) my boss at home as well as campus security (in case the smoke alarms went off) to tell them there had been a copier meltdown, but not to worry as it was all under control.

About two weeks later as I was coming in to work, I saw the dean of the college of nursing stalking out of my boss' office in a high dudgeon. I hid out and waited till the dean had gone (complete with slamming door), and then stuck my head in my boss' door. She was red-faced and shaking, and asked me quietly, "Is she gone?" When I said yes, she fell into her chair and howled with laughter.

When my boss recovered, she told me that the dean had barged into her office and demanded to know "Why was I not informed" that there had been a fire in the lab. The kicker is that the dean had sign signed off on the requisition for the replacement copier the week before, which had been carefully typed by ME with a full explanation of why said replacement was needed.

I worked in the lab for another year or so up until I graduated, and fortunately, there were no more fires. A couple of people accidentally cutting their fingertips off with Exacto knives, yes, but fires, no.

Imported from external blog
May 10, 2008
Check out this very funny, thought provoking article at Associated Content written by my friend Mike.

Anymore, it feels like hardliners have taken over both major parties in America. Why should moderates support either of them? ... Especially around election time, I get endless calls about how this election is "the most important in our history". Aw, they ALL are! They're all about how they'll take away our guns, spy on you at home, destroy the planet, involve us in war, cause a recession, bring back the Jim Crow era, throw God out of America, murder babies and old people, and hell know's what else THIS year! They need my vote. They need my money, and if they don't get it, they cannot be elected and America is doomed. And it will be ALL MY FAULT, because I'm selfish and greedy (maybe I'm poor and I just don't care)!

Read Article (Offsite Link)

Imported from external blog
May 6, 2008

From the Ivy league on down to the local junior college, there seems to be an unlimited number of colleges and universities offering online degree programs. But how do you cut through the marketing hype and decide whether an online degree program is right for you?

I received my graduate degree from Regis University after taking all but four of my degree classes online. In my experience as an online student and from watching other students, I have come to the conclusion that certain types of people are more likely to succeed in online learning than others. Here are a few important questions you need to honestly ask yourself before settling on an online degree program:

1) Are you a self-starter?
If you are given a deadline for an assignment, do you work on it steadily until it is finished, or do you wait to get started until the weekend (or night) before it is due? In most cases, due to the heavier work loads in online degree programs, students who habitually procrastinate will have a very difficult time getting decent grades in online classes.

2) Do you know how to budget your time?
Will you make the time you need to do things right or do you need to be constantly reminded and badgered about project deadlines? Online classes may or may not have a set meeting time to keep you up-to-date and remind you when assignments and projects are due. Some classes are email only, while others meet in a chat session weekly or biweekly. Being able to set time aside at least 4-5 days a week for classwork is a crucial skill for students in online degree programs.

3) Do you like to read and learn on your own?
In a classroom setting, you can sit in the back and doodle or surf the net with only half your brain engaged in listening to the lecture. In an online class, effective learning often requires massive amounts of reading to make up for the lack of face-to-face class time. I believe in the course of my online degree program, I averaged between 100-150 pages of reading a week, not including research for papers and assignments. Of course, undergraduate programs would likely require far less reading than this.

4) Are your written communication skills fairly good?
In addition to reading assignments, most online classes require weekly written assignments to be completed in addition to one or more term papers. If you struggle with writing essays and reports, you will have a more difficult time keeping up with assignments in online classes. Furthermore, many online degree programs, undergraduate as well as graduate, culminate with a written thesis.

5) Are you willing to wait hours or days for help with lessons?
In a traditional classroom setting, you can simply ask a question to get help when you don't understand something. In an online education setting, most communications will be by email, and getting answers can be a hassle when dealing with a very busy professor.

If you answered Yes to all of the above questions, you will very likely find an online degree program to be a good fit for your needs. If you couldn't honestly answer Yes to all the questions, but feel you could learn to do these things, take an online class and see how it works out. You might just surprise yourself at what you are capable of.

On the other hand, even if you have all these traits, if you are the sort of person who thrives on inter-personal relationships, who finds meeting people and interacting with them face-to-face to be especially intellectually stimulating, you will probably be less happy in an online degree program. Taking a few online classes shouldn't be a problem, but you will most likely be more comfortable and get more satisfaction out of learning in a traditional classroom setting.

To summarize, the most successful online learner will be someone who is a self-starter, is a responsible steward of their time, is a decent writer, and is comfortable reading, learning, and working on their own. If you have all of these traits, you could be very successful in an online degree program.

Photo "Girl in Red with Laptop" ©iStockphoto.com/danwilton

Note: This article is &copy Noisy Duck and may also be found at AssociatedContent.com.

Imported from external blog
May 2, 2008

Check out my new article for AssociatedContent.com about my personal experience with Cymbalta side effects.
"When I was diagnosed with depression and anxiety, my doctor prescribed Cymbalta (Duloxetine). Like most medications, Cymbalta can have side effects that range in severity from mildly annoying to very dangerous and even fatal."
Read Article (Offsite Link)

Imported from external blog
May 2, 2008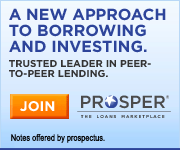 I have discovered a really interesting new idea: social lending. Prosper.com is a website that allows its users to borrow from and loan money to other Prosper.com users. In other words, the social group is the lender.

This idea flies in the face of traditional money lending, where a faceless corporation loans money to faceless borrowers who can jump through the right hoops. In contrast, with social lending the lender is really funding a person and not a loan. This is an important distinction, because it puts a face on both the lender and the borrower. Lenders can choose the person(s) they believe are trustworthy and will pay them back, and borrowers are more likely to pay up because they are happy that one or more total strangers believed in them enough to loan them money.

Borrowers set the amount between $1,000 and $25,000 that they want to borrow, and can set the maximum interest rate they are willing to pay (within reason). All loans are three year loans, but there is no pre-payment penalty.

Multiple lenders can bid $50 or more toward the total loan amount requested by a borrower, and each lender receives their share of the monthly payment (and interest!) based on the amount loaned and the interest rate.

The loans are serviced by Prosper.com, and they take care of everything, including divvying payments, charging late fees, and and forwarding the loan collections agencys in a worse case scenario.

Lenders can choose the risk level they are willing to tolerate by vetting potential borrower's credit scores and debt to income ratios, and spreading small loans among multiple borrowers.

Overall, I think this idea bears watching, and I plan to do some lending myself. I can't think of a better way to make money than by helping others.

To join the social lending site Prosper.com: Join Now! (Offsite Link)

Imported from external blog
Apr 25, 2008
My new article on AssociatedContent.com tells you how I REALLY feel:

"Most candidates seem to spend more time trashing their opponents, back-pedaling, and defending themselves than they do talking about important issues."
Read Article (Offsite Link)

Imported from external blog
| | |
| --- | --- |
| | Content and comments expressed here are the opinions of Care2 users and not necessarily that of Care2.com or its affiliates. |
SHARES FROM HEATHER'S NETWORK