Feb 18, 2007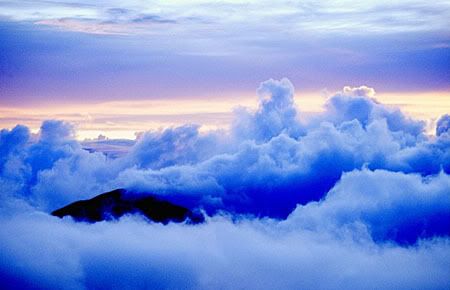 When a person hasn't got a cent and is feeling kind of blue,
And the clouds hang thick and dark
and won't let the sunshine through,


It's a great thing, Oh my brethren,
For a person just to lay,
His hand upon your shoulder
in a friendly sort of way...


It makes the tear drops start.
And you kind of feel a flutter in the region of your heart.

You can't look up and meet the eye,
You don't know what to say
when a hand is on your shoulder
in a friendly sort of way...


Oh this world's a curious compound
with it's honey and it's gall;
It's cares and bitter crosses,
But a good world after all.

And a good God must have made it,
Leastwise that is what I say,
When a hand is on your shoulder
in a friendly sort of way....


Written by: B.J.Morbitzer 2002

comments
(2) |
discussion
() |
permalink
|
send green star
|
flag as inappropriate
Visibility: Everyone
Tags:
Posted: Feb 18, 2007 4:08pm
Oct 14, 2006
| | |
| --- | --- |
| Focus: | Animal Welfare |
| Action Request: | Donation |
| Location: | United Kingdom |
We need your help to 'make a difference for dogs'.
How to donate

There are lots of ways to make a donation to the Kennel Club Charitable Trust. By giving just £5 a month (or whatever you can spare) to the Kennel Club Charitable Trust you will help 'make a difference for dogs'.


Postal Donations
If you don't want to donate online, you can send in a cheque donation (made payable to The Kennel Club Charitable Trust) by post to: The Kennel Club Charitable Trust, 1-5 Clarges Street, Piccadilly, London W1J 8AB.


Direct Debit or Standing Order Donations
Why not set up a direct debit or standing order? A regular direct debit or standing order will help us manage donations to the many worthwhile charities we support. Just download the direct debit or standing order form, fill it out and send it to us.

Direct Debit Form (PDF)
Standing Order Form (PDF)

Gift Aid
Gift Aid enables the Trust to make the very most of the donations we receive. For every £1 donated under the scheme, we can reclaim an extra 28p from the Inland Revenue - at no extra cost to the donor, but to the great benefit of the animals that rely on our life-saving work.


As a result of changes to the Gift Aid scheme in March 2000, charities can now reclaim the tax on any donations made after 6 April 2000. All the donor has to do is complete a Gift Aid declaration, confirming that he or she is a UK taxpayer and wishes the charity to reclaim the tax. It is not necessary to sign a new declaration for each donation - it remains effective until the donor ceases to be a UK taxpayer.

Gift Aid form (PDF)

Legacy
The Kennel Club Charitable Trust is grateful for every gift of every kind and size. A Legacy is a special Gift. A Legacy will help us to respond to any urgent call for help. Your Legacy will ensure that your love for dogs lives on beyond your lifetime, in the most practical way.

Aug 23, 2006
| | |
| --- | --- |
| Focus: | Animal Welfare |
| Action Request: | Petition |
| Location: | United Kingdom |
New Petition -

"Help put an end to British Horse Slaughter!"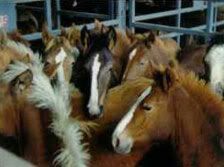 EVERY FOUR MINUTES OF A WORKING WEEK A HORSE, FOAL OR MARE IS BRUTALLY AND UN-NECESSARILY SLAUGHTERED IN THE UK.

Help put an end to British Horse Slaughter!"
Please Sign -
http://www.thepetitionsite.com/takeaction/612169753
Jun 14, 2006
| | |
| --- | --- |
| Type: | Tribute (for the living) |
| To Honor: | Individual(s) |
| Location: | London, United Kingdom |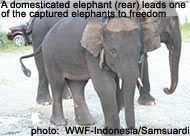 Good news!

Eight of 10 endangered Sumatran elephants that had been captured by government translocation teams were recently released into Tesso Nilo National Park, seven weeks after they were found chained to trees without food or water in central Riau, Indonesia. However, a firm commitment to secure their habitat is still needed.



WWF Activists Spoke Out




Nearly 38,000 people from around the world signed a WWF petition urging the Indonesian government to end all logging, encroachment, and conversion of elephant forests in Riau, and asking the government to expand Tesso Nilo National Park. Thank you!






The Elephants' Saga




Local forestry officials had captured the elephants after they had damaged crops and homes near Libo Forest. WWF, which provided daily care and medical treatment for the elephants after their discovery, accompanied the authorities as they released the elephants to ensure that the release was done safely.






Of the 10 elephants found on March 21, en eight-year-old male died of an acute infection and a pregnant female escaped after four weeks.

The remaining eight were released into Tesso Nilo National Park in good health after intensive medical care provided by WWF, but in late May WWF learned that one of the females that had been treated for tetanus died not far from where she had been released.






Implementation Needed Soon for Tesso Nilo Expansion




WWF is concerned that Tesso Nilo is not a suitable release site as it is too small to provide habitat for more elephants. WWF fears that the release of the elephants into the park without an expansion and a plan to stop encroachment will simply shift the human-elephant conflict to other villages near Tesso Nilo.






Fortunately, good news came at the end of May when the Indonesian Ministry of Forestry and the government of Riau Province publicly committed to expand Tesso Nilo from 94,000 acres to 247,000 acres, as WWF activists had urged.

This will provide much larger habitat for the elephants and help ensure that future conflicts with humans can be reduced. WWF urges the governments to officially decree and begin implementing the park expansion as soon as possible.




WWF applauds the quick action of the Indonesian authorities in showing a strong commitment to protect remaining elephant habitats in Riau and also prosecuting those who have killed elephants or destroyed elephant habitats.

Recent police seizures of ivory in Medan, North Sumatra, are a good indication of this commitment. However, we are still calling on the Indonesian government to adopt and enforce legitimate human-elephant policy and protocol from here on out.






Thank you to everyone who took action. With your help, we are making a real difference.



comments
(1) |
discussion
() |
permalink
|
send green star
|
flag as inappropriate
Jun 4, 2006
| | |
| --- | --- |
| Focus: | Education |
| Action Request: | Petition |
| Location: | Texas, United States |
MADD's mission is to stop drunk driving, support the victims of this violent crime and prevent underage drinking.

Please read all the way to the bottom.

WENT TO A PARTY

I went to a party,
And remembered what you said.
You told me not to drink, Mum
So I had a sprite instead.

I felt proud of myself,
The way you said I would,
That I didn't drink and drive,
Though some friends said I should.

I made a healthy choice,
And your advice to me was right,
The party finally ended,
And the kids drove out of sight.

I got into my car,
Sure to get home in one piece,
I never knew what was coming, Mum
Something I expected least.

Now I'm lying on the pavement,
And I hear the policeman say,
The kid that caused this wreck was drunk,
Mum, his voice seems far away.

My own blood's all around me,
As I try hard not to cry.
I can hear the paramedic say,
This girl is going to die.

I'm sure the guy had no idea,
While he was flying high,
Because he chose to drink and drive,
Now I would have to die.

So why do people do it,
Mum Knowing that it ruins lives?
And now the pain is cutting me,
Like a hundred stabbing knives.

Someone should have taught him,
That it's wrong to drink and drive.
Maybe if his parents had,
I'd still be alive.

My breath is getting shorter, Mum
i'm getting really scared.
These are my final moments,
And I'm so unprepared.

MADD (Mothers Against Drunk Drivers) NEED TO GET 5,000
SIGNATURES ON THIS, PLEASE SIGN AND PASS ON TO ALL YOUR FRIENDS.

THANK YOU

LOVE AND HUGS

KARENXX


And never forget, DON'T EVER DRINK AND DRIVE, not even once, thinking that it won't matter. IT DEFINITELY WILL MATTER!!!

Visibility:
Everyone
Tags:
madd
Posted:
Jun 4, 2006 1:34pm
| | |
| --- | --- |
| | Content and comments expressed here are the opinions of Care2 users and not necessarily that of Care2.com or its affiliates. |
Author


Karen M.
, 4, 1 child
Ashford Middlesex, United Kingdom

SHARES FROM KAREN'S NETWORK