May 23, 2007
On Frozen Land We Run

What happens to us when we do
what our humans wish us to?

Our bones have been broken
our tendons and muscles torn
We're starved to keep our weight low
and choked in the lines used to tow

If we don't make the cut they kill us
we are culled, even when we're pups
They do it with a shot to the head,
drag us, or club us until we're dead

Many would deem this treatment illegal
because it violates animal cruelty laws
Yet we still end up with bleeding ulcers,
and fur loss, our footpads torn and raw

Many of us spend our life outside, alone
tethered to a short length of metal chain
so short that we must sleep in our own
urine and feces, and do so to our shame

We will get anemia or broken teeth,
get struck with vomiting or diarrhea
Some of us will bleed deep inside
gouged by the sleds the humans ride

Those same humans have skinned us
to make mittens to warm their hands
We fall prey to sprains and viral diseases
while they break our bodies in frozen lands

Some of us get penile frostbite
or ruptured discs in our spines
We get pneumonia, become paralyzed,
suffer from hypothermia--and we've died

Forced to run 1,150 miles over unforgiving land
many will perish, at the mercy of a human's hand
53 percent of us will not cross the line in that final hour
Who's there to speak for us and the lives that were ours?

This race is one of cruelty and of great loss,
one of misery, for many stout-hearted sled dogs!
This popular race that kills, is called the Iditarod...

~*~

Dedicated to all dogs who have suffered for the run of their lives...
And for those who ARE there to speak for the dogs - The Sled Dog Action Coalition
http://www.helpsleddogs.org

Copyright 2007 Kathy Pippig Harris
Mar 23, 2007
For Knut



I'm a Polar Bear cub and our numbers are few
like some of our kind, I was raised in a zoo
I have never been in the wild--I doubt I'd survive
but I've a much better chance here of staying alive.

In the wild we are dwindling, as our land shrinks
many humans are noticing and starting to think
Our habitat is endangered and our food supply low
when our world melts, where then will we go?

So, though you may not think my life here ideal
how about the threat of extinction that's real?
In captivity we are tended by humans who care
out there, the way it's going--how would we fare?

Copyright 2007 Kathy Pippig Harris

``*``*``



Mar 20, 2007
The Raccoon Dog - Tanuki

Domestic dogs and raccoon dogs are killed in brutal ways for their fur in China. The raccoon dog is a wild member of the dog (Canidae) family with markings resembling those of a raccoon. They are known to be skinned alive for their fur in China, where they are caged and killed in large numbers. Clothing with fur trim from Raccoon dogs has shown up in U.S. stores.


The Humane Society of the United States filed a legal petition with the Federal Trade Commission seeking to enforce the Fur Products Labeling Act against 14 major retailers and designers concerning false advertising and false labeling of fur garments.
In response to the investigation, many retailers and designers took positive action to put customers and animals first, but a disappointing number did not.


ACTIONS TAKEN BY RESPONSIBLE DESIGNERS AND RETAILERS
(Some took action beyond what is listed)

Will go fur-free within a year
Calvin Klein
Tommy Hilfiger

Pulled garments and indicated they will not use raccoon dog fur in future
Shawn "Jay-Z" Carter's Rocawear
Sean "Diddy" Combs' Sean Jean

Endorsing H.R. 891, the Dog and Cat Fur Prohibition Enforcement Act
Tommy Hilfiger
Burlington Coat Factory
Loehmann's
House of Dereon

Will stop using raccoon dog fur
DKNY

Informed customers, offered returns
Nordstrom

Recalled garments from retailers
Joie

RETAILERS AND DESIGNERS THAT HAVE NOT TAKEN APPROPRIATE ACTION TO PROTECT CONSUMERS AND ANIMALS
Andrew Marc
Barneys
Bergdorf Goodman
Bluefly
Dillard's
Foot Locker
J.C. Penney
Lord & Taylor
Macy's (Federated Department Stores)
Michael Kors
Neiman Marcus
Baby Phat
Ross
Spiewak


The Raccoon Dog's Plea

We are not from your country, the U S of A
but we have something important we need to say
Much of the clothing you buy bears our fur as trim
for coyotes, wolves, and other dogs, too, it is grim

Some of the labels say the trim is faux fur
but often without testing you cannot be sure
For there on the collar may be our fur and skin
or that of the other Canidae, who are our kin

Our once huge numbers are now being thinned . . .
Did you know many of us are alive when skinned?
We are caged in large numbers--killed in brutal ways.
But if you speak up for us, we will have our say

Will you protect us, unveil the ugly truth for all to see?
Will you help us to have a future where we are free...

Copyright 2007 Kathy Pippig Harris

'*' `*` '*'
TO HELP THE HSUS HELP THE RACCON DOGS ~ CLICK HERE
comments
(1) |
discussion
() |
permalink
|
send green star
|
flag as inappropriate
Mar 20, 2007
For the Seal Babes
Last year over 350,000 of us were put to death
clubbed or shot, hunters forever took away our breath
Close to our mothers, lying there in the snow
we were but babes and we could not know

When first we glimpsed the ships on the ocean cold
we were unafraid, not thinking they'd be so bold
But onto the ice and through our land the men strode
breaching our nursery, and entering our family fold

As they approached we looked on, unable to understand
the expressions on their faces, the weapons in their hands
At first we didn't stir, but then the men toward us ran
it quickly became a slaughter and we were the lambs

This was our first exposure to humans, staffs and guns
as we looked up, they quickly struck us with their clubs
Some of us didn't die from the blows--we were only stunned
our hearts still beating as they skinned us, spilling our blood

Later, the parents or seal babies who managed to survive
moved on the ice and crimson snow, in disbelief, and cried
Grieving for the lost ones whose fur-less bodies lay so still
not knowing if the humans would be back, or if they'd had their fill...

To a future, where "their fill" is gone and past
a pledge to stop the killing, an oath that will last.

Copyright 2007 Kathy Pippig Harris

``***```
TO HELP ~ CLICK ON THE LINKS
HSUS - Seals
Seals - Seal Hunt
Mar 5, 2007
Chains Were Her Prison
I was just a girl, and I had always been told
not to go near the Collie who was tied to a pole
she lived two houses down, this "forgotten" dog
out in the heat, the rain, and the cold, cold fog
I passed her each day when I'd walk to school
and she was always alone, so I broke that rule
like the Lassie on TV, she was beautiful to me
but as I drew nearer, her fear was easy to see
So I held out my hand, allowing her to catch my scent
there was pain in her face, hurting me was not her intent
but when I reached her, uncertainty flashed in her eyes and she bit
As pain blossomed in my palm, my knees buckled and I had to sit
From up against the garage wall I shakily slid to the dirt
cradling my hand I shook my head, crying freely at the hurt
not from her bite to my palm, but the pain that etched her face
when I had looked up at her and she slowly met my gaze
Her expression said,

I'm sorry! Perhaps in a another time and place
We might have been friends, or even family... and seen love in each others face
I can only dream of the prospects a different life may have yielded?
Like running side-by-side, on a summer's eve, in a lush green-carpeted field
But, none of those things were meant for her
She was a prisoner there, that was plain to see
A chain 'round her neck, and dust in her once pretty fur
So I turned and ran home, all the while wishing
that I could have set the "forgotten" girl free...
Copyright 2007 Kathy Pippig Harris


Mar 5, 2007
There's No Longer An Agreement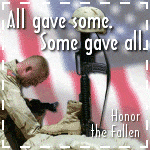 There's no agreement I can find
not in my heart nor in my mind
during the silence, at night, on TV
It is so painful--it hurts to see
lives in pictures and printed words
honored in memory; in silence heard

Men and women, our country's youth
fighting for freedom; living the truth
Coming back to be laid in the grave
in native soil, the Land of the Brave

Leaving home, they're hopeful and whole
but return with torn bodies and bruised souls
Lacking is the assistance they desperately need
Is that how our country honors their deed?

Before it was easier, and I used to say
We should be there--It's the American way
I back my government, I support the troops
And I did so with belief in the wavering proof

When doubt would question my political bent
my heart would say, "There's a reason they went."
When my mind said, "Our servicemen shouldn't be there."
My spirit urged me, "Our freedom is something we share."

So, as long as my heart could convince my head
I'd go along, listening to the lists of the injured and dead
I was a faithful citizen--volunteering and doing my part
Moving forward while ignoring my damaged heart

But my spirit started questioning what my mind was saying
and I began to feel my beliefs stretching and fraying
So I turned to God, asking for strength and direction
and with His help, my mind and heart made a selection

My heart and my mind, one with the other, would agree
I'd love to see them all here, safe, well, and with their family
The hurry-it-up part of me wants them back home right now
Could not the government do that quickly, ASAP, somehow?

You see, there's no agreement I can find
not in my spirit, my heart, nor in my mind
I can no longer condone our presence over there
What's happening to our youth does not seem fair

The young people of this country are our future
It is difficult enough starting off well and strong
But if they are killed or gravely injured it's wrong
For any good we are doing, this journey's too long

Our American people seem to agree with the thought
that our young men and women have rallied and fought
Perhaps some would join me with the great need to yell...
I want them home, I want them happy. I want them well!

There is no longer an agreement I can find
not in my heart, nor in my soul, nor in my mind...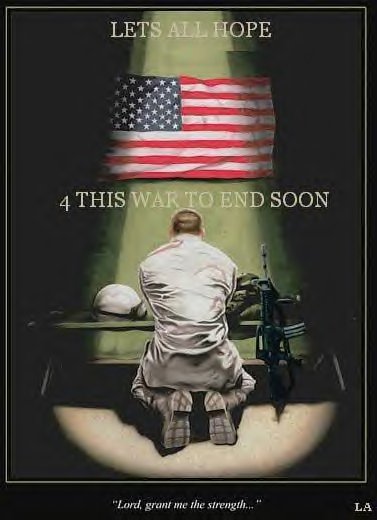 Copyright 2007 Kathy Pippig Harris


| | |
| --- | --- |
| | Content and comments expressed here are the opinions of Care2 users and not necessarily that of Care2.com or its affiliates. |
SHARES FROM ANGUS'S NETWORK