Mar 23, 2010
The Worst Case Scenario* Prof. Paul Eidelberg On March 19, the day after this report was nearing completion, Caroline Glick, The Jerusalem Post's brilliant political analyst, published an article entitled "Obama's war on Israel." My present report goes a bit further. No reflection on her perspicacity. I just want to pursue the logic of Obama to its ultimate logical conclusion, even if he is a fraud or an Alice in Wonderland, as some believe. In deference to Glick, however, who takes Obama seriously—as one should—I will begin by quoting a salient aspect of her timely article. She writes: On [March 12], Obama ordered his Secretary of State Hillary Clinton to present Netanyahu with a four-part ultimatum. First, Israel must cancel the approval of the housing units in Ramat Shlomo. Second, Israel must prohibit all construction for Jews in Jerusalem neighborhoods built since 1967. Third, Israel must make a gesture to the Palestinians to show them we want peace. Fourth, Israel must agree to negotiate all substantive issues, including the partition of Jerusalem (including the Jewish neighborhoods constructed since 1967 that are now home to more than half a million Israelis) and the immigration of millions of hostile foreign Arabs to Israel under the rubric of the so-called "right of return" … Only an idiot would fail to see in this ultimatum that Obama, like Mahmoud Ahmadinejad, wants to "wipe Israel off the map." Seeing this, the Arabs have no need to engage in negotiations, which suggests to me that Obama is tacitly inviting them to eliminate Israel by war! Ponder this: Obama ordered a consignment of Joint Direct Attack Munitions already on its way to Israel to be diverted to the US Air Force base on the Indian Ocean island of Diego Garcia. Nor is this all. At the outset of his presidential campaign, I wrote that Obama's slogan of CHANGE really meant "Regime Change." A few months after the election, former US ambassador to the UN John Bolton reported that Obama is the first post-American president of the United States. Accordingly, Obama's policy of distancing America from Israel and drawing the US closer to the Muslim world is a logical, political, and metaphysical consequence of his anti-American mentality. Even if Obama lives in fairyland, the stakes are too high to use ordinary criticism when speaking of such a president—holder of the most powerful office in the world. Obama's anti-America and anti-Israel objectives are evident not only in his political statements and policies, but also in the attitude of some of his political appointments and advisers—court Jews as well as non-Jews. Among the latter, suffice to mention former President Jimmy Carter's National Security Adviser Zbigniew Brzezinski, a crypto-Marxist. To this anti-Semite add Obama's appointment of Samantha Power to the National Security Council, who proposed a US invasion of Israel on behalf of the Palestinians. Now ponder Obama's disparagement of the American Declaration of Independence—whose "Higher Law" doctrine is rooted in the Torah. I deem this a war on America metaphysically equivalent to his war on Israel. If we juxtapose his early Muslim upbringing and current Muslim appeasement, logic indicates that Obama's war on Israel and America is nothing less than a war against Western civilization in favor of Islam's global ascendancy. Here is further evidence. Obama's (absurd) reference to America as a Muslim state, his adulation of Islam at Cairo's Al-Azhar University (the Harvard of the Middle East), his demotion of Judaism in his Inaugural Address, his indifference to Ahmadinejad's maledictions "Death to America" and "Death to Israel," his bowing to Saudi King Abdullah—these and other signs are indicative of an insidious global agenda. It will not do to describe Obama as a closet Communist or to reveal his Muslim sympathies. We know of his anti-American and anti-Israel gurus such as Marxist Saul Alinsky, terrorist Bill Ayers, PLO-supporter and Saudi-connected Rashid Khalidi, "Nation of Islam" Jew-hater Louis Farrakhan, or "God damn America" preacher Jeremiah Wright—to mention only a few of Obama's charming mentors. Professor of international relations Angelo Codevilla warns that Obama is conducting a "self-discrediting [hence anti-American] diplomacy toward Iran, Russia, North Korea, and China." Add Syria, which aids insurgents in Iraq and ships Iranian missiles to Iran's client Hezbollah in Lebanon. Obama is not only appeasing enemies and punishing friends; he is disarming America morally and militarily. Let me reiterate his "war on Israel." Israel is not only America's most steadfast ally, supplier of advanced technology and incomparable intelligence. Israel is the only outpost of Western civilization in the Middle East. The loss of Jerusalem would ignite Islam's long smoldering ambition to establish a Muslim world order. Admittedly, every American administration since Nixon and Kissinger has pressed Israel to risk its existence—it's called taking "risks for peace"—by conceding geostrategic assets to the PLO, the wiliest spearhead of Islam. The American government, conned into believing the PLO represents "moderation," secretly and openly bankrolled this Fatah-led mafia during the past two decades. Of course, this is nothing compared to the Carter-Brzezinski subversion of the Shah of Iran, which facilitated the Iranian Revolution the return of the Parisian-exiled Ayatollah Khomeini to Teheran. America's ruling class—its policy-making, opinion-making, and military elites—is now being led by an Islamophile, an enemy of America. This ruling class, thanks to America's misnamed "higher" education, is not only ignorant of the true nature of Islam; it is also ignorant of, or has never internalized, the classics of statecraft and war. Tainted by multicultural relativism, this backward ruling class cannot even see that while there are "moderate Muslims," Islam is anything but moderate. This ruling class cannot address the fact that what it misleadingly calls Muslim "extremists" increasingly dominates Islamdom. Indeed, these Islamic-true Muslims are spreading throughout American democracy where they exploit a mindless liberalism or tolerance of "diversity." Thus, to paraphrase Codevilla, when a Muslim shouts "Allahu Akhbar," as did U.S Army Major Nidal Malik Hasan as he shot 51 colleagues as Fort Hood, Texas, the official reaction revealed the stupefied and pusillanimous character of America's ruling class—
oliticians and journalists and even high-ranking military officers. After the shootings, President Obama warned against "jumping to conclusions," and Army Chief of Staff George Casey added, "it would be a greater tragedy if diversity became a casualty here." Codevilla comments: "Never mind that Hasan identified himself on his business card as "SoA" (a soldier of Allah). Official obscurantism makes Obama's appeasement of Iran all the more fearful. Armed with nuclear tipped ballistic missiles, Iran could control the oil resources of the Middle East, emasculate Europe, totally collapse the American economy, and even resurrect the Persian Empire—the startling conclusion of Robert Baer, former CIA operative in the Middle East. An American president who praises Islam and displays contempt for America's Founding Fathers now constitutes an existential threat to Western Civilization. This worst case scenario will be dismissed as scare-mongering. But whoever thought PLO chief Yasser Arafat, an Arab terrorist expelled from Lebanon, holed up in Tunis, without Iranian oil or arms, without even a minute fraction of Iran's population and territory—who ever dreamed that this villain would become a mortal threat to Israel by gaining worldwide support for a PLO state in Israel's heartland—and with the endorsement of Binyamin Netanyahu?! If the despicable PLO could accomplish this objective, it would be foolhardy to dismiss my worst case scenario. As many scholars have warned, the West is involved in a clash of civilizations with Islam. We are in a world war having metaphysical significance. This war will not be won or even waged by democracies steeped in multicultural relativism. The trial of Dutch parliamentarian Geert Wilders exemplifies the decadence of such democracies. Recall how they treated the gallant Italian journalist Oriana Fallaci, who dared tell the truth about Islam in her book The Rage and the Pride. Recall how a Swiss judge issued an arrest warrant for her alleged violations of the Swiss criminal code and requested the Italian government to either prosecute or extradite her. Recall how an Italian judge ordered Fallaci to stand trial on charges of "defaming Islam" in her book The Force of Reason, most notably for her reference to Islam as "a pool that never purifies." But there is more. Note Europe's permissive immigration laws, the influx of millions of prolific anti-Western and economically ruinous Muslim immigrants—a sociological disaster documented by Michael Radu, Europe's Ghost: Tolerance, Jihadism, and the Crisis of the West (2009). Fearful of the canard of "racism," and animated by a perverted humanitarianism that permits the immigration even of Muslim terrorists expelled by Arab countries, England and Europe are committing national and cultural suicide. This madness is invading the United States and it has anti-Semitic consequences for Israel. A countermovement to preserve Western Civilization is urgently needed. I will discuss this matter in a future article. Some people may want to send this article to Caroline Glick.
Mar 16, 2010
UNDERSTAND WHAT IS BEING DISCUSSED. The numbers below do not include the 300,000 Israeli's living in other parts of the west bank. In 2006 8000 Israeli's were removed from their homes when Israel pulled out of Gaza. Most never rebuilt their lives. Logically. How will Israel remove the residence numbering around 1/2 million. Who will do it? Who will pay for it?

Jerusalem Neighborhoods: Old and New

by Hillel Fendel

(IsraelNN.com) Jerusalem was named Israel's capital, as it had been during King David's time, after the War of Independence in 1948-9. During and prior to the war, there had been talk of internationalizing the Old City and environs, but the plan was never implemented due to opposition from both the Jewish and Arab parties.

Alongside Israel's capital in the western half of the city was eastern Jerusalem, annexed by Jordan in 1950; a wall and barbed wire divided the city in two. By 1967, the population of Jewish Jerusalem had grown to 260,000. Among its most famous neighborhoods were then Me'ah She'arim, Rehavia, Emek Refaim/German Colony, Geulah, Givat Sha'ul, Beit HaKerem, Kiryat Moshe and Talpiyot.

Other notable neighborhoods include Ein Kerem, Katamon, Yemin Moshe, Nahlaot, Romema and Machaneh Yehuda, and the newer Har Nof and Bayit V'gan.

The Six Day War in 1967 marked Israel's successful military response to the deployment of several Arab national military forces threatening to "drive the Jews into the sea." The war saw the Old City of Jerusalem come under Jewish control for the first time since the destruction of the Second Temple 1,900 years before. Together with the Old City, Israel regained all of the area west of the Jordan River, known as Judea and Samaria.

Israel then expanded the borders of its historic capital, and built in its old-new areas the following neighborhoods:

* Ramat Eshkol (the first to be built), French Hill, and Sanhedria Murchevet, all not far from the center of town;

* Ramot (population: approximately 40,000), Ramat Shlomo (18,000), N'vei Yaakov (a recreation of the neighborhood that existed there before 1948; 20,000 people), Pisgat Ze'ev (42,000), and the Atarot industrial zone in the north;

* Gilo (population: 40,000), East Talpiyot (15,000), and Har Homa (11,000) in the southeast;

* Mt. Scopus and Mt. of Olives to the east.

Within 13 years after the Six Day War, the population of Jerusalem had increased by well over 55%, growing to nearly 410,000. It continued growing at a fast clip: In 1990, there were over 524,000 people, and 657,000 in the year 2000. The current population is close to 780,000.

The newly-approved 1,600 units to be built in Ramat Shlomo are slated to fill some of the area between Ramat Shlomo and Ramat Eshkol/Sanhedria.

Click here to see a map of the new neighborhoods of Jerusalem.
Mar 16, 2010
Obama demands more concessions from Israel as confidence building. How about some confidence building from the other side. Ah non are needed. It must be seen as quite legitimate and exceptable for Palestinians to call for the annihilation of Jews. For Jews to build in Israel in a hareidi neiborhood is considered "A provocation". Somehow I done see any balanced demands on the 2 sides. Maybe some balance is what is really neded to build confidence. Wow How unpolitially correct. It is with these people that the Israeli's are being forced to make peace. How does one make peace with a people who do not want peace but your annihilation. They do not want 67 armistic lines, but all the land from the Jordan to the sea. It's nice that Obama has decided he is Israel dictator, but who will pay the ultimate price of his blunders. (with the understanding they are not intentional). Should the Israeli people let Obama set them up for annihilation? Time and time again Obama and his administrations actions have shown he is No friend of Israel. Actions speak louder than words. His actions have and are showing exactly where his sympathies lay.
"Genesis 12:3: "And I will bless them that bless thee and curse him that curseth thee "
Genesis 27:29Cursed be those who curse you, And blessed be those who bless you."
NUMBERS24:9 He lies crouching like a lion, or like a lioness; who shall arouse him? Blessed is he who blesses you, and cursed is he who curses you!
Below are excerpts from an interview with Abdallah Jarbu', Hamas deputy minister of religious endowments. The interview aired on Al-Aqsa TV on February 28, 2010 (to view this clip on MEMRI TV, visit http://www.memritv. org/clip/ en/0/0/0/ 0/0/0/2415. htm).
Following that are excerpts from Friday sermon by Abdallah Jarbu', which aired on Al-Aqsa TV on November 7, 2008 (to view this clip on MEMRI TV, visit http://www.memritv. org/clip/ en/1904.htm).
February 28, 2010: "The Jews are Foreign Bacteria... The Koran Itself Says That They Have No Parallel... May He Annihilate This Filthy People"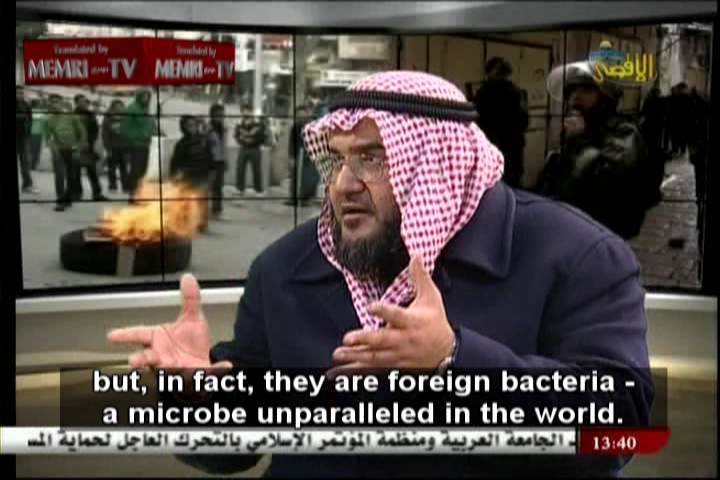 Abdallah Jarbu': "[The Jews] suffer from a mental disorder, because they are thieves and aggressors. A thief or an aggressor, who took property or land, develops a psychological disorder and pangs of conscience, because he took something that wasn't his.
"They want to present themselves to the world as if they have rights, but, in fact, they are foreign bacteria – a microbe unparalleled in the world. It's not me who says this. The Koran itself says that they have no parallel: 'You shall find the strongest men in enmity to the believers to be the Jews.'
"May He annihilate this filthy people who have neither religion nor conscience. I condemn whoever believes in normalizing relations with them, whoever supports sitting down with them, and whoever believes that they are human beings. They are not human beings. They are not people. They have no religion, no conscience, and no moral values."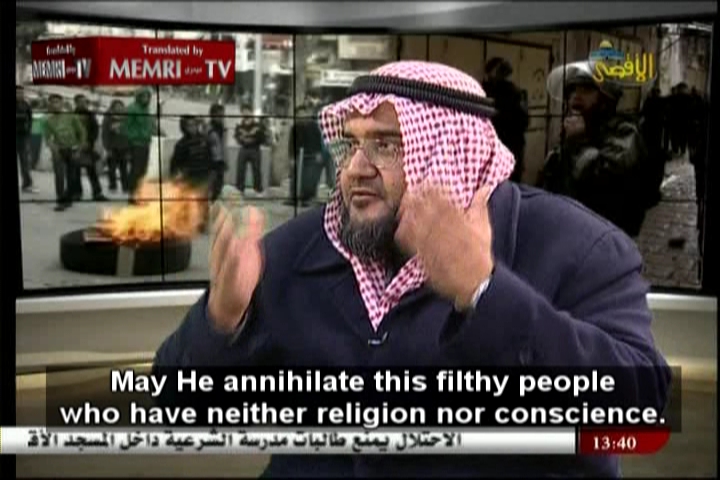 November 7, 2008: Following U.S. Election, Jarbu' Attacks Obama in a Friday Sermon: We Must "First Check Whether His Heart is Black or White"
Abdallah Jarbu': "

Barack Obama

has won. Is he good or bad for the Arabs? Before you talk about this or that, you should know that no American leader has ever won their elections unless he pledged his loyalty to the Jews in advance.
" Obama went to the

Wailing Wall

, put on their skullcap, shed tears just like they do, and lamented their sorrow, but he did not mention the

Palestinian people

at all. He talked about the suffering of the Jews and about the

Holocaust

, but he did not even mention the people of Beit Hanoun, who were killed while sleeping in their homes.
[...]"Before you talk about a black leader reaching such a high post, I say that you must first check whether his heart is black or white. His heart cried over the suffering of the Jews, but did not cry over our suffering."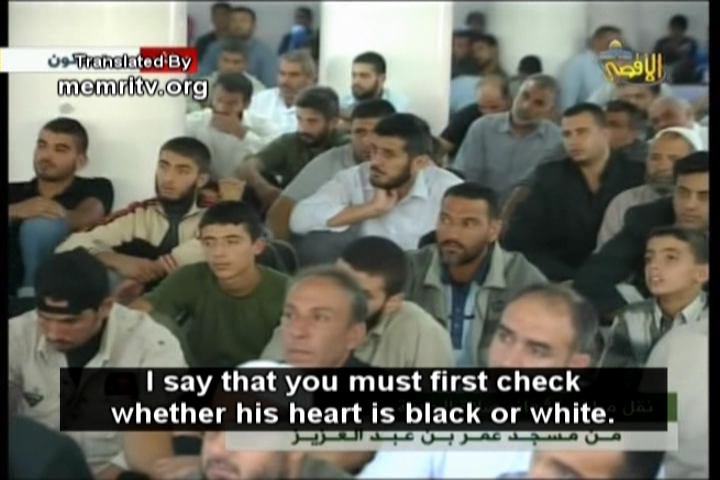 Please remember the environment before printing.
Mar 15, 2010
Waht right does Obama have to dictate Israeli internal policies or building plans. Has he dictated to Iran, Saudi Arabia, China, France, or any other country in the world? Who voted him Israel's leader? The Audacity of Obama's dictatorship over Israeli democratic proccess must be questioned. He and his admin have perposefully created an atmosphere of rage to force Israel into further concessions to apease palestinians. This is done totally against the will of the Israeli public. He encouraged the palastinians to demand a freeze which had never been asked of any other government. Why? To undermine the Israeli government, and to create strife in Israel. But to what gain? Obama is making clear his possision and it is not as the Freind of Israel. No Freind perposfully undermins the democratic proccess of another democratic country and demands to be it's Dictator. It was not without reason the Saudi's named him Pharaoh and Gadafi called him a "Brother".
Barack Hussein Obama vs Israel

http://sultanknish. blogspot. com/2010/ 03/barack- hussein-obama- vs-israel. html

The manifold organs of the ObamaMedia are abuzz with outrage over what they are calling Israel's "insult" to the United States. But what was the nature of this awful and outrageous insult? Did Israeli officials pull off V.P. Biden's rug to show off his bald head underneath. Did they ask him why the suit of his pants is so shiny. Did they make him sit at the kiddie table?

More to the point did Israeli TV air calls for a Jihad against America, as Palestinian Arab TV did? Did Israel name a square after the murderer of an American photographer, as the Palestinian Authority did? Did an Israeli Anchorman do a skit in blackface during Obama's visit, as a Turkish anchorman did during Obama's visit to Turkey? Are Israeli religious institutions issuing Fatwahs against America, as Al Azhar University, which Obama visited and spoke at, has done? Are Israeli leaders funding terrorism against America, as the Saudi King, before whom Obama bowed, does?

No, none of those incidents were described as insults. Nothing that Muslim countries did to mock, humiliate and murder Americans were even noticed at all. None of them produced furious condemnations from the White House or two hours of Hillary Clinton screeching on the phone at Prime Minister Benjamin Netanyahu. So what did Israel do that was so awful, so horrible and terrible? It built houses. Yes, civilian houses. Not army bases or nuclear missiles or walls. Houses.

Israel approved a construction project to build housing for its own people, in its own capitol city, Jerusalem. Some of the housing will be built in the Shimon HaTzadik neighborhood, situated around the grave of Shimon the Righteous, a Jewish religious figure famed for rebuilding the walls of Jerusalem. A neighborhood where Jews have lived for over a century. As well as Ramat Shlomo, a thriving neighborhood with thousands of Jewish families living in it.

The Obama Administration' s objections to Jews living in Jerusalem are purely racial and religious. If Israel were approving a construction project to build housing for Arab Muslim citizens of Israel, Biden, Hillary and their media troupe wouldn't be screeching about it to the high heavens. It is only because Jews are to live there, that they have a problem with it. Their objections therefore are purely based on race and religion-- and completely racist.

But this is hardly the first time that Muslims and their Western appeasers have tried to drive the Jews out of Jerusalem, or the Shimon HaTzaddik neighborhood in particular.

In 1876 the land was purchased by the Jewish community in order to build homes for poor Jews. In 1936, after the death of Sheikh Izz ad-Din al-Qassam (one of the inspirations for Hamas) and the Mufti of Jerusalem (who would go on to collaborate on the Holocaust with Adolf Hitler), Arab rioters drove the Jews out of the neighborhood with cries of Ibtach Al Yahood (kill the Jews). Over 500 Jews were murdered during this time. Many more fled their homes ahead of the enraged Islamic mobs.

The following was a sample of some of the Arab Muslim brutality toward the Jews at the time.

Alex Morrison, a British truck driver sympathetic to the Arab cause wrote, "They left behind them one of the worst sights I ever saw in my life... The naked bodies of the women exposed the evidence that the knives had been used in the most ghastly fashion." The bodies of children, apparently set alight with gasoline in a nursery, were still smoldering."

The Arab Muslim atrocities were successful not at intimidating the Jews, who slowly began to return, but at intimidating the British who enacted the White Paper, and closed the doors to Jewish immigration resulting in countless numbers of Jews dead during the Holocaust. A Holocaust which involved the participation of the same Mufti of Jerusalem who organized the riots. Which in turn had been partially funded by Nazi Germany.

In 1947 the Arab Muslim forces again came for the Jews. The Jewish residents of the Shimon HaTzadik neighborhood, accompanied by militia, fought them back with the few weapons they had. And then came the British colonial authorities and disarmed the Jews. And when the Arab forces came again, they had no weapons to fight with. And they fled.

The fall of the area cut off Hadassah Hospital from the rest of Jerusalem. A convoy of 79 doctors, nurses and patients to the hospital were massacred by Arab forces. They included a world renowned ophthalmologist, Chaim Yassky and his wife Fanny. Esther Fassman, the American director of social services at the hospital's Cancer Institute, carrying candy and magazines for her patients. And a man who had been riding along to reach his wife who had just given a birth. He never reached her.

The Jordanian Legion seized all of East Jerusalem, and drove out the remaining Jews living there. Synagogues were destroyed, others were turned into latrines. The tombstones from Jewish cemeteries were used as paving stones for the Arab Muslim occupation forces. The Shimon HaTzadik neighborhood though held the tragic distinction of being the first part of Jerusalem to have its Jewish population driven out.

The houses that the Jews had been driven out of were occupied by Arab Settlers in an East Jerusalem rendered empty of Jews. The great dream of the Mufti of Jerusalem, and every Islamic cleric and terrorist, who had urged the murder of Jews in order to build a pure Islamic Arab Palestine was fulfilled. The Shimon HaTzaddik neighborhood was seemingly no more. Only the Sheikh Jarrah neighborhood remained. Half of the historic Jewish capital was Judenrein.

In 1967, Jerusalem was liberated and reunited once again. But the victorious Jewish army did not drive out the Arab squatters. Instead in 1972 it restored the land in the Shimon HaTzaddik neighborhood to the communal organizations which had owned it allowed them to remain on the condition that they paid rent. Those who refused, were evicted. Slowly Jews began to return to their old neighborhood again. A school opened and a normal semblance of life with it. However the US State Department and European government have continued fighting the Jewish presence in Jerusalem, demanding that it be restored to its former Judenrein status.

Over and over again, the diplomats have taken the side of the Arab squatters who stole the homes of the Jewish families living there, until Arab mobs and armies drove them out. Even when Jewish residents bought the land from those squatters, insuring the absolute legality of their ownership from any and every angle, their rights to live there have been denied. And those demanding an Apartheid Jerusalem, reserved for Arabs alone, have continued spewing lies and distorting the truth by claiming that Jews never lived in the Shimon HaTzaddik neighborhood. That the only reason Jews live there now is out of spite (this in a city where spiraling real estate prices and crowded conditions have made apartments incredibly difficult to find.) And finally that the only reason that a housing project that has been in the works for over a decade was approved-- was in order to insult Joseph Robinette Biden... and through him America.

And then there was the Ramat Shlomo construction project. Supposedly the straw that broke the "camel's" back. Ramat Shlomo is and has been a Jewish neighborhood for some time now. There are thousands of families living in it. The 1600 additional units are not being built on inhabited land. Nor was the land ever supposed to be turned over to the Palestinian Authority in any conceivable settlement. In fact during the previous round of negotiations, even the PA had conceded Ramat Shlomo.

Let me be very clear then. The building of houses for Jewish families in a neighborhood where Jews have lived for 134 years is not an insult. A housing project that has been in the works for over a decade was not a secret conspiracy to humiliate the idiot Vice President on his visit there. It is of course an insult, but not to America. Only to Islam.

American diplomats have not usually described Israeli policies they dislike as an "insult"-- that is a term much more commonly used by Muslims, who are obsessed with perceived slights to their honor. Complaints over an "insult" is a common feature of Honor-Shame societies. America is not an honor-shame society. However the White House is currently occupied by a man bred in an honor-shame society. It is Obama that feels "insulted" by Israel, both out of the sensitivity of his Muslim heritage and his own egotism, which regularly motivates him to humiliate Republicans, while triumphantly celebrating his own greatness.

It is natural enough for Barack Hussein Obama to rely on such cheap honor-shame gambits. They are what he grew up with. And it is natural enough for him to keenly feel the loss of face of Muslims. After all his father's family was Muslim. And Muslims are keenly "insulted" when they conquer territory and then cannot hold it. Whether that territory is in Jerusalem, Israel or Spain or India. They cannot stand to suffer the loss of face. And neither can Obama.

Had there been a Jewish or part-Jewish President in the White House, the media would be raising the question of whether he is showing favoritism toward Israel. A question that has been repeatedly raised regarding Joseph Lieberman. A question that was raised regarding Goldwater, who was a practicing Christian. But the media refuses to allow the question to be raised of whether Obama is favoring Muslims because of his own Muslim background and family ties. Instead the media brands any such questions as racist, and instead spearheads the administration' s campaign against Israel.

So directed out of the White House, a media firestorm howls enraged at Israel for presuming to allow Jews to live in a neighborhood where they had lived for a 134 years. The outrage. The offense. Heads must roll for this. Panicked, Netanyahu has already rushed to appease Der Fuhrer, suspending all home development anywhere in Jerusalem. Netanyahu has already apologized for building homes for his own citizens in his own country, but that of course is not enough. It's never enough.

David Axelrod huffed, "This was an affront, it was an insult." Hillary Clinton, Suha Arafat's former kissyface partner, called Netanyahu to berate him. And then did it again in the round of interviews, proclaiming, "It was insulting. And-- it was insulting not just to the vice president, who-- certainly didn't deserve that-- But it was an insult to the United States." Biden added his own voice. So did a bevy of underlines. Israel's ambassador was summoned to be yelled at by the Deputy Secretary of State.

In his visit Biden had repeatedly insulted his Israeli hosts. First he brought along Chris Matthews who accused Israelis of disliking Obama because they're racists. He arrived an hour and a half late to a ceremonial dinner. In other words he acted like every bit of the predictable buffoon that he is. Which is also not surprising given his history of hostility to Israel going back decades.

But none of that really matters. The bottom line is that the Obama Administration has been wanting to pick a fight with Israel for some time now... while pretending to be the victims. Much like the way Germany faked a Polish attack as a pretext for invading Poland, Barack Hussein Obama needed a pretext for waging his own political Jihad against Israel. All the while whining about how badly the Israelis have insulted him.

If it hadn't been Shimon HaTzaddik or Ramat Shlomo, some other pretext would have been found. Sooner or later, some visiting dignitary would have been offended by Israelis going on with their lives. Resulting in just this kind of cynical tantrum designed to win over Muslims and further degrade Israel's abilities to defend itself. The entire incident staged in keeping with the Honor-Shame background of the man in the White House.

Meanwhile in Jerusalem, Jews were celebrating the rebuilding of the Hurva Synagogue. Built in the 1700's, the synagogue had been demolished twice by Arab Muslims. The second time in 1948 by the Jordanian Legion, in order to insure that Jews would never return to East Jerusalem. They were wrong then, as Obama is wrong now. The plans of Muslims to banish Jews from their historic capitol are both immoral and racist.

Meanwhile the PA's Jerusalem minister, Khatem Abd el-Kader, condemned the renovation of the Hurva Synagogue, warning Israel that it was "playing with fire" and urged Muslim Arabs to "protect" the Al Aqsa Mosque. Naturally of course the riots are of course already on the way. An echo of the riots that drove Jews out of Jerusalem in the 1930's. Then the rioters had shouted, "Itbach-al Yahud" and "Addowlah ma'anah". Kill the Jews, and The Government is With Us. Except the government they mean now is not the British colonial authorities, but the administration of Barack Hussein Obama.
| | |
| --- | --- |
| | Content and comments expressed here are the opinions of Care2 users and not necessarily that of Care2.com or its affiliates. |
Author


Eli T.
, 5, 4 children
Israel, Non Us, Israel

SHARES FROM ELI'S NETWORK