Give the gift that keeps on giving!!!
By purchasing any of the items on this email, you will help the wolves of WMS. We are a non-profit organization and we run off donations and adoptions only. All funds raised go towards wolf meat ($4,000 per month), veterinary care and permits ($3500/year).
- - - - - - - - - - - - -
What better gift can you give than a gift of helping a protected animal? Give the gift of adoption to a friend or loved one this year... Check out our adoption page.... New updates coming next week....
A wolf pendant would also make a special gift for only $25.00. This pendandt is in a glass bottle which holds precious wolf hair (collected from each wolves' shedded hair) and a picture of that wolf. This bottle is on a leather strap. This is a unique gift and gives it's wearer wolf protection. This is a very spiritual gift.....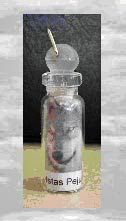 Wolf Mountain Store has t-shirts, coffee mugs, mouse pads and other unique gifts for your special friends and loved ones. If you want a certain wolf on a shirt, please send me an email before you order and I will add that wolf to the shirt or item you want before you order.... I can only load so many pics so please be patient.....
Buy your own original wolf portraits... There are several different poses of the wolves and many being added daily! Special holiday price of $14.95 per 8x10 in effect until the new year. Prices were originally $20.00 per 8x10. Give your loved one an original WMS wolf for the holidays....
Thank you very much.....
If you receive two of these messages, please accept my apology, I am trying to make one huge data base for updates in my free time. ( the thing is, I don't have any free time. LOL)
For the wolves,
Angelwolf
REMEMBER: Extinction is Forever