Jul 29, 2011
| | |
| --- | --- |
| Focus: | Children |
| Action Request: | Visit - online |
| Location: | United States |
Description: The Lindsay Foundation's primary goal is to assist families with resources necessary to provide medical treatments, therapies, supplies and rehabilitative equipment in order to improve the quality of life for their children with special needs.
Vivint. Simple. Affordable. Home Automation. Call Vivint today 1-800-216-5232. Home Automation. Home Security Systems. APX Alarm is now Vivint. Vivint GO!Control panel provides easy home automation with home security features
Visibility: Everyone
Tags:
Posted: Jul 29, 2011 8:32pm
Jul 29, 2011
| | |
| --- | --- |
| Focus: | Children |
| Action Request: | Visit - online |
| Location: | United States |
Description: The Lindsay Foundation's primary goal is to assist families with resources necessary to provide medical treatments, therapies, supplies and rehabilitative equipment in order to improve the quality of life for their children with special needs.
You can go back and vote every day to help these children and their families! Thank you!
Dec 31, 2009
A Blessed 2010 to you all... I wish you "health" I wish you "love" I wish you "peace" I wish you "happiness" And of course last but not least I wish you :wealth: but if you have the four wishes which preceded this last one You are "wealthy""indeed !!! be safe! ♪♫•*¨*•.¸¸♥ ¸¸.•*¨*•♫♪Happy New Year!♪♫•*¨*•.¸¸♥ ¸¸.•*¨*•♫♪... With Much Love...
~Barb~
Nov 11, 2009
CONTACT
Tina Malave


(818) 982-1789




tina@shatteredglass.tv



FOR IMMEDIATE RELEASE


Former Child Sex Slave and Anti-Slavery Advocate,
Maria Suarez Finally Finds Freedom

Press Conference

For Maria Suarez, Thursday, November 12th at 11 AM


LOS ANGELES, CA (November 10, 2009) - After decades of captivity and imprisonment by her trafficker, the state of California, and Immigration and Customs Enforcement, human trafficking survivor Maria Suarez finally found freedom on August 11, 2009 when she was granted a long awaited US green card.

Two weeks after arriving in California from Mexico, 15-year old Maria was lured from her home by the promise of employment and sold for $200. Her captor enslaved Maria and repeatedly raped, battered, and tortured her for over five years.

In 1981 she was unjustly implicated in the homicide of her captor and spent 22 and a half years in prison before the California Board of Prison Terms reinvestigated her case and determined that Maria was the victim of extreme violence, abuse, and torture at the hands of her captor, and recommended her release. Though she was a legal resident before the crime took place, immigration laws amended in 1996 provide for the deportation of legal permanent residents convicted of certain crimes. As a consequence, Maria was released from prison only to be detained for deportation by the Department of Homeland Security.

Four lawyers, Jessica Dominguez, Charles Song, Brigit Alvarez and Andres Bustamante came together to fight for Maria's release. Then California Representative, Hilda Solis -- now Secretary of Labor -- rallied 31 other members of Congress to sign a letter to Tom Ridge and Undersecretary for Border and Transportation, Asa Hutchinson, urging them to help Maria stay in the US. She was released with a T-Visa for victims of Human Trafficking, which expired in 2007, and until now, she remained in danger of deportation.

Since her release from prison and immigration custody in 2004, Maria works as a counselor and educator for domestic violence victims and offenders. Her joyful presence and loving nature has made her a compelling and dynamic advocate of rights for survivors of trafficking and battered women.

Maria has served as a speaker at national conferences and legislative hearings including the XXVI Border Governors Conference – "Fight Against Human Trafficking" forum, where she was personally invited by moderator Maria Shriver the UC Berkeley Conference on Human Trafficking and the UCLA Speaker Series. She has appeared on countless television programs such as Dr. Phil and El Show de Cristina, and is featured in several trafficking documentaries, including an upcoming feature documentary about her life.

This inspirational and charismatic survivor will speak at a press conference on Thursday, November 12th, along with part of her legal team, Charles Song and Brigit Alvarez to announce her plans to now travel the world as an educator on the crimes of slavery and abuse, speaking out against this abomination to humanity. Miss Suarez is calling for the continued support and attention from our country's leaders to help aid in abolishing the worldwide crime of human trafficking. Requests for speaking opportunities with Miss Suarez may be booked through Free the Slaves.

ABOUT FREE THE SLAVES
Free the Slaves is an international organization that liberates slaves around the world, helps them rebuild their lives, and researches real world solutions to eradicate slavery forever.

WHEN: Thursday, November 12, 2009

WHERE: National Council of Jewish Women Los Angeles | NCJW/LA
543 N. Fairfax Avenue
Los Angeles, CA 90036 (Parking available in NCJW lot on Clinton St)

TIME: 11:00 AM

INTERVIEW OPPORTUNITIES: Maria Suarez (English/Spanish), Legal Team – Charles Song, Brigit Alvarez (English/Spanish). A short video about Maria's story will be shown at 11 AM followed by the press conference, and a written statement by Secretary of Labor, Hilda Solis. An EPK of the video will be available for media usage. Please credit attached Photo: Courtesy Brenda de River.

English Speaking Press Contact: Spanish Speaking Press Contact:

Tina Malave Chelo Alvarez-Stehle
(818)982-1789 (310) 457-7353
tina@shatteredglass.tv achelo@me.com


To book Maria Suarez for speaking engagements (not media requests)
Free the Slaves
Peggy Callahan
Callahan@freetheslaves.net
Aug 6, 2009
I wanted to thank all my friends here at Care2 for all the Birthday wishes and beautiful birthday cards you all took the time to send.
Your friendships all mean so much to me!
Much Love,
~Barb~
Jul 15, 2009
Child was found... 12 noon CHILD PHOTOGRAPH


Suspect still on the run: Mathew Nash
Jul 15, 2009

ANYONE HAVING INFORMATION SHOULD

CONTACT: Virginia Beach Police Department at 1-888-562-5887 or Virginia State Police at 1-800-822-4453.



MISSING: Naomi Hilel female White 02/28/2008 2 feet 00 inches 20 Lbs Short Blonde Blue Jul 15, 2009Circumstances: Child was last seen at 201 S. Witchduck Rd., Virginia Beach, Virginia. Child was last seen wearing a Blue Short Sleeve shirt, Multi-colored stripes Long pants.Additional Significant Identifiers or Conditions of Child: Child is passenger in a green/gray 2009, Honda Odyssey mini-van with Florida license HASHEM1. She is in a blue and beige car seat. CHILD PHOTOGRAPH

No Photograph available ABDUCTOR: Unknown UnkownWhite male, 5 feet 10 inches, Medium Lbs, Long Light hair, Unknown eyes, wearing Plaid shirt, Dark Shorts pants, Dark Tennis shoes, Ballcap. ABDUCTOR PHOTOGRAPH

No Photograph available May be traveling in a 2009 Odyssey Mini-van Honda , Grey-Green , Florida tag HASHEM1. North on Newtown Rd..
Jun 16, 2009
| | |
| --- | --- |
| Focus: | Civil Rights |
| Action Request: | March |
| Location: | Pennsylvania, United States |
11 am July 21, 2009
Philadelphia, PA
All Americans, adopted or not, have a right to access government records about their own lives. That's why we are organizing an Adoptee Rights Demonstration, a rally and protest in Philadelphia, PA, at 11 AM on July 21, 2009. This rally will coincide with the opening day of the Legislative Summit of the National Conference of State Legislators.
Adult adoptees in most of the advanced, industrialized nations of the world have unrestricted access to their original birth records as a matter of right. In contrast, adult adoptees in all but six states in the U.S. are forbidden unrestricted access to their own original birth certificates, due to archaic laws that are a legacy of a culture of shame that stigmatized infertility, out-of-wedlock birth and adoption.
Adult adoptees and their supporters have worked diligently in different states for decades to overturn these laws, but have been opposed by well-funded lobbies representing certain adoption agencies and lawyers who have a vested interest in keeping adoptee records closed. Their unsupported claims that access violates dubious privacy rights or will increase abortions and decrease adoptions have been categorically refuted by data from states with laws recognizing the rights of adoptees, by studies such as the recently published paper from the Evan B. Donaldson Adoption Institute, and by court decisions affirming the constitutionality of access laws.
Please join us in Philadelphia as we fight to restore our dignity and equality! If you can't attend the demonstration, you can still help. Participate in our writing campaign to inform all state legislatures of the urgency of unsealing our records to restore the equality of adoptees in the United States. Help spread the word about the protest on your blog, or to any groups or mailing lists you belong to.
Make a difference, be a part of history and get involved today!
Adoptee Rights Demonstration 2009 Your Rights -- Your Protest
Jun 2, 2009
http://www.care2.com/news/member/978912919/1158004
Society & Culture (tags: hate speech, violence, society, rights, safety, law, freedoms, abuse, crime, culture, death, education )


Barb
- 7 minutes ago - splcenter.org
Experts Discuss the Role of Propaganda. Can reading violent, racist material online make one more prone to commit a violent act? Or is a person who behaves violently after exposure to this kind of material somebody who already has those propensities?
/>
Jun 1, 2009
| | |
| --- | --- |
| Focus: | Children |
| Action Request: | Various |
| Location: | United States |
Entertaining. Educational. Exhausting. Empowering. CARE's National Conference & Celebration was all of that and more! I really wish you could have joined us. It was a jam-packed two days, full of learning, meeting fellow CARE supporters and most importantly bringing a clear message to Washington, D.C.: Americans are invested in the fight against global poverty!
As busload after busload of CARE advocates arrived on Capitol Hill, we fanned out to engage in more than 290 meetings with policymakers. We talked about some of the most important issues poor communities face: hunger, climate change and opportunities for all children.
And our leaders heard us. How do we know? Because just days later, 26 new co-sponsors signed onto the child marriage prevention act in the House and another nine in the Senate! After one day of meetings on the Hill, CARE supporters helped mobilize elected officials to fight poverty and defend the dignity of all people. Just imagine what we can do together over the next year!
Building on the conference's success, our goal now is to make sure every member of Congress becomes a supporter of the child marriage law. Please, send a quick note to your elected officials encouraging them to stand up for girls' rights. That simple action can help stop the practice that pushes 25,000 girls into marriage everyday!
To celebrate this year's conference theme, ''Many Voices, One Movement,'' we created a photo mosaic. We think it's the perfect representation of the conference: Each of us is a powerful figure on our own, but together we can be so much more!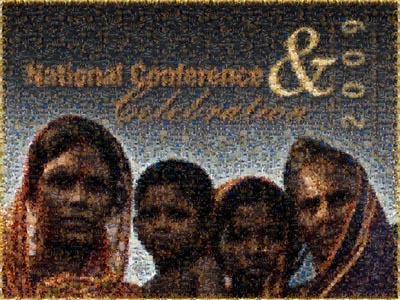 Meet up with us at www.careconference.org and browse more photos, videos and stories. (The highlight reel with a Michael Franti soundtrack is my favorite!)
Again, thank you for all you are doing to support CARE. We hope you'll stay engaged with CARE as we strive to create lasting change and build a better world for all. See you in Washington next year!
With sincere appreciation,

Helene D. Gayle, MD, MPH
President and CEO, CARE
| | |
| --- | --- |
| | Content and comments expressed here are the opinions of Care2 users and not necessarily that of Care2.com or its affiliates. |
Barbara's Tags:
resources
,
this
,
responsibility
,
tax$atworklol
,
camm
,
petition~combat~child~sex~tourism~
,
youth
,
poem-
,
community
,
fun
,
block-extraditionmarcemery
,
petition2care2
,
lol
,
abbie
,
site
,
poll
,
f&s
,
an
,
artists
,
hoffman
,
retarded
,
environmental
,
anne-sexton
,
kahil-gibran-on-children
,
blessings
,
beyond
,
intiative
,
violence/sexual
,
stopping
,
domestic
more
»
SHARES FROM BARBARA'S NETWORK