Feb 25, 2007
PRESS RELEASE VICTORY

Brazil's Cristalino State Park's Rainforests Saved

By Ecological Internet,
http://www.ecoearth.info/

February 12, 2007
Contact: Dr. Glen Barry, glenbarry@ecologicalinternet.org

Efforts by the State Government of Mato Grosso, Brazil, to
drastically reduce the size of Cristalino State Park, one of the
Amazon's most biodiverse reserves, have been stymied by
exemplary on the ground organizing by Fauna and Flora
International (FFI), many local groups and supportive
international protests by Ecological Internet's (EI) Earth
Action network. An important precedent has been set regarding
the strength and permanence of protected status for ancient
rainforests under Brazilian law.

The Cristalino State Park is a world-renowned ecotourism
destination, whose 184,000 hectares are home to over 550 species
of birds, and protects endangered species like the white-
whiskered spider monkey. Some 27,000 hectares of forest were to
lose protection by a vote of the state government; becoming
vulnerable to logging, cattle ranching and agribusiness.

In total 4,237 participants in EI's network sent 137,800 protest
emails to Brazilian officials, including Brazil's Ministerio
Publico, which has now ruled that the proposed reduction of the
park by the Mato Grosso State Government is illegal. An FFI
spokesperson states "I am convinced the alert played a big part
in saving the park. Thank you. I think Ecological Internet is a
fantastic creation."

"This is a victory for true forest protectors seeking to expand
rainforest protections rather than improve industrial logging in
ancient forests," states Dr. Glen Barry. "The Earth needs every
ancient rainforest to remain intact for its survival. This will
require massive payments from over-developed to not yet over-
developed countries for avoided deforestation. If you are not
working to keep rainforests under permanent protection, you are
the problem; do not buy tropical timbers, certified or
otherwise."

The announcement effectively grants the park a reprieve from
destruction, but FFI, EI and the Cristalino Ecological
Foundation (CEF) will continue to monitor the situation. FFI
will continue to strengthen CEF as the guardians of this area,
and will also work with other local NGOs and the Environmental
Authorities to complete the management plan for Cristalino and
create an effective management entity to prevent this kind of
threat in the future.

This Brazilian victory is the latest success to be achieved by
Ecological Internet's unique brand of "Grassroots Global Earth
Activism". Indeed, two additional current alerts (see list at

http://www.ecoearth.info/alerts/
) show the impact of EI's
efforts and may eventually prove victorious as well. Uganda's
President has halted the giveaway of the Mabira rainforest
reserve for sugar cane production as EI requested, though the
matter is still under study. And the Australian Green party has
taken up EI's call for Australia to cease mining and exporting
coal, though dirty coal virtually runs the government. Join the
network and make a difference at

http://www.ecoearth.info/subscribe/
.

Visibility:
Everyone
Tags:
peaceprayers
Posted:
Feb 25, 2007 11:36pm
Feb 2, 2007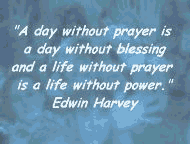 Visibility: Everyone
Tags:
Posted: Feb 2, 2007 4:28am
Jan 21, 2007
ONE

One song can spark a moment,
One flower can wake the dream.
One tree can start a forest,
One bird can herald spring.

One smile begins a friendship,
One handclasp lifts a soul.
One star can guide a ship at sea,
One word can frame the goal.

One vote can change a nation,
One sunbeam lights a room.
One candle wipes out darkness,
One laugh will conquer gloom.

One step must start each journey,
One word must start each prayer.
One hope will raise our spirits,
One touch can show you care.

One voice can speak with wisdom.
One heart can know what's true.
One life can make the difference,
you see it's up to You!
Anonomous
Visibility: Everyone
Tags:
Posted: Jan 21, 2007 11:48pm
Dec 14, 2006
Peace


I pray before Thy throne

To bring peace to every home

May all begin to understand

That we need harmony across the land.
Continuing to offer my prayers to You

You bring miracles out of the blue

As demonstration that my prayers are right

Also to give me witness of my sight.
I shall never give up the vision

That we all live in unison

Give me strength to continue

In my prayers for that venue.
In all our customs we are one.

Not many , not only some.

Give us calm, I pray this day

For each of us in every way.
Ingrid Theodoridis

December 2006
Dec 14, 2006
What You Think Is What you Get

The Law Of Attraction
The law of attraction is surprisingly simple: Like attracts like. It becomes a bit more complicated when it comes to training our minds to think in ways that will bring what we desire into our lives. The term "self-fulfilling prophecy" describes the same law. This well-known term explains that we create the circumstances our mind dwells upon, whether positive or negative. So our goal is to practice consistent presence of mind to make sure our thoughts are always directed toward the positive and that which we want to create.

A key to the process is the word "frequency." This is true for two reasons: 1) The frequency you use when you passionately dwell upon or revisit a thought, dream, desire or goal provides the energy your musings need for creation; and 2) just like a radio station broadcasts on a certain frequency, like the radio you must be "tuned in" to receive it. This means preparing for the arrival of your dream on every possible level—material, physical, and spiritual. You don't have to know how it will come into your life, just trust that it will. Your job is to lay the groundwork, follow any leads you can find, and prepare for its arrival. This can mean cleaning out your garage to make space for a new car, taking a tour of a model home to get the feel of it in order to feed your fantasies, or thinking of what you want in a mate and then living up to that list yourself.

Just like with any skill, the law of attraction must be practiced. We must decide what makes us feel abundant, and use our imagination to create the feeling. It isn't enough to just want something; you must use the power of your thoughts to attract it. A series of choices is what brings us everything in our lives right now, every moment. When we know the direction we want our choices to take us, it is as if we've placed an order with the universe. Then we can await its arrival with joyful anticipation. If we find ways to experience our dreams right now, we make creating joy a treasure hunt in which the seeking is just as much fun as the finding.
| | |
| --- | --- |
| | Content and comments expressed here are the opinions of Care2 users and not necessarily that of Care2.com or its affiliates. |
SHARES FROM INGRID'S NETWORK