Apr 7, 2008
Hi folks - this is a great idea that originated with a 9-year old girl. An organization that picks a needy animal shelter per month, and you donate one dollar each month to the selected animal shelter. That's only 12 dollars a year!! You can give more if you want.

100% of your money goes to the animal shelter, and you can go through PayPal. Please take a look at this, note it, and consider joining.

Whatever you do, please pass this along to your friends. It's such a marvelous idea.

http://www.care2.com/news/member/114819233/700586


thanks............Elizabeth N
Feb 16, 2008
| | |
| --- | --- |
| Focus: | Animal Welfare |
| Action Request: | Petition |
| Location: | China |
Target: chinese government, ambassadors and designers/organisations
Please sign this petition. Animals are being skinned alive in China. Although this petition has been around once, it didn't generate enough signatures, so it is being sent again. Please, please sign. These animals are being absolutely tortured.

There is a video that should be here, but I can't figure out how to embed it in this share. It is horrifying, and actually shows one of the skinned animals lifting its poor head up and looking into the camera because it is still alive. For the sake of all compassion, love for living things, and a desire to stop such unbelievable suffering, please sign this petition to stop the live skinning of animals. US corporations are importing these pelts because they are cheap. Let's tell them that we will not tolerate that.

Facts about Chinese Fur Farms
The United States should strongly oppose the shocking treatment of animals raised, killed, and skinned alive on Chinese fur farms and take action by urging the U. S. Ambassador to China to convey the United States' opposition to these cruel savage methods.


A year-long undercover investigation by Care for the Wild International (CWI), Swiss Animal Protection and EAST International of fur farms in China's Hebei Province revealed that before they are skinned alive, animals are pulled from their cages and thrown to the ground before workers bludgeon them with metal rods or slam them on hard surfaces, causing broken bones and convulsions but not always immediate death. Other animals watch helplessly as workers make their way down the row.

Many animals are still alive and struggling desperately when workers flip them onto their backs or hang them up by their legs or tails to skin them. Video evidence shows workers on these farms cutting the skin and fur from an animal's leg while the free limbs kick and writhe. When the fur is finally peeled off over the animals' heads, their naked, bloody bodies are thrown onto a pile. Some of the animals are still alive, hearts beating for as long as 10 minutes after they are skinned. One investigator recorded a skinned raccoon dog on the heap of carcasses who had enough strength to lift his bloodied head and stare into the camera.

On these farms, foxes, minks, rabbits, and other animals pace and shiver in outdoor wire cages, exposed to driving rain, freezing nights, and, at other times, scorching sun. Disease and injuries are widespread, and animals suffering from anxiety-induced psychosis chew on their own limbs and throw themselves repeatedly against the cage bars.

There are no regulations governing fur farms in China%u2014farmers can house and slaughter animals however they see fit.

A growing number of international fur traders, processors, and fashion designers have gradually shifted their business to China, where the absence of restrictive regulations makes life easier and profit margins broader.

Fur from China ends up in virtually every mall in America, on jackets and other garments with fur collars, trim, and lining. A survey of U.S. retail outlets reveals that many mass-market fur-trimmed garments carry the "Made in China" label. However, since raw fur pelts often move through international auctions before being sewn in other countries, the final product may also read, "Made in Italy," or, "Made in France" making it impossible for consumers to know where the fur originates.
And I for one am tired of being at China's mercy because of shady American corporates whose only concern is their precious bottom line. Between the two entities, we the people are being played as fools and it is time to tell them that the American public will no longer tolerate such callousness from China and our own government and corporations. Thank you for helping these innocent animals.

Elizabeth N
Jan 28, 2007
| | |
| --- | --- |
| Focus: | Animal Welfare |
| Action Request: | Petition |
| Location: | United States |
PLEASE HELP US TO STOP THIS COMPANY FROM CONDUCTING CRUEL EXPERIMENTS ON CATS AND RATS

THEY ONLY WANT FEDERAL FUNDING - THEY DON'T CARE THAT THE EXPERIMENTS ARE OUTDATED, USELESS, PAINFUL, NOT NEEDED - THEY DON'T CARE THAT THESE CREATURES HAVE A RIGHT TO A LIFE OF FREEDOM THAT IS NOT FILLED WITH PAIN.

PLEASE SIGN THIS PETITION - IT ONLY TAKES A MINUTE OR LESS...



This is a pretty sick group of people that just want to conduct unneeded experiments to acquire federal funds.

OFFICIAL PETITION AGAINST PALMER CHIROPRACTICS MURDERING CATS



http://www.thepetitionsite.com/takeaction/123197660

I received this in a network message from Clyde, and I am sending it to you as an action alert - we need your signatures. Thanks...

Elizabeth N
Jan 26, 2007
Please sign this petition to stop using chimps in research. Most research can be done by computer simulation. These creatures do not need to suffer. They are used for years in experiments that cause them great pain and fear.

Please join me in helping them. Together we can stop this.


http://www.thepetitionsite.com/takeaction/742739131
thank you........Elizabeth Nadler
Dec 29, 2006
Please help with this so that these two cruel and vicious people can be put where they belong. Perhaps we can influence the trial. PLEASE SIGN THIS AND FORWARD IT TO AS MANY PEOPLE AS YOU CAN.

thanks......Elizabeth N
*********************************************************

I know this has been around and already has over its goal of signatures – but these SOBs are back on trial so let's try and give it another push!! Thanks for fwding again Catman!


Dear Friends:
I'm sending this out because there is new trial scheduled in early January for these two
monsters
. They showed absolutely no remorse for
baking a puppy to death in an oven
and sneered at the animal welfare activists attending their first trial. If you have not signed this petition please do and forward and cross post far and wide.

This petition will be used to help strengthen animal abuse laws and incarcerate these two so they cannot do more harm.

Thanks and Bless You All
Catman P.
http://www.thepetitionsite.com/takeaction/564805100
comments
(1) |
discussion
() |
permalink
|
send green star
|
flag as inappropriate
May 3, 2006
NEW Petition! "Mercy's Law"


PLEASE SIGN THIS PETITION. WE ARE TRYING TO HAVE NEW LEGISLATION ENACTED THAT WILL TOUGHEN THE SENTENCING FOR TORTURE AND DEATH OF ANIMALS, AND WOULD LIKE TO HAVE IT NAMED AFTER MERCY - THE SWEET, GENTLE DOG WHO WAS RECENTLY SO BRUTALLY TORTURED AND DIED UNDERGOING TREATMENT

We the people, ask that a legislation be enacted which shall be named "Mercy's Law"

http://www.thepetitionsite.com/takeaction/809607957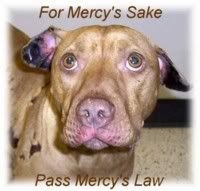 Thank you for caring........Elizabeth N.

comments
(1) |
discussion
() |
permalink
|
send green star
|
flag as inappropriate
| | |
| --- | --- |
| | Content and comments expressed here are the opinions of Care2 users and not necessarily that of Care2.com or its affiliates. |
SHARES FROM ELIZABETH'S NETWORK