Apr 4, 2009

.
AUSTRALIAN HISTORY

1874 - The Forrest brothers depart Geraldton WA in search of a stock route to the east. On this expedition the brothers discovered Weld Springs, which seemed to have an "almost unlimited supply of water." The explorations of John and Alexander Forrest filled in the missing gaps regarding Australia's interior. [more]
1897 - Jandamarra, who led the rebellion to defend his land from white man, is killed. Jandamarra, or 'Pigeon'- turned from police assistant to resistance fighter, leading his people against the white forces invading their land. In 1894, the resistance fighters were tracked down - people on both sides were killed. It was thought Jandamarra was among the dead, but he escaped after playing "possum". The police then recruited a tracker who killed him at Tunnel Creek on 1 April 1897.[more]
Novel's coverpage at right:["Jandamarra and the Bunuba Resistance"]
.
1978 - APRIL FOOL'S DAY HOAX: Dick Smith's Iceberg
Australian identity Dick Smith actually played out this hoax the day before April 1st so that people would be less likely to catch on... a barge came through the heads of Sydney Harbour towing a giant iceberg which Smith claimed to have come from Antarctica, and which he intended to carve up and sell for 10c per ice-cube. The scheme was only revealed when rain washed away the firefighting foam and shaving cream of which the berg was really made, uncovering the white plastic sheets beneath.
.[pictured below]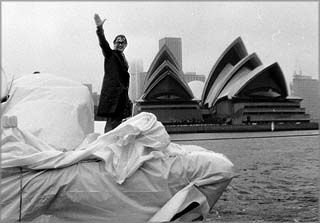 .
WORLD HISTORY
.
First of April is April Fool's Day, a time of famous hoaxes and pranks.
Perhaps April Fool's Day originated in India with the celebration of the Spring equinox, often marked by sending people them on fruitless errands? Or did it begin in France,1582, after the introduction of the Gregorian calendar?
Some popular hoaxes of April Fool's Day have been:
In 1957, the BBC television program Panorama ran a hoax showing the Swiss harvesting spaghetti from trees. A lot of people called up wanting to know how they could grow their own spaghetti trees.
In 1998, Burger King ran an ad in USA Today, saying that people could get a Whopper for left-handed people, the contents of which were designed to drip out the right side. Thousands of customers went into restaurants to request the new burger.
In 1965, the BBC purported to conduct a trial of "smellovision", a new technology allowing the transmission of odor over the airwaves to all viewers. Many viewers reportedly contacted the BBC to report the trial's success.
In 1976, British astronomer Patrick Moore announced on BBC Radio 2 that at 9:47am, the planet Pluto would pass behind Jupiter, causing a brief gravitational alignment... Listeners were told that if they jumped in the air at that exact moment they would experience a strange floating sensation.
One year, Dutch television news reported that the government had new technology to detect unlicensed televisions but that wrapping a television in aluminium foil could prevent its detection. Within a few hours, aluminium foil was sold out throughout the country.
Origin of April Fool's hoaxes

[according to Snopes]
comments
(0) |
discussion
() |
permalink
|
send green star
|
flag as inappropriate
Mar 21, 2009
Rest In Peace, Natasha Richardson
On This Day, 18th March '09, Natasha, 45, passed away after being taken off life support. Two days earlier in Quebec, the actress had suffered a head injury in a skiing accident: Natasha had fallen during a private ski lesson. Though she felt fine for a short time after, an hour later she complained of a severe headache. Natasha was taken to a hospital in Canada, then flown to a New York hospital the following day. There, friends and family held a vigil for her. Sadly, Natasha was declared brain dead and was then taken off life support. Natasha and husband Liam Neeson were married for 15 years and have two sons: Micheal 13 and Daniel 12. Natasha was the daughter of Vanessa Redgrave (pictured).
---
Born on this day
1944 - Dick Smith, Australian Businessman, entrepreneur, aviator. 1982-83 first solo helicopter flight around world; 1986 Australian of the Year. Often controversial, Smith supported David Hicks, the Australian who was held in Guantanamo Bay for several years without being charged. The following is taken from an interview in Sept '08: Dick Smith: I sent money to a trust account to David (Hicks)'s solicitor, David McLeod, in Adelaide. I think it must have got up to about $50,000. It was to support family members to visit David and for other purposes. The money also funded Geoffrey Robertson, the top international human rights lawyer, to travel to Washington. None of it went to David Hicks.
What have you learnt? I've learnt how fundamentally decent Australians are. That, even if you have a government and a media that's running propaganda, in the end people will make a decision based on fairness.

Dick Smith's love of practical jokes: "My favourite was towing the iceberg into Sydney Harbour. I wanted the publicity for Dick Smith Electronics...so I came up with the idea that I was going to tow an iceberg into Sydney Harbour, cut it up into icecubes and call them 'Dicksicles' and sell then for 10 cents each. The media actually fell for it."

Australian History
1910 - American escapologist, Harry Houdini, makes Australia's first officially recorded controlled, powered flight of an aircraft. Top: Australian press pictures 19March1910 [more]

World History
1314 - Jacques de Molay, the leader of the order of the Knights Templar, is executed. [more]

1990 - East Germany's first and only free elections were held on this day, signalling the end of the country's existence.[more]
comments
(0) |
discussion
() |
permalink
|
send green star
|
flag as inappropriate
| | |
| --- | --- |
| | Content and comments expressed here are the opinions of Care2 users and not necessarily that of Care2.com or its affiliates. |
Author


Jenny Dooley
, 3, 2 children
Eastlakes, SW, Australia

SHARES FROM JENNY'S NETWORK
Mar
31

(1 comments | discussions )

\\nZEN was suspended by Eric with no warning. We don\\\'t know any reasons nor how long it will last....\\r\\nI asked about it on the forum but my post was immediately deleted. 2 threads and petitions about Zen also. And 2 her help-groups. :-(\\r\\nUntill to...