Mar 29, 2008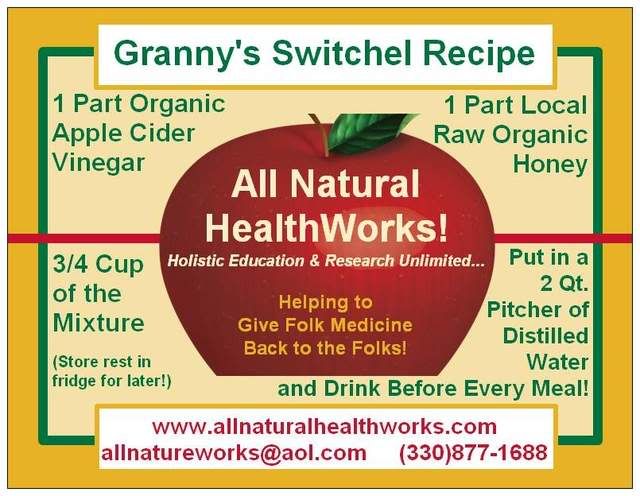 When I was 10, my Mom introduced the family to Switchel. She had been reading a Folk Medicine
book that I still use today in my work.
More than 40 years later, my family still drinks it. My Mom's 92 and I'm a doctor of naturopathy now. What a great little drink this sure is!
It really is. It's been known to be helpful for so many things...swollen joints, upset stomachs, losing weight...I've even given it to chickens to help them in producing more eggs! If there's such a thing as a cure-all, this little recipe comes really close!
There are so many things that can help us so much that are VERY inexpensive and simple to use. We're so reliant on modern medicine these days, and it's really a shame that so many folk remedies are going by the wayside. People need to know that so many of these remedies work!
So that's what I've made my mission in life...to help give Folk Medicine Back to the Folks. I don't believe that God meant for healing to be anything less then perfect and simple...no side effects...Good Health is a Natural Thing!
Naturally Yours in Good Health!
Vibraceous, ND
Mary Jo Eshelman, ND, CTN, CNHP, D.D.
All Natural HealthWorks!
Holistic Education and Research Unlimited...
Imported from external blog
comments
(0) |
discussion
() |
permalink
|
send green star
|
flag as inappropriate
Visibility:
Everyone
Tags:
natural
,
pets
,
medicine
,
health
,
healing
,
massage
,
folk
,
alternative
,
herbs
,
reiki
,
organic
,
recovery
,
chemical
,
nutrition
,
holistic
,
addictions
,
naturopath
,
aromatherapy
,
alcoholism
,
hormones
,
dependency
,
trauma
,
sprituality
,
glyconutrients
Posted:
Mar 29, 2008 4:36pm
Jan 12, 2006
I'm sending this out to my whole network. I've never done this before, but it seemed like a really good way to share the new news that I have.

There's a new group I hope you will like. Check it out and see what you think! It's brand new, so please help get it off to a really good start, and comment on some of the topics and please post a few of your own!!! This is the place for any topic which has anything at all to do with holistic healing and/or all natural health.


All Natural HealthWorks!
Come learn and share with us, please! Let's make this a really good group!


comments
(0) |
discussion
() |
permalink
|
send green star
|
flag as inappropriate
Visibility:
Everyone
Tags:
water
,
natural
,
prayer
,
nature
,
god
,
health
,
healing
,
massage
,
folk
,
meditation
,
yoga
,
herbs
,
reflexology
,
reiki
,
remedies
,
chakras
,
organic
,
stretching
,
breathing
,
nutrition
,
holistic
,
naturopath
,
aromatherapy
,
accupressure
,
exercise
Posted:
Jan 12, 2006 4:08pm
| | |
| --- | --- |
| | Content and comments expressed here are the opinions of Care2 users and not necessarily that of Care2.com or its affiliates. |
Author


Jody Evans
, 2, 6 children
Hartville, OH, USA

SHARES FROM JODY'S NETWORK