We stand firmly in support of
a permanent ban of all seal hunts and slaughtering world wide. Our current focus is on the ending the Canadian Harp and Grey seal hunts. We further support the abolishment of the fur trades on a global level.
Welcome!
Thank you for your support in our effort to permanently ban all
cruel seal hunts. Baby seals need us now.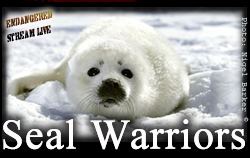 Action Steps
Listen to "Save the Baby Seals"
http://wflendangeredstreamlive.org/savethebabyseals.html
Listen to "Seal Warriors"
http://wflendangeredstreamlive.org/sealwarriors.html
Sign the Pledge: To Boycott Canadian Seafood, I Won't buy While Seals Die
http://www.hsus.org/protect_seals.html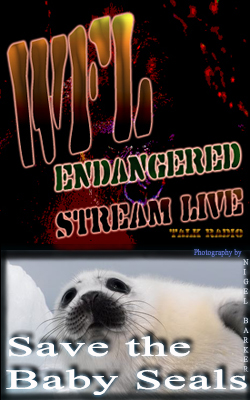 Email Canada's Minister of International Trade, David Emerson to End the Hunt
https://community.hsus.org/campaign/trademinister_protectseals08
Stop Canada's Grey Seal Slaughter
https://community.hsus.org/campaign/canada_grey_seals
Read more about Canada's Grey Seal Hunt!
http://www.antisealingcoalition.ca/
https://community.hsus.org/campaign/furfreepledge_jay

Spread the Word
Ask a Friend to Join the Boycott:

https://community.hsus.org/campaign/protectseals/forward
Urge Your Grocer
to Join the Boycott

http://harpseals.org/help/letters_and_emails/index.html

Contact the restaurants, distributors and grocery
stores that have been particularly resistant to
joining
the boycott.
Politely ask them to help protect seals by limiting or eliminating Canadian seafood by Signing the Pledge to Boycott:

Send an Automated Email to Costco
http://www.harpseals.org/helpstop/protest_new/costco_email.php


Grocers & Businesses to Contact



Ahold USA

(Dutch-based company that owns Stop & Shop, Giant Food Stores)
Bill Grize, President and CEO
Ahold USA Retail Operations
1385 Hancock Street
Quincy Center Plaza
Quincy, MA 02169
781-380-8000 or 703-961-6000
E-mail:
communications@ahold.com
Captain D's Seafood

Ron Powell, Chairman of the Board
Ronald E. Walker, President and COO
Captain D's Seafood
1717 Elm Hill Pike, Suite A-1
Nashville, TN 37210
615-391-5461
Fax: 615-231-2309
Email:
dscomments@captainds.com
Costco Wholesale Corp.
(incorporating both Costco and Price Club)
Jeffrey Brotman, Chairman
James Sinegal, President
Costco Wholesale Corporation
999 Lake Drive
Issaquah, WA 98027
425-313-8103 or 800-774-2678
Send comments via this
web page
.

King's Seafood

Sam and Jeff King (who also own Water Grill, Ocean Ave Seafood, i.Cugini, 555 East, Larry & Mickey's and Kings Fish House/King Crab Lounge, all in southern California.)
Sam King, CEO
3185 Airway Avenue
Costa Mesa, CA 92626
714-432-0400
You can also email the Chief Seafood Officer, Matt Stein at
mstein@kingsseafood.co
Long John Silver's
(owned by Yum! Brands Inc., which also owns Taco Bell, Pizza Hut, Kentucky Fried Chicken, and A&W All-American Food Restaurants)
David C. Novak, President and CEO


Yum! Brands


1441 Gardiner Lane
Louisville, KY 40213
502-874-8300
Send comments via this
web page
.



McCormick & Schmick's


Douglas Schmick, Co-Founder and President
Saed Mohseni, CEO
McCormick & Schmick's Seafood Restaurants
720 SW Washington St.
Portland, OR 97205
503-226-3440
Fax: 503-228-5074


Outback Steakhouse Inc.

Chris T. Sullivan, Chairman and CEO
Outback Steakhouse
2220 North West Shore Blvd., Suite 500
Tampa, FL 33607
813-2862247
Email: Use form on
this page
.

Phillips Foods, Inc. & Seafood Restaurants

Mark Sneed, President
1215 East Fort Avenue
Baltimore, MD 21230
Phone: 443-263-1200, 1-888-234-CRAB
Fax: 410-837-8526
Email:
comments@phillipsseafood.com
Red Lobster

Clarence Otis, Jr., CEO of The Darden Group and George Williams, Vice President for Government and Environmental Relations for Red Lobster Restaurants
The Darden Group
5900 Lake Ellenor Drive
Orlando, FL 32809
Corporate headquarter phone number: 407-245-4000
Guest relations hotline: 800-LOBSTER (1-800-562-7837)
Send your emails via the Red Lobster
web site
.

Wal-Mart Stores, Inc.

702 SW 8th St.
Benton, AR 72716
479-273-4000
Fax: 479-273-4053
Email: Use contact form on
this page
.


USA:
Call Your US Representatives
https://community.hsus.org/humane/leg-lookup/search.html


Send a Letter to the Canadian Embassy:
Ambassador Michael Wilson
Office of the Ambassador,
Canadian Embassy
501 Pennsylvania Ave.,
NW

Washington

, DC 20001


(sample)

Subject: Stop the mass slaughter of baby seals
Dear Ambassador Wilson,
I am appalled that Canadian fishermen continue to brutally slaughter more than 300,000 baby seals every year in Newfoundland and Labrador. I am writing to let you know that until the Canadian government puts a permanent stop to this atrocity, I will be boycotting Canada's goods, tourism and seafood industries.
Approximately 95% of the victims of this annual massacre are newborn pups less than four weeks old. A 2001 study found 79% of hunters did not verify that animals were dead before skinning them, and that 42% of the seals showed minimal or no skull fractures, indicating a high likelihood they were alive and perhaps even conscious while being skinned.
With all due respect, I would like you to explain to me in your response to this email how such cruelty can be justified.
I submit that the seal slaughter cannot be defended on any reasonable ethical grounds. Canada therefore risks alienating hundreds of millions of consumers worldwide and staining its citizens' hands with blood that will not easily wash off. With the seal massacre set to start in a matter of weeks, I urge you to please do all that you can to oppose this impending tragedy before it is too late.
Sincerely,


Join Sea Shepherd's Campaign to Save the Seals


http://www.seashepherd.org/



NEWSPAPERS AND PRESS:

The Globe and Mail
, Canada national daily
Web site:
http://www.globeandmail.com/
Letters to the Editor
E-mail : letters@globeandmail.com
Telephone : 1 416 585-5000
The Telegram, Newfoundland
Web site: http://www.thetelegram.com/
Letters to the Editor
E-mail : letters@thetelegram.com
Telephone : (709) 364-2323, ext. 832
The Western Star, western Newfoundland
Web site: http://www.thewesternstar.com/
Editorials, Letters to the Editor - Ray Sweetapple
E-mail : rsweetapple@thewesternstar.com
Telephone : (709) 637-4663

Montreal Gazette, Quebec
Web site: http://www.canada.com/montrealgazette/index.html
Letters to the editor: http://www.canada.com/montrealgazette/letters.html

The First Informer, Magdalen Islands, Quebec
Web site: http://www.qcna.org/Informer/
Email: firstinformer@sympatico.ca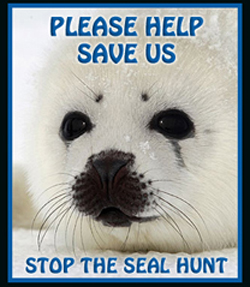 Other Seals in Peril:
Help Stop Scottish Seals from being Shot!

Newly born Greenland Seals being Slaughtered
P
ublic protests against the killing of newly born Greenland seals in the Archangel region have resulted in a ban on the hunting of baby seals this year. Officially, the reason for the ban was the dangerously thin ice. The real reason was the wave of protests from celebrities and animal protectionists. Now the Russian animal activists and stars are trying to have this year's ban on the hunt of white-coat pups and "greys" (slightly older pups) translated into a legal ban.
Slaughter of 100's of thousands -Cape Fur Seals Africa
http://www.sealalert.org/
Stop Canada's Grey Seal Slaughter
http://www.antisealingcoalition.ca/
Read more about Canada's Grey Seal Hunt
Russian Seal Farms

______________________________________

Fair Use Notice: This website may contain copyrighted material whose use has not been specifically authorized by the copyright owners. We believe that this not-for-profit, educational use on the Web constitutes a fair use of the copyrighted material (as provided for in section 107 of the US Copyright Law). If you wish to use this copyrighted material for purposes of your own that go beyond fair use, you must obtain permission from the copyright owner.
9 years ago (44 replies)
Last reply by Vivien :
I have today written to six of the major Uk supermarkets asking them to stop selling Canadian fish and seafood products. ...
more»
9 years ago
(16 replies)
|
Seal Warriors
Last reply by Vivien :
Thank you everbody for all the links and information above. ...
more»
9 years ago
(5 replies)
|
Seal News Updates
Last reply by Dianna :
i didn't realize we had a group for baby seals. i would have joined a long time ago. this is very dear to my heart and i do love all animals and baby seals is the 1st that i want to defend and give my attention to. it is...
more»
Feeds from the Web
No group connections were found