We are a safe haven of love
and friendship. Talk, share, cry, release, or just come and laugh with us. There is no nasties, no mean people allowed! :) You will always find support and lots of hugs!! Leave behind all the drama, all the stress, all the deba
Welcome!!
This group is for everyone to come and take a break from everything else. Tell a funny story, share a joke, or some really great news! If something sad is happening in your life or you just need some virtual hugs you have come to the right place! Share with your friends and find support and love!
Rules
1.
If you can't say something nice don't say anything at all. Treat others how you would like to be treated. With respect and love.
This group is for support and friendship ONLY! Any and all posts that aim to cause problems WILL BE DELETED! If you can not give support or say something nice then this group is not for you. Your post will be deleted at once and you will be warned. Two warnings and you are gone. You do not have to answer every thread and/or every post. So if someone you dislike is talking or if you do not agree then DO NOT post. Easy as that.
This group is for everyone to get away from the negativity, so we will not allow any here.
~~~~~~~~~~~~~~~~~~~~~~~~~~~~~~~~~~~~~~~~~~~~~~~~~
2.
If you come to release and find support from another group, then do not post any ones names or the name of the group you are talking about.
For example: If Bob from the group Big Green Hippos is making you angry, do not come over here and say Bob from Big Green Hippos is a jerk because of blah blah blah. Instead say someone from a group was saying mean things and hurt me. Also do not copy what they wrote or post links to the group here. Even if everyone here knows who and what you are talking about.
I find this only fair to everyone involved as they are not allowed to come here and say no that didn't happen and defend themselves. This group is for support and love not to attack others!
~~~~~~~~~~~~~~~~~~~~~~~~~~~~~~~~~~~~~~~~~~~~~~~~~
3.
If someone from one of your groups, or a group you are in posts something about the group or a situation about the group
Do not respond!
They are looking for support and just need to vent or they need a hug because they are upset.
They are not allowed to post names, or group names. So one one will know it was you, so you do not need to defend yourself. If you feel their post was innapropriate message me (or another host) ASAP and I will look into it.
I want this place to be free to flame wars, taking sides, and hurtfulness. I do not care who was right or who was wrong. if someone is hurting and need a hug or a friend, that is why they are here. Not to attack anyone, and if they are they
will
be deleted! So if you need to have your flame war, message them privatly
~~~~~~~~~~~~~~~~~~~~~~~~~~~~~~~~~~~~~~~~~~~~~~~~~
4.
Debates and Posting about petitions, issues, etc....
I created Support of Friends to get away from all the debate, disagreeing, fighting etc.. of the other groups. Not that disagreeing or debate is bad, its just sometimes we all need a safe haven, a break from it all. Which is the purpose of this group. So I would like to keep it free of all that other stuff.
But we are friends and should support one another. So feel free to share information and things important to you. But remember there are many other groups better suited for some discussions.
So from now on if you wish to share a petition or an issue you feel strongly about, share it in another group. Then you can post a link to the thread in that group or to the petition group to discuss it.
~~~~~~~~~~~~~~~~~~~~~~~~~~~~~~~~~~~~~~~~~~~~~~~~~
5.
Give thanks! If you come here and unload about your bad day, and all anyone can do is send you a
be thankful. Atleast someone took a second out of their day to think of you and type it out. Its more then what others get sometimes. Try to be supportive of others also!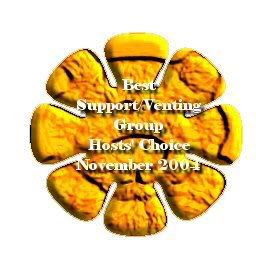 Message me anytime!
Feeds from the Web
There are currently no feeds available.
Host Announcements
There are no host announcements.
No group connections were found