Old and New
Thou hast made me known to friends whom I knew not.
Thou hast given me seats in homes not my own.
Thou hast brought the distant near and made a brother of the stranger.
I am uneasy at heart when I have to leave my accustomed shelter;
I forget that there abides the old in the new,
and that there also thou abidest.
Through birth and death, in this world or in others,
wherever thou leadest me it is thou, the same,
the one companion of my endless life
who ever linkest my heart with bonds of joy to the unfamiliar.
When one knows thee, then alien there is none, then no door is shut.
Oh, grant me my prayer that I may never lose
the bliss of the touch of the one
in the play of many.
By RabindraNath Tagore
The song below was one of the daily prayers of Mahatma Gandhi:

Vaishnav jan to tene kahiye je
[One who is a vaishnav]
Peed paraayi jaane re
[feels and understands the pain of others]
Par-dukhkhe upkaar kare toye
[Does good to others, especially to those who are in misery]
Man abhimaan na aane re
[Does not let pride enter his mind]
Vaishnav...

Sakal lok maan sahune vande
[A Vaishnav, honours and praises the the entire world]
Nindaa na kare keni re
[Does not criticize or say bad things about anyone]
Vaach kaachh man nishchal raakhe
[Keeps his/her words, actions and thoughts pure]
Dhan-dhan janani teni re
[O Vaishnav, your mother is blessed (dhanya-dhanya)]
Vaishnav...
Sam-drishti ne trishna tyaagi
[A Vaishnav sees everything and everyone equally, rejects greed and avarice]
Par-stree jene maat re
[Respects women especially some one else's wife as his mother]
Jivha thaki asatya na bole
[His toungue may get tired, but will never speak lies]
Par-dhan nav jhaalee haath re
[He does not even touch someone else's property]
Vaishnav...
Moh-maaya vyaape nahi jene
[A Vaishnav does not succumb to worldly attachments]
Dridh vairaagya jena man maan re
[Who has devoted himself to staunch detachment from worldly
pleasures]
Ram naam shoon taali laagi
[Who has been addicted to the elixir of the name of God]
Sakal tirath tena tan maan re
[For whom all the sacred places of pilgrimage are in the mind]
Vaishnav...


Van-lobhi ne kapat-rahit chhe
[Who has no greed and is not deceitful]
Kaam-krodh nivaarya re
[Who has renounced lust and anger]
Bhane Narsaiyyo tenun darshan karta
[The poet Narsi would like to see such a person]
Kul ekoter taarya re
[By whose virtue, his/her entire family gets salvation]
Vaishnav...
By Narsi Mehta
Vaishnava literally means one who worships Vishnu/God. But it should be noted that the word Vaishnava really stands for a person who has the qualities of an ideal human being...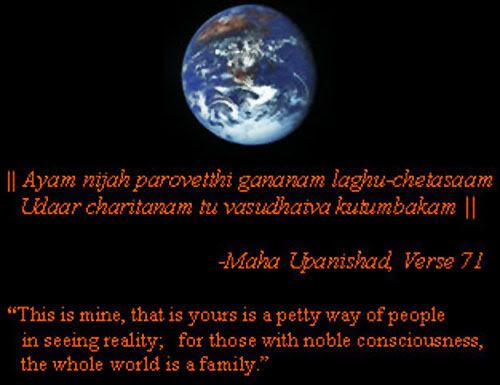 "Vasudhaiva Kutumbakam" is a Sanskrit phrase meaning "the whole world is a family."