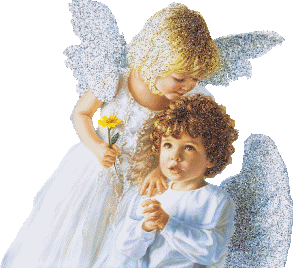 I lost the most wonderful man in the world, my Dad!! My life is forever changed. I miss him so.
Missing You
No words I write can ever say
How much I miss you every day
As time goes by, the lonliness grows
How much I miss you, nobody knows!
I think of you in silence
I often speak your name
But all I have are memories
And photos in a frame
No one knows my sorrow
No one sees me weep
But the love I have for you
Is in my heart to keep
I've never stopped loving you
I'm sure I never will
Deep inside my heart you are with me still
Heart aches in this world are many
But mine is worse than any
My heart still aches as I whisper low
"I need you and I miss you so"
The things we feel so deeply
Are often the hardest to say
But I just can't keep quiet any more
So I'll tell you anyway
There's a place in my heart
That no one else can fill
"I love you so "Dad"
And I always will!
author unknown
JUST MY DOGHe is my other eyes that can see abovethe clouds; my other ears that hear above the winds.

He is the part of me that can reach out into the sea.

He has told me a thousand times over that I am his reason for being: by the way he rests against my leg;
by the way he thumps his tail at my smallest smile; by the way he shows his hurt when I leave without taking him. (I think it makes him sick with worry when he is not along to care
for me.)

When I am wrong, he is delighted to forgive. When I am angry, he clowns to make me smile. When I am happy, he is joy unbounded.When I am a fool, he ignores it. When I succeed, he brags.

Without him, I am only another man. With him,I am all-powerful.

He is loyalty itself. He has taught me the meaning of devotion. With him, I know a secret comfort and a private peace. He has brought
me understanding where before I was ignorant.

His head on my knee can heal my human hurts. His presence by my side is protection against
my fears of dark and unknown things.

He has promised to wait for me ...whenever...wherever--in case
I need him.

And I expect I will--as I always have.

He is just my dog.
Dog Rules
1. The dog is not allowed in the house.
2. Okay, the dog is allowed in the house, but only in certain rooms.
3. The dog is allowed in all rooms, but has to stay off the furniture.
4. The dog can get on the old furniture only.
5. Fine the dog is allowed on all the furniture, but is not allowed to sleep with the humans on the bed.
6. All right, the dog is allowed to sleep with the humans on the bed, but only by invitation.
7. The dog can sleep on the bed whenever he wants, but not under the covers.
8. The dog can sleep under the covers, but only by invitation.
9. The dog can sleep under the covers every night.
10. Humans must ask permission to sleep under the covers with the dog!



"A dog wags its tail with its heart." - Martin Buxbaum

"If there are no dogs in Heaven, then when I die I want to go where they went." - Unknown

"Anybody who doesn't know what soap tastes like never washed a dog." - Franklin P. Jones


"A dog may be the only opportunity a human has to choose a relative." - Mordecai Siegal


"As every cat owner knows, nobody owns a cat." - Ellen Perry Berkeley

A PRECIOUS GLIMPSE OF MY MANY PASSIONS