AND MY GOD WILL SUPPLY ALL YOUR NEEDS ACCORDING TO HIS GLORIOUS RICHES IN JESUS CHRIST - PHILIPPIANS 4:19
Finish every day and be done with it. You have done what you could. Some blunders and absurdities no doubt have crept in; forget them as soon as you can. Tomorrow is a NEW day; begin it well and serenly and with too high a spirit to be cumbered with your old nonsense. This day is all that is good and fair. It is too dear with its hopes and invitations to waste a moment on yesterdays. RALPH WALDO EMERSON
For God so loved the World that He gave His one and only Son, that whoever believes in Him shall not perish but have eternal life. ( John 3:16 )
And as we let our own light shine, we unconsciously give other people permission to do the same. NELSON MANDELA
I have found the paradox that if I love until it hurts, then there is no hurt, but only more love.
-- Mother Teresa
Mother Teresa

"There are so many religions and each one has its different ways of following God. I follow Jesus Christ: Jeshua Hamashia.
Jesus is my God,
Jesus is my Spouse,
Jesus is my Life,
Jesus is my only Love,
Jesus is my All in All;
Jesus is my Everything."
Each Thursday morning I and four other volunteers from other churches (different volunteers each week) visit the ladies at the
Bahrain Prison
to encourage and to speak about Jesus. We have been going for over a year, the guards and the Captain in charge smile each time the "Christians" arrive. They make sure we are comfortable then lead in the prisoners. We pray, talk to the ladies about everyday things through the Bible, give out supplies, these ladies come in with nothing, just the clothes on their backs. Many have done nothing wrong. Through my own struggle the Lord led me to my calling through
Isaiah 61
"
The Spirit of the Sovereign Lord is on me, because the Lord has anointed me to preach good news to the poor. He has sent me to bind up the brokenhearted, to proclaim freedom for the captives and release from darkness for the prisoners.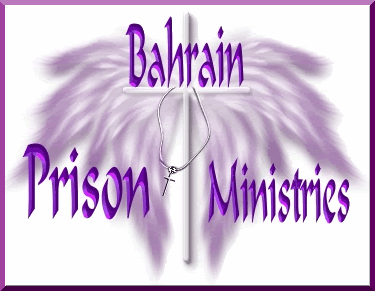 Gifted to me by my dear Sister in Christ Joanna B. God Bless you, protect you and prosper you my sister.
The natural world is the larger sacred community to which we belong - Thomas Berry

And as we let our own light shine, we unconsciously give other people permission to do the same. NELSON MANDELA
I will not be accepting any group invitations at this time. Love and Blessings,Sue :-)
When you click, we display ads from our site sponsors. 100% of the money from these advertisers goes to our charity partners , who fund programs to provide food to the hungry.
Our store gives a portion of every purchase to our charity partners.
Please tell your friends!
Recipe For Friendship
(Author Unknown)
Fold two hands together
And express a dash of sorrow
Marinate it overnight
And work on it tomorrow

Chop one grudge in tiny pieces
Add several cups of love
Dredge with a large sized smile
Mix with the ingredients above

Dissolve the hate within you
By doing a good deed
Cut in and help your friend
If she/he should be in need

Stir in laughter, love, and kindness
From the heart it has to come
Toss with genuine forgiveness
And give your neighbor some

The amount of people served
Will depend on you
It can serve the whole wide world
If you really want it to.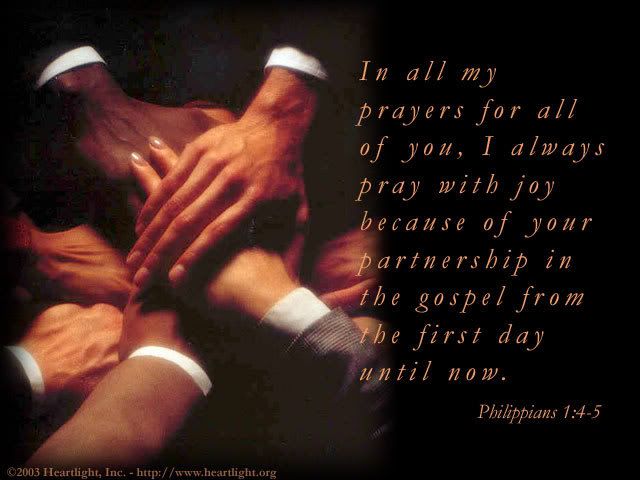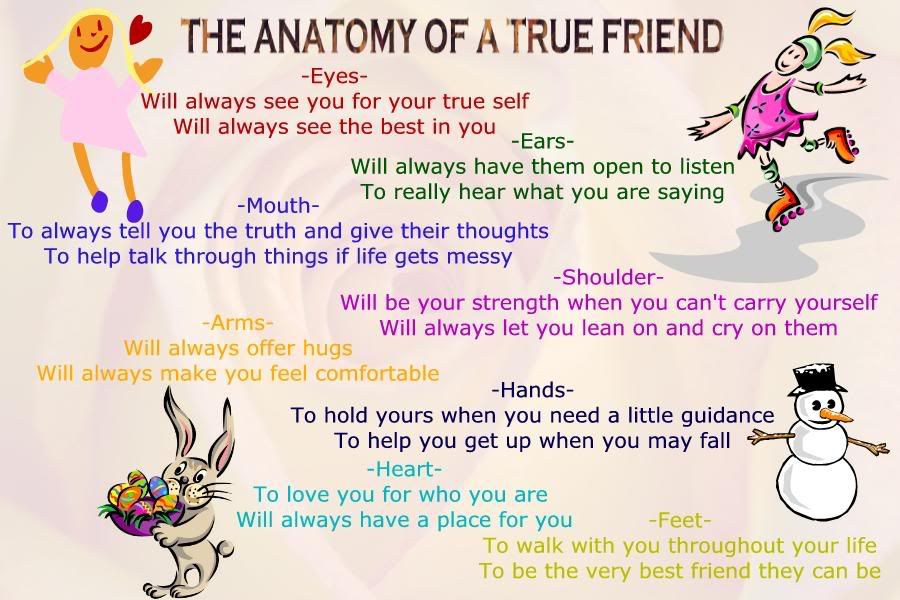 "Be anxious for nothing, but in everything by prayer and supplication, with thanksgiving, let your requests be made known to God; and the peace of God, which surpasses all understanding, will guard your hearts and minds through Christ Jesus." (Philippians 4:6 & 7, NKJV)


Men and Women Who Change the World
There are men and women who make things better... simply by showing up. There are men and women who make things happen. There are men and women who find their way. There are men and women who make a difference. Men and women who make us smile. There are men and women of wit and wisdom who -- through strength and courage -- make it through. There are men and women who change the world every day...men and women like you :-
http://www.thebiblesite.org/ - ONE CLICK IS A FREE BIBLE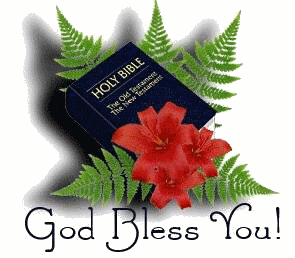 The Rain forest Site is dedicated to the preservation of Rain forests around the world. Your daily click funds the purchase of Rain forest land by The Nature Conservancy, The Rain forest Conservation Fund, The World Parks Endowment, and Rain forest 2Reef. These organizations work to preserve Rain forest land in Ecuador, Mexico, Peru, Paraguay and other locations worldwide.
On average, over 35,500 individuals from around the world visit the site each day to click the green "Click Here to Give - it's FREE" button. To date, more than 150 million visitors have preserved more than 40,500 acres of land.

Why Preserve Rain forest Habitat?

Rain forests are some of the world's most ancient and complex ecosystems. They cover a mere 2% of the Earth, yet more than half of all plant and animal species live there. The Rain forest is home to creatures as famous as the jaguar and poison dart frog, as well as lesser-known and even unidentified species.
These ecosystems are an amazing resource that is quickly slipping away. The Rain forest is where many modern food staples originated, including tomatoes, corn, and chocolate, but we use a mere fraction of the edible plants available there. In addition, one quarter of modern medicines come from plant species that were first used as traditional remedies. Western science has analyzed less than one percent of rain forest plants for medicinal compounds, and the indigenous tribes that use these plants are rapidly disappearing.
To complicate matters more, the rate of species extinction in the rain forest is undeniably high. As the forests are burned for short-term farming, grazed, and harvested for wood and other compounds at an unsustainable rate, we are swiftly losing the very species that may someday provide needed cures or disease-resistant crops. With them, we lose an extraordinary number of unique creatures found nowhere else in the world.
Join Care2.com and the Breast Cancer Fund's Climb to End Breast Cancer!
Join Care2.com's Race for Pets!
Join
Care2.com's Race to Stop Violence Against Women!
I have found the paradox that if I love until it hurts, then there is no hurt, but only more love.
-- Mother Teresa

Heavenly Father, the bond we have with our friends of other species is a wonderful and special gift from You. We now ask You to grant our special animal companions your Fatherly care and healing power to take away any suffering they have. They trust in us as we trust in You. Give us, their human friends, new understanding of our responsibilities to these creatures of Yours. Our souls and theirs are on this earth together to share friendship, affection, and caring. Take our heartfelt prayers and bless these ill or suffering animals with healing Light and strength to overcome whatever weakness of body they have:
Your goodness is turned upon every living thing; Your grace flows to all Your creatures; Your Light touches each of us with the reflection of Your love. Grant long and healthy lives to our special animal companions. Bless their relationships with us, and if You see fit to take them from us, help us to understand that they are not gone from us but only drawing closer to You. Grant our prayer through the intercession of good St. Francis of Assisi, who honored You through all Your creatures. Empower him to watch over our animal friends until they are safely with You in eternity, where we someday hope to join them in honoring You forever. Amen. (This was gifted to me by Kathy C). May God continue to protect, prosper and bless you my dear sister in Christ.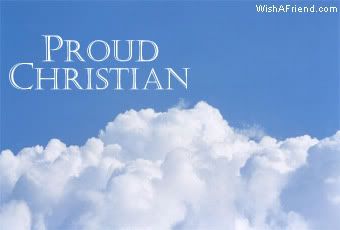 Speak tenderly to them. Let there be kindness in your face, in your eyes, in your smile, in the warmth of your greeting. Always have a cheerful smile. Don't only give your care, but give your heart as well.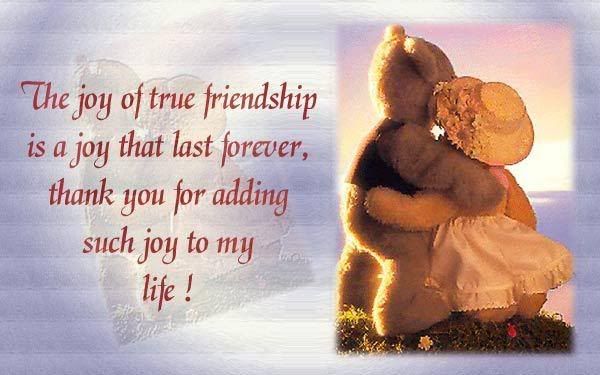 Pete chewed the wood in his stall for lack of real food
Rosie, starving and filthy
And God will meet all your needs according to His glorious riches in Christ Jesus.
( Philippians 4:19 )
----------------------------------------------------

PSALM 23
THE LORD IS MY SHEPHERD, I SHALL NOT WANT

HE MAKES ME TO LIE DOWN IN GREEN PASTURES,
HE LEADS ME BESIDE QUIET WATERS,
HE RESTORES MY SOUL. HE GUIDES ME IN THE PATH OF RIGHTEOUSNESS FOR HIS NAME'S SAKE.
EVEN THOUGH I WALK THROUGH THE VALLEY OF THE SHADOW OF DEATH, I WILL FEAR NO EVIL, FOR YOU ARE WITH ME; YOUR ROD AND YOUR STAFF THEY COMFORT ME
YOU PREPARE A TABLE BEFORE ME IN THE
PRESENCE OF MY ENEMIES. YOU ANOINT MY HEAD WITH OIL; MY CUP OVERFLOWS.

SURELY GOODNESS AND MERCY WILL FOLLOW ME ALL THE DAYS OF MY LIFE AND I WILL DWELL IN THE HOUSE OF THE LORD FOREVER. AMEN.

---------------------------------------------------
Whether you turn to the right or the left, your ears will hear a voice behind you, saying, "This is the way; walk in it." ( Isaiah 30:21 )
----------------------------------------------------
Your word is a lamp to my feet and a light for my path.
( Psalm 119:105 )
-------------------------------------------------
When you pass through the waters, they will not sweep over
you. When you walk through fire, you will not be burned; the flames will not set you ablaze.( Isaiah 43:2 )
---------------------------------------------------
Praise be to the God and Father of our Lord Jesus Christ,
who has blessed us in the spiritual realms with every spiritual blessing in Christ. For He chose us in Him before the creation of the World to be holy and blameless in His sight. ( Ephesians 1:3-4 )

---------------------------------------------------
For God so loved the World that He gave His one and only Son, that whoever believes in Him shall not perish but have eternal life. ( John 3:16 )
A REASON FOR OUR BEING
Perhaps there is a reason for our being. Perhaps what we give our lovely blue earth is song. Beauty. Art. Perhaps that is the reason we were created: to entertain the universe. Perhaps the great spirit is amused and touched, thrilled and delighted by our childlike creativity. Today we leave art to the professionals: to those with beautiful voices and firm bodies and exciting visions. But perhaps art is not frozen moments of perfection but the process of creation itself. Perhaps we were put here to pleasure the world, making art as spontaneously and joyfully as children drawing great yellow suns with wax crayons. Perhaps we should all be singing more, and dancing, and painting with bright colors, and chanting out poems. Perhaps we silly wonderful amateurs most please the universe when we act that way.
Extracted from Inspirations on
PointofView316.com - Pamela Lyn's awesome web page. May God protect, bless and prosper you my dear sister in Christ.
Psalm 16
Protect me O God, I trust in you for safety
I say to the Lord, you are my Lord. every good thing I have comes from you.
How excellent are the Lord's faithful people
My greatest pleasure is to be with them.
Those who rush to other gods bring many troubles on themselves.
I will not take part in their sacrifices, I will not worship their gods.
You Lord, are all I have, and you give me all I need; my future is in your hands. How wonderful are your gifts to me; how good they are.
I praise the Lord because he guides me, and in the night my conscience warns me.
I am always aware of the Lord's presence; he is near and NOTHING can shake me.
And so I am thankful and glad and I feel completely secure.
You will show me the path that leads to life; your presence fills me with joy and brings me pleasure forever.
DEVOTION - HILLSONG
I've been running, trying to be one who sees
I've been working, salvation out on my knees
There is nothing better than knowing

That we are redeemed
Unbelieving trusting in creative hands,
I am praying for our world to bow to your plan
And this one thought is unmistakable
I take up my cross and follow you Lord
Chorus
When you stand the tall trees and mountains bow
When you speak the fiercest of oceans is still
And I see the sinner seek devotion
The lost become chosen, and I fall to my knees
Verse 2
Unforgiven, my savior who did not deserve death
He was blameless and I was lost in shamefulness
Undelivered, but it doesn't seem right
Unless I keep my eyes focused on the Savior who gave his live
In the middle of a world that denies it believes
It is breaking apart at the very seams

There is one thing to be alive for and it's to take up my cross and follow you Lord
I will take up my cross and follow Lord where you lead me
And I will take up my cross and follow wherever you go.