Before the beginning of years
Algernon Charles Swinburne
Before the beginning of years
There came to the making of man
Time with the gift of tears;
Grief with a glass that ran;
Pleasure with pain for leaven;
Summer with flowers that fell;
Remembrance, fallen from heaven,
And madness risen from hell;
Strength without hands to smite;
Love that endures for a breath;
Night, the shadow of light,
And life the shadow of death.
And the high gods took in hand
Fire and the falling of tears,
And a measure of sliding sand
From under the feet of the years;
And froth and the drift from the sea;
And dust of the laboring earth;
And bodies of things to be
In the houses of death and of birth;
And wrought with weeping and laughter,
And fashioned with loathing and love,
With life before and after
And death beneath and above,
For a day and a night and a morrow,
That his strength might endure for a span
With travail and heavy sorrow,
The holy spirit of man.
From the winds of the north and the south,
They gathered as unto strife;
They breathed upon his mouth,
They filled his body with life;
Eyesight and speech they wrought
For the veils of the soul therein,
A time for labor and thought,
A time to serve and to sin;
They gave him light in his ways,
And love, and space for delight,
And beauty and length of days,
And night and sleep in the night.
His speech is a burning fire;
With his lips he travaileth;
In his heart is a blind desire,
In his eyes foreknowledge of death;
He weaves and is clothes with derision;
Sows, and he shall not reap;
His life is a watch or a vision,
Between a sleep and a sleep.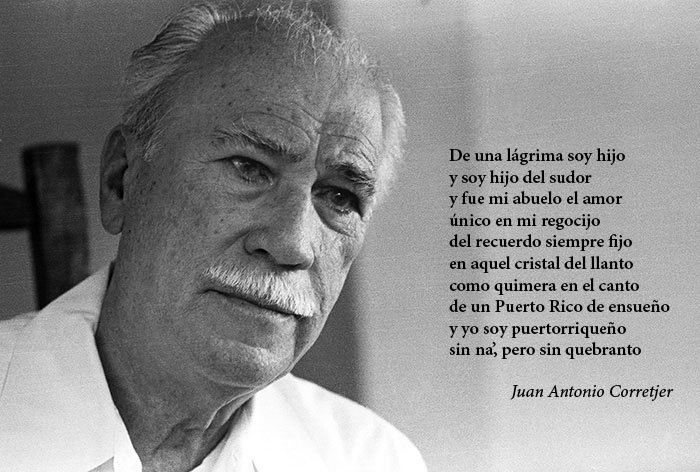 Boricua en la luna
Juan Antonio Corretjer

Desde las ondas del mar
que son besos a su orilla,
una mujer de Aguadilla
vino a Nuevo York a cantar.
Pero no, solo a llorar
un largo llanto y morir.
De ese llanto yo nací
como la lluvia una fiera.
Y vivo en larga espera
de cobrar lo que perdí.

Por un cielo que se hacía
mas feo mas más volaba
a Nueva York se acercaba
un peón de Las Marías
Con la esperanza, decía,
de un largo día volver.
Pero antes me hizo nacer
Y de tanto trabajar
se quedó sin regresar:
reventó en un taller.

De una lagrima soy hijo
y soy hijo del sudor
y fue mi abuelo el amor
único en mi regocijo
del recuerdo siempre fijo
en aquel cristal del llanto
como quimera en el canto
de un Puerto Rico de ensueño
y yo soy Puertorriqueño,
sin na, pero sin quebranto.

Y el "echón" que me desmienta
que se ande muy derecho
no sea en lo más estrecho
de un zaguán pague la afrenta.
Pues según alguien me cuenta:
dicen que la luna es una
sea del mar o sea montuna.
Y así le grito al villano:
yo sería borincano
aunque naciera en la luna.
Y así le gritó al villano:
yo sería borincano
aunque naciera en la lunaaaaaaa!!!


My translation:
Out of the waves of the sea
Which are kisses to its shore
a woman from Aguadilla
came to New York to sing,
but it turned out it was only to cry
a lengthy weeping and die,
Of that crying I was born
like a wild beast in the midst of the rain
I've been waiting for a long time
to make up for what I lost
Under a sky that kept looking
uglier the farther, farther he flew ,
to New York was about to arrive
a laborer from Las Marias,
in the hope he kept saying
to return on a distant day,
but before that he begot me
and grueling toil broke him down
right in his place of work
and he forever stayed behind
I am the son of a teardrop
and I'm the son of sweat,
My grandfather was the love
And sole source of my joy
A remembrance fixed in memory
In the glass of tears
like a chimera in a chant
of a dream Puerto Rico
and I'm Puerto Rican owning nothing,
but having no regrets.
And to the snub who contradicts this,
He better tread carefully,
Or risk paying off for the insult
On the narrowest spot of a passageway
'cause as someone tells me
It's said that there's just one moon
be it over mountain or over sea
and so I scream to the villain:
I would be borincano
Even if born on the moon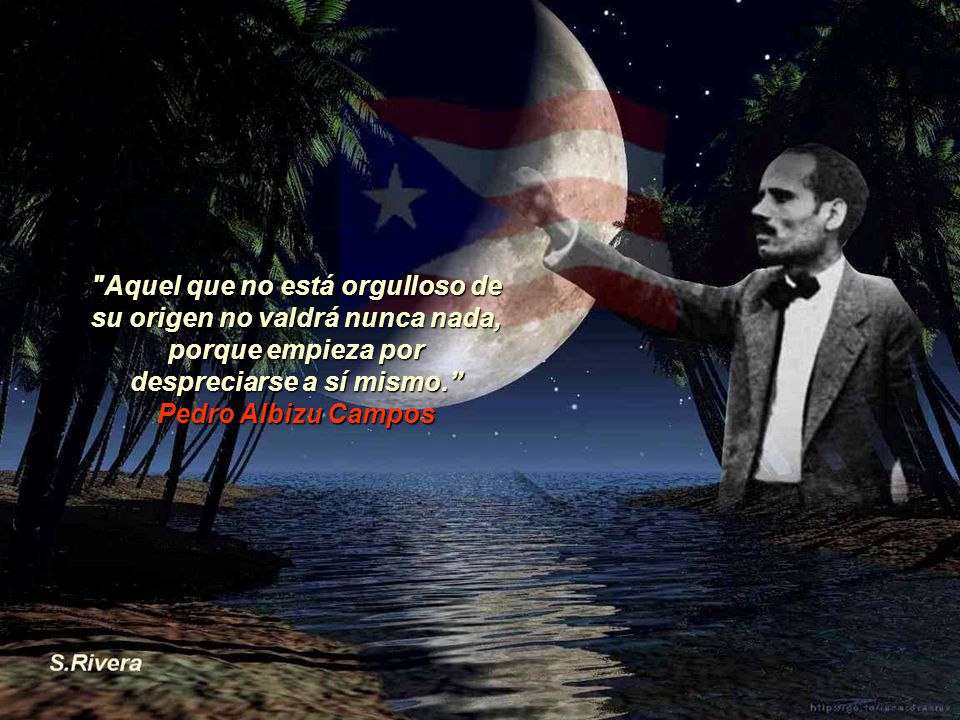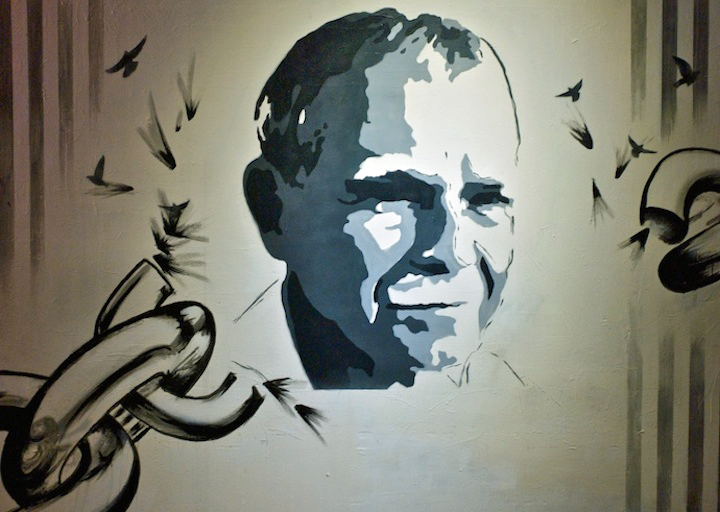 Oscar has been in a USA federal jail for 35 years. He was never accused of a violent crime. He was kept twelve years in solitary confinement. He fought in Vietnam and when he came back he knew where and who really originated violence. Colonialism is terrorism. End Oscar's imprisonment and colonialism in Puerto Rico now! (The painting is a conjoint work of Fernando Ruíz Lorenzo and COCO 144 from East Harlem.)
May 29th, 2016, San Juan, Puerto Rico.
Oscar has been free for about four months since May, 2017. He is in our free community and is shown here in a civil disobedience camp in Penuelas, a southern town of Puerto Rico which fights the dumping of ashes from a private coal plant protected by the colonial government and USA EPA agency.