"One who seeks delight in form seeks delight in suffering. One who seeks delight in suffering, I say, is not freed from suffering. -Buddha,"

Bristol, VA, USA
male, age 62
married, 3 children
Disabled
Speaks: English, Welsh
Joined May 20, 2004


Causes: health, Age Discrimination, Animal Welfare, Against Factory Farms, Victims of Incest, Affordable Housing, Homelessness, Human Rights, Hunger, Indigenous Peoples Rights, Media Ethics, Men's Rights, Mental Health Support Group, Native American Rights, Open Sou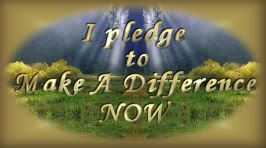 HAVE YOU TAKEN THE PLEDGE
?
I am here because:
* I believe in making the world a better place.
* I believe in treating others with trust and respect.
* I believe everyone has something to contribute.
The concept of this pledge comes from Sue Braiden a member in a progressive
internet network; it has been adapted for use here on Care2.
Prayer to Give Aid
May I become at all times, both now and forever
A protector for those without protection
A guide for those who have lost their way
A ship for those with oceans to cross
A bridge for those with rivers to cross
A sanctuary for those in danger
A lamp for those without light
A place of refuge for those who lack shelter
And a servant to all in need.
- Tenzin Gyatso, the 14th Dalai Lama
Prayer for Freedom From Suffering


May all beings everywhere plagued
with sufferings of body and mind
quickly be freed from their illnesses.
May those frightened cease to be afraid,
and may those bound be free.
May the powerless find power,
and may people think of befriending
one another.
May those who find themselves in trackless,
fearful wilderness--
the children, the aged, the unprotected--
be guarded by beneficent celestials,
and may they swiftly attain Buddhahood.
This from Amnesty International:



You have been reading:

"… condemns in the strongest terms the use of brutal torture that lead to death of Mr. Haysa …"

This is an excerpt from:

http://www.shrc.org/

The site belongs to Syrian Human Rights Committee , and has been censored in Syria. SHRC is a human rights organisation in Syria.

Take part by putting material like this on your site.

http://irrepressible.info/?fragment=41



Joined
May 20, 2004
Activist Aspirations
Casual
Here for
Meeting Friends, Support a Cause
Group Host of
none yet
Groups
(MCIF) Multi-Cultural Interfaith Forum, (PTT) Peace Think Tank, 40-60 plus-Friends Group, Attempting to Learn Japanese....., Avatar Alley, Buddhism, Care2 FAQ, Care2 Feedback and Suggestions, Disabled Support, Electronic Liberties Defense, Gaia: The Earth Force United Coalition., Green Party | 10 Key Values, Healthy Living Network, International Green Party Discussion Group more »
Hometown
Baltimore, MD
Homepage
Birthday
April 16, 1956
Languages
English, Welsh
About Me
I am just this guy, you see. I'm nobody speical. I just have a sence of what my best highest use of my abilities would have been. I have studied Reiki and the teachings on Ki Development and Aikido of Koichi Tohei Sensei, but have no "credentials" to use this stuff. I am a Spiritualist who claims no particular brand of religion, and a practical pacifist. I consider myself a moderate liberal and feel that there are problems that can be solved but we must begin with ourselves and then inspire others to follow. With King George II on the throne, that is all we can do.
Introduce yourself to John
Lifestyle
Pets
Cats
Activist Aspirations
Casual
Political Leaning
Liberal
Religions
Zen Catholic
Eating Habits
Coffee - Now!
Wild Fact About Me
At times I can be a paradox within an enigma. Or vice-verse.
My Philosophy
Do the thing in your mind, and when you are done relax completely knowing that it is finished.
What Gives Me Hope
My belief that man is essentially good and if given half a choice will act in the best interest of all. Also my understanding of the teachings of Zen Buddhism: that humankind can find its true nature and realize the above truth.
If I were Mayor, I'd make the world a better place by
Mayor: Immediately work to form a coalition to improve the economic circumstances in my city. This would include bringing in my opposition.
Governor: Introduce legislation to increase availability of food and shelters to homeless and poor people as well as to nullify "pro life" efforts to ban abortions. Next, ban nuclear war ships, missiles and war heads. Also work with coalitions of busniss and academic people to improve the state's environment and economy. In a democracy coalition building is the best way to go.
President: Immediately find a list of pro-choice and liberal judges to fill any vacancies. Work to undo the social inequities by the prior administration (were I running in this election). I would work to build a coalition of moderate to liberal people to work on such problems as the environment and the economy and the various wars.
What/who changed my life and why
Star Wars (Episode 4, A New Hope) because it led me to the teachings of Koichi Tohei Sensei.
What Bugs Me
people who WON'T use their minds!, agendized people, arrogance, Abusive people of any kind
Passions
did I mention peace?, coffee, Did I mention peace?, Aikido, The Mass, learning, My cats!!, My son, LIFE!!!, Peace and Non-Violence
Inspirations
John Denver, Peace Makers, breathing, Koichi Tohei, Thomas Merton, God and His Creation
What Scares Me
Ignorance and greed, The Religious Reich, Republicrooks, McBush, liars, the sheeple, The Sheep mentality
Favorites
Role Models
Chris Curtis Sensei, Mahatma Gandhi, Morehei Ueshiba, Koichi Tohei, the late George Simcox Sensei, Dr. David Shaner Sensei
Quotation
O're the hills and o're the main,
To Iraq and Afganistain.
King George commands and we obey,
Over the hills and far away.
(J.B. Daivs, 5/5/05)
Interests
Meditation, Medicine / Health Care, Magnet Therapy, Massage, Philosophy, Politics, Aikido, Zen
Books
true stories, The Power of Now, The Lord of The Rings, The Hobbit, the Bible, spirituality, Sefl Help Books!, sci-fi, Prescriptions for Nutritional Healing, history, fantasy, comics, any books about /the PARANORMAL
Music
Classical, NewAge/Space, World Beat and Celtic, Bluegrass, Classic Rock, Doo Wop (50's), Beach, soft rock
Movies
All Star Wars, All Star Trek, other Sci-Fi
TV Shows
Most Sci-Fi...CSI's, Law and Orders, programs that feature enlightenment and
Favorite Foods
Szetchwan, Mexican, British, good ole "'merukun" food
Favorite Places
The woods
Can't Live Without
Love and Affection, Ki, Food, Water, Air, Shelter (including clothing)
Introduce yourself to John
My Butterfly Rewards
Most recent activity (up to 500 gifts shown)
---
I've earned Butterfly Credits