Because I don't have the time to acknowledge everyone individually, this is a blanket

"THANK YOU"

for your green stars and comments. You are ALL very special people!


My only purpose here is to educate and bring awareness to the harsh reality of animal cruelty that is rampant across the nation.

Thank you!



---
---
My heros are all the animals who endure pain and suffering at the hands of humans, and all the while, show love.
To be chained and left to starve to death...to be caged and tortured daily, to be brutally attacked and mutilated by people with sadistic and psychotic rage, or just for their entertainment pleasure; and still they show love and loyalty.
For all the cruelty that animals endure....for those who have died, and those who WILL die by man....they are who my heros are.
Tobey was a victim of extreme animal cruelty by 3 teens. And justice was NOT served!!!


Memories of Tobey

TRIBUTE TO A SPECIAL BABY

"What cruel hands must cause thy pain and anguish so to mend thy own intentions for self-inflicted pain. To inflict thy pain on this poor creature that once in range became the target for your misery. As I see this poor creature lie there wagging its tail still keeping hope, I wonder what pain and anguish it can endure before giving up, thy own words and blows that scar so deep as they seem pour salt on an open wound. What cruel hands did cause this pain?" (Author Unknown)

REQUEST FROM THE RAINBOW BRIDGE

Weep not for me though I am gone,
Into that gentle night.
Grieve if you will, but not for long,
Upon my soul's sweet flight.

I am at peace, my soul's at rest,
There is no need for tears.
For with your love I was so blessed
For all those many years.

There is no pain, I suffer not,
The fear now is all gone.
Put now these things out of your thoughts,
In your memory I live on.

Remember not my fight for breath,
Remember not the strife,
Please do not dwell upon my death,
But celebrate my life. (Author Constance Jenkins)
---
---
Mercy - You captured the hearts of 1,000's and your death has prompted more awareness to animal cruelty. For that we are grateful, and we will continue the fight to stop it!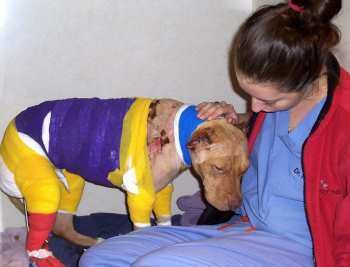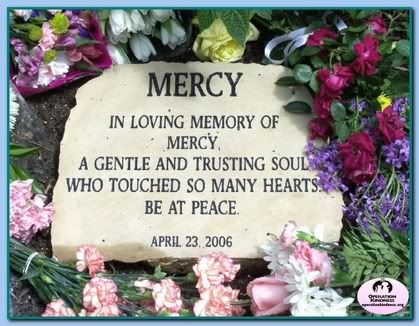 Visit my Blog

The Reality of What Humans Do


Visit Me on MySpace !