"Educate about Puppy Mills & Petstores!!!"

Aventura, FL, USA
female
committed relationship
Speaks: spanish, english
Joined Nov 13, 2008


Causes: Womens Rights, Violence against Women, Violence against Children, Same Sex Marriage, Religious Tolerance, pro-choice, Peace &amp, amp, Nonviolence, Human Rights, environment, education, Civil Rights, Children's Welfare, Breast Cancer Awareness, Animal Welfare

Activities: Doggie Events, Yorkies, writing, walking, volunteering, singing, shopping, reading, photography, People Watching, Music - Concerts, museums, Movie watching, Listening to Music, dance, cooking, concerts, Cafes, Books - Collecting, arts/crafts, Amusement Parks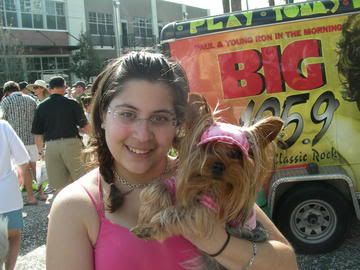 <<-- Walk for the Animals... Belle and I!!!
www.Yorkiechat.net- for the CRAZY dog people!!!!
Joined
Nov 13, 2008
Activist Aspirations
Enthusiastic
Here for
Support a Cause
Group Host of
none yet
Groups
DUO for World Peace, Dog Lovers
Hometown
Aventura, FL
Homepage
http://www.yorkiechat.net
Birthday
Feb 26
Languages
spanish, english
About Me
Introduce yourself to Nicole
Lifestyle
Pets
1 Dog, Yorkshire Terrier- Belle
Activist Aspirations
Enthusiastic
Political Leaning
Moderate
Religions

Eating Habits
Keep it Healthy, eatting what I like!, daily, Drink Loads Of Water, chocolate, Almost anything... :), A well balance Died
Wild Fact About Me
My Philosophy
What Gives Me Hope
If I were Mayor, I'd make the world a better place by
What/who changed my life and why
What Bugs Me
breeders who sell "teacups", "teacup" myth, puppy mills, Those who hurt others weaker than them, people who WON'T use their minds!, liars, injustice, intolerance, indifference, ignorance, hypocrisy, hate, gossips, Drunk Drivers, cruelty, bullying, BEING IGNORED!, arroganc
Passions
yorkies, philosophy, music, traveling, photography, other cultures, making a difference, love, Life - it's a blast, laughter, children, broadening my horizons, books, art, animals
Inspirations
understanding, People waking and seeing their own light, ocean, my family, music, Love songs, love, life itself, good people, friends, children, animals
What Scares Me
War - Cruelty - Greed - Indifference, Shootings in Our Schools, religious fanatics, Religious Extremism, Losing the ones I love, Ignorance and evil, hate, Disrespect for others, apathy, abusers, "Big Brother"
Favorites
Role Models
parents, my family, mother, Maya Angelou, Hillary Clinton, Eleanor Roosevelt, bono
Quotation
Interests
Travel/Adventure, reading, psychology, photography, philosophy, pets, music, movies, libraries, massage, Holistic Health, history, entertainment, children, computers, Books - Author, Body/Personal Care
Books
The Secret, nicholas sparks, Self improvement, romance novels, psychology, poetry, Mysteries, Jonathan Livingston Seagull, history, Harry Potter, Almost anything worth reading
Music
world music, Easy listening, country, all kinds
Movies
a time to kill, American History X, What the Bleep Do We Know?, Wizard of Oz, the notebook, Star Wars, Sound of Music, shrek, Pretty Woman, PIRATES OF THE CARIBBEAN, Moulin Rouge, Harry Potter, Grease, Gone with the Wind, Finding Nemo, Forrest Gump, eternal sunshine of t
TV Shows
Will and Grace, the Daily Show, simpsons, Sex and the City, Scrubs, Law and Order, house, futurama, Discovery Channel, Family Guy, CSI: Miami
Favorite Foods
Venezuelan cuisine, sushi, spaghetti, mexican, japanese, italian, chocolate, cheese cake
Favorite Places
margarita island, jerusalem, tel aviv, madrid, paris, New York City, New Orleans, london, hawaii, florida, beach
Can't Live Without
Belle!!!, sunshine, pets, my dog, music, love, laughter, hope, friends, family, computer, chocolate, books, art, animals
Introduce yourself to Nicole
My Butterfly Rewards
Most recent activity (up to 500 gifts shown)
---
I've earned Butterfly Credits