I am Danielle the PixieNixie. Currently I'm 30 years young since 12am May 29 2011. I've snuggled every night since the end of October 2005 (and still going strong) with my soul mate Neil.
We're the proud pet parents of one mischievously tenacious fur-baby named CC. I've had him since 2000.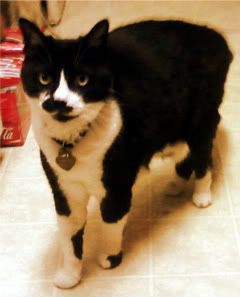 When he fell more in love with Neil than with me--well I knew Neil was the real deal for me. Animals sense things and with CC's strong approval, it was practically the best omen you could get.
We have recently added another fur-baby to our family on February 20, 2011 named Riki-Tiki (from the short story in The Jungle book of the same name).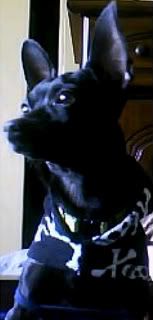 He is a tiny burst of pure sweetness at about 9 months old. He is a mixed breed known as a 'Chiweenie' (or as we fondly like to say a little 'Mexican Hotdog').
As my soul mate and I don't (and can't) ever plan to have children our 2 fur-babies ARE our children.
I'm a bipolar or manic-depressive who just tries to live her life the best she can cycling in and out of various extremes while hoping to understand the purpose of her existence. I am outspoken and very open with my struggles with bipolar. In fact I've seen my openness startle other people both in person and on the internet. There was a time I was deeply ashamed of it. But after being diagnosed some 12 years ago I've come to terms with it. It is frustrating that to have a mental illness you are conditioned by society to be ashamed and keep it quiet as if its something you could control and should be deeply ashamed of. It is as absurd as if asking someone who has cancer, diabetes, or any more obvious physical disease to not only feel shame for being born with (or in some cases contracting) that illness but to also suffer in silence. One of my deepest wishes for western society is for it to evolve to understand that just because you can not see sickness doesn't mean it does not exist.
1 in 5 people diagnosed with bipolar die from committing suicide. Such an unnecessary statistic but one that stays so high for us with a bipolar diagnosis because of the shame and stigma that comes with having bipolar. The public at large are grossly misinformed about what bipolar is which causes our normally built in support system--our family to react to us in a variety of ignorant ways. It is my belief to stop the stigmatization of us with bipolar we need to abandon all attitudes of shame towards it as well. You wouldn't expect someone with diabetes or cancer to not only suffer from the disease but suffer for the misfortune of merely having it as well? When you have mental illness that is your reality. I am not defined by bipolar. But it is a part of my experience in this life. I am merely a bipolar survivalist.
When not on my soapbox I enjoy:
I love to read. I read more on a normal day than watch TV. When I DO watch tv I love the all the Discovery, National Geographic, Animal Planet, History Channel. One of my guilty pleasures is I love watching Bridezilla. I don't know why except maybe these women are SOOOOO bitchy they give me a self esteem pick up lol. I do enjoy a good movie. Books still though remain a top refuge. Reading has been some of the best medicine doctors can't ever put into a pill (along with laughter, love, and compassion). I love nearly all things Harry Potter. The Djinni Bartimaeus makes me smile. Some days I wish I could live in Middle Earth and Wonderland. The most important life lesson I've learned thus far is to enjoy what you have because yearning for what you don't will lead you to no better a fate than a lifetime in front of the Mirror of Erised.
I write my personal blog to help maintain my sanity at http://pixienixie.me/ where I express my feelings, lament the unchangeable, find comfort in daily absurdities. I shudder in foul delight at the ironies that synchronism engineers in the daily unfolding of humanity's mutual delusion that is the shared reality we find ourselves locked into. I personally have a very faint dream that one day we all may be allowed our karmic pardon to ascend from this 3 dimensional hell into a more evolved existence.
I have found an incredible amount of enjoyment by playing Wizard101. It surprised me to death that playing that game helped ease my nerves and really does serve as an escape nearly as well as any book. In fact, though I'm about to turn 30 and addicted to what I like to call 'baby Warcraft' I have fallen deeply in love with the characters I've created on there: Danielle Hexpyre and Danielle PixieFist.

I enjoy educating myself about the world. I used to be very sad I never attained my dream of going to college. I've learned in the past 5 years that I didn't need institutional indoctrination to be an intelligent and educated being. What I've discovered through my hunger to learn without the benefit of the Priesthood of Academia is to not merely repeat factoids and accept what they call truth. I've learned that true education happens when you seek the truth yourself. You learn to think for yourself and the discernment that comes with it. Most importantly I've learned to question everything. In an honest world asking questions would never be feared.

I plan to start a course of Medical Transcription and Medical Coding so I can have a viable work at home career and take care of myself a bit better. Its important to me to develop these skills and to do this for myself. By September I will be enrolled and taking a program with classes online so my future can be better.
So in short you could say, or more accurately in short I'd say:
I am your pretty average woman who has had some curve balls thrown into path of life. I will never quit trying. And I am a 30-year-old short-statured Amazonian Bipolar Warrior chick battling the beast BIPOLARSAURUS (what I have nicknamed my mental issues). I'm attempting to survive in this delusional chaos commonly known as life. I find relief in writing my life experiences on my blog, reading, playing Wizard101, watching tv and movies. My intentions are not to serve up my hopes, dreams, miseries and failures upon the high altar of the highly crowded blogosphere. Nor do I mean to sacrifice my inner spirit to the gods and goddesses of serendipitous fate but to release my inner ignis fatuus into the twinkling glow of the positive transmutation from an unbalanced state into my dream of balance.

My intention is to just be me for me so that I and my husband can have a better life together. He deserves that since he's stuck with me going on 6 years now through my ups downs and all around...patiently bringing me back and reminding me of whats worth fighting for. I don't need reminding anymore. I love you Neil. You saved me.