"Making The World A Better Place, One day at a Time..."

Lakeland, FL, USA
female
married, 2 children
Speaks: English
Joined Jun 1, 2010





Those Inner City Blues

The streets are so desolate, the pain and despair
Is felt on every corner that you turn, It doesn't matter where.
People sleeping in back Alley's, just trying to survive,
In this cold obscure world are, The Inner City Blues.

The hustle and bustle of everyday life, no one seems to see
The suffering and torture that faces humanity.
They are blind to the men on the street corners holding signs,
I'll work for food, I am without a home, I haven't got a dime.

Crime on the rise, homelessness too, families in tents should upset you!
Plant closings are so common place, Job losses by the thousands,
The country is being sold off piece by piece too those in foreign lands.
Yet those with means, seem not to see, or simply don't give a damn.

The sun goes down once again, the day has slipped away,
The homeless, and forgotten, seen once again, just trying to survive,
They roam the streets, searching for a little peace,
To escape, those Inner City Blues.

Venus ©

Standing People

(What Native Americans call trees)

In the forests across the land,
For millions of years, or more,
Our Standing People are tall and proud
Cleaning the air that we breathe, and so very much more.

They've stood for many generations, helping support Mother Earth,
Their beauty is breath taking, A sight to behold
With every hue imaginable, creating a vast rainbow.

From green to red, yellow to gold,
A broad spectrum of color
A beautiful picture that we see,
A wondrous sight to behold.
Those are days of long gone past,
Change is on the wind,
As Corporate Greed destroys our trees,
As loggers cut them down.

Global Warming is, but an Illusion,
So they tell us with a frown,
But in a hundred years, you will see,
Mother Earth and all the trees, are nothing, but a memory.
Venus
December 15,2009
©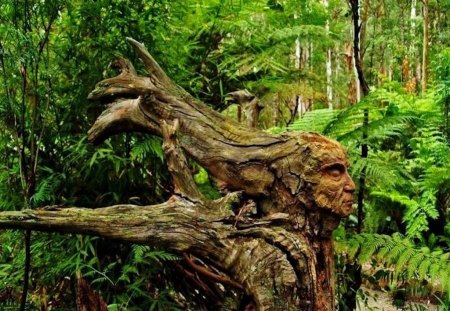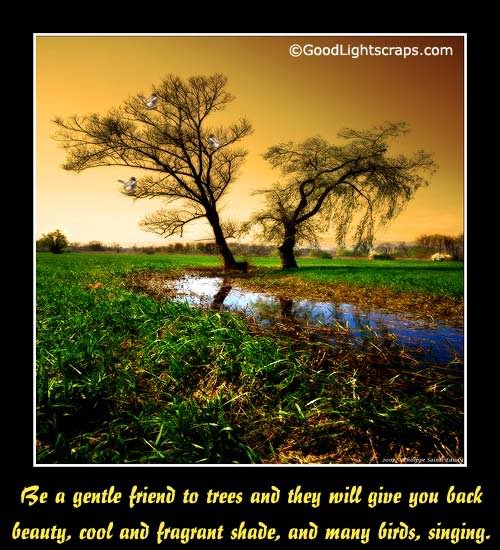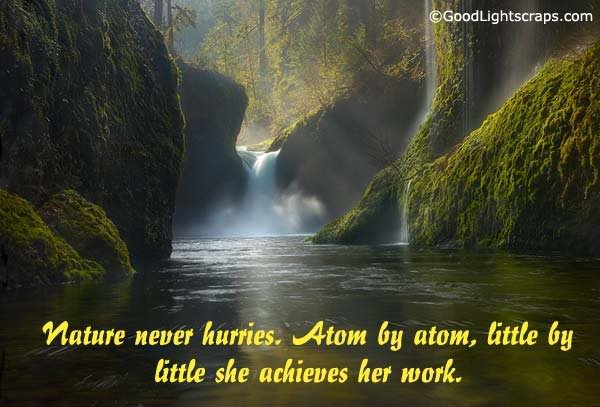 The Wind
Where it's been,
where it goes,
close your eyes
and you will know.
As it travels through the trees,
It creates a gentle breeze,
It ruffles feathers tenderly,
Of the birds perched in those trees.
Close your eyes, open your heart,
Let your senses do their part,
Smell the sea salt carried by the wind,
Feel the mist upon your skin.
Feel the wind upon your skin,
It's touched your heart and your soul,
Where it's been and where it goes,
You've looked within, and now you know.

Venus ©
January 25, 2010
Sky's of blue
Trees of green
Soft spring rain
Flowers of every hue.
The orange breasted robin
flies north once again
The old brown bear awakens
from a long winters slumber.
What a change from winters freeze
these bright sunshine-filled days of spring
Warms Mother Earth with a gentle breeze.
All around the eye detects springs busy hand
as new life appears on the mountains and valleys
The forests and fields, springs tranquil picture
A sight to behold. It's these small simple treasures
in life, that I cherish and love the most.



03/30/2010
Venus ©
Joined
Jun 1, 2010
Activist Aspirations
Casual
Here for
Meeting Friends, Support a Cause
Group Host of
none yet
Groups
none yet
Hometown
Florida
Homepage
Birthday
Feb 19
Languages
English
About Me
I'm of Cherokee, Chippewa, English and German heritage. Venus is my given Cherokee name. I am a Democratic Socialist.
A retired nurse, I am also a Reiki Master/teacher, (energy healing).

Things that interest me, is anything of a Spiritual nature, Energy healing, poetry, music and just living and trying to make the world a better place, one day at a time.

Things I dislike, WAR..... and people that have no tolerance, or respect for other peoples, beliefs, culture, etc.
If we all practiced being non-judgmental, the world would be a better place....
Introduce yourself to Venus
Lifestyle
Pets

Activist Aspirations
Casual
Political Leaning
Very Liberal
Religions
"My religion is very simple, My religion is kindness." - Dalai Lama, Religions separate People, Anything that separates people is wrong
Eating Habits
I eat to live, not live to eat
Wild Fact About Me
I was at Woodstock in 1969 :-)
My Philosophy
To just BE....
To live in the moment,
that's all there really is..
What Gives Me Hope
If I were Mayor, I'd make the world a better place by
There would be no homeless or hungry people in this country, especially Veterans! I believe we should take care of the people in this country first and foremost, that is where are strength is for future generations. People need to be sheltered, fed and educated in order to make a difference in this world.
What/who changed my life and why
Conversations With God, books 1-2-3
They changed my way of thinking from religions to spiritually. They helped me complete what I had started in the 1960/1970's and brought me to a peaceful, harmonious place in life.
What Bugs Me
Religions, The TEA PARTY...UGH, Capitalism, denial of heritage, GOP leadership, idiotic politicians, mean obnoxious people
Passions
MY INDIAN HERITAGE, spirituality, nature, music, Reiki (Energy Healing), Poetry, writing, peace, making a difference
Inspirations
People who pay it ahead, Poetry, Music, Kindness in the face of hate, Kindness in any form, the sound of the ocean, the beauty of nature
What Scares Me
Life Begins When Fear Ends
Favorites
Role Models
Leonard Peltier, Mahatma Gandhi, Nelson Mandela, Mother Teresa, Rosa Parks
Quotation
There are NO winners in war...

He who angers you conquers you. Elizabeth Kenny

Nothing can bring you peace
but yourself.
~Ralph Waldo Emerson


"We must go beyond the arrogance of human rights. We must go beyond the ignorance of civil rights. We must step into the reality of natural rights, because all of the natural world has a right to existence, and we are only a small part of it. There can be no trade-off."

~~ John Trudell, Lakota activist and poet
Interests
Reiki, Music, Poetry, Spirituality/Philosophy, Mind/Body/Spirit, Medicine / Health Care, herbs, Holistic Health
Books
Almost anything worth reading, Energy Healing, Poetry, spiritual, Gibran
Music
Most all genres, Kid Rock, Pink Floyd, Moody Blues, Native American, Rocker at Heart :-), Golden Oldies
Movies
Ghost, The Green Mile, Pretty Woman, Dances with Wolves, City of Angels
TV Shows
Dexter, 24, Walking Dead
Favorite Foods
I eat to live, not live to eat
Favorite Places
The Mountains, Cherokee Reservation, The Beach
Can't Live Without

Introduce yourself to Venus
My Butterfly Rewards
Most recent activity (up to 500 gifts shown)
---
I've earned Butterfly Credits