I'm a science teacher turned stay-at-home 'uber mom'. I'm quite active in my community and, until recently, was very content. I'm changing spiritually and that this is manifesting change in all other parts of my life. I now interpret that I am a transitioning "light worker". I finally understand that we are all one and co-create our realities. It seems my greatest soul desire is to learn to raise the vibrational force of myself and the earth through healing and re-awakening, and by helping other people to discover their spiritual selves. My life is an open book, mistakes and all. If there's anything I can share with you just holler.
Light & Love,
Jess




IMPORTANT NOTICE:
If you were drawn to my webpage and are new to "energy, lightwork, crystal/indigo change, enlightenment, ascension, increasing awareness/awakening, spiritual evolution, kundalini...", or are simply looking for answers because you feel your are changing inside..somehow..., then I have two things to offer you.
First, I have collected links and information for you! This collected info is in a blog of mine titled "Important Links for those new to Lightwork ". It's in the blog section of my page for those who have questions....
Secondly I have recently (8/08) opened a new spiritual group called Ascension. It is intended to be an online classroom of learning & ascent, for those who have information/experience who would like to share with others on the path of self actualization, and for those who seek the same to come and ask for what they need. If you feel this would be a good fit for you, please check out Ascension at



http://www.care2.com/c2c/group/Ascension
. ..a place to explore & share the wonder of
the our spiritual nature and the inspired human.

ps- cool site I just found :
http://www.lightascension.com/welcome.html for lightworkers



Old Maori Proverb:
Turn your face to the sun
And the shadows
Fall behind you.










" Like a bee, gathering honey from different flowers, the wise man accepts the essence of different scriptures and sees only the good in all religions."
-from a spiritual text of Hinduism, by Srimad Bhagavatam



It's worth repeating....


NOW IS THE TIME


Now is the time to know
That all that you do is sacred.

Now is the time to understand
That all your ideas of right and wrong
Were just a child's training wheels
To be laid aside
When you finally live
With veracity
And love.

Now is the time for the world to know
That every thought and action is sacred.

This is the time for you to compute the impossibility
That there is anything
But Grace.

Now is the season to know
That everything you do
Is sacred.
- Hafiz (adapted)

Hafiz was a Persian mystic and poet. He was born sometime between the years 1310 and 1337 in Shiraz, at the foot of the Zagros Mountains in southwest Iran.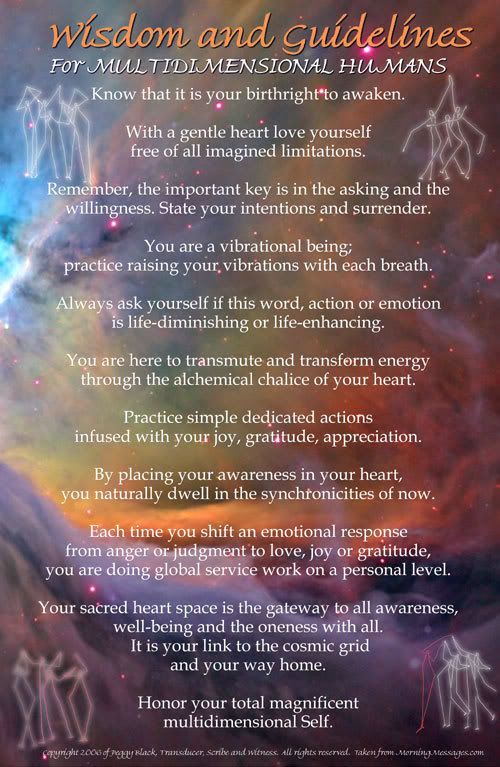 A Picture of Mount Redoubt. A local volcano here in Alaska where I live. If you are interested, go to my photo album section to see not-so-professional photos of my region...
Our Family - summer of 2008, we took this ourselves on the beach..

Joined
May 23, 2007
Activist Aspirations
undeclared
Here for
Meeting Friends, Support a Cause
Group Host of
Groups
Care2 Feedback and Suggestions, Indigo Adults, Lightworkers, Empaths and Starseeds
Hometown
Kenai Peninsula, Alaska
Homepage
http://my.care2.com/kundalinirising
Birthday
March 16
Languages
english
About Me
I'm a happy mom of two, trained as a science teacher, and learning about my higher self daily.
Introduce yourself to Jessica
Lifestyle
Pets
Bassett named Lucy
Activist Aspirations
Political Leaning
Depends
Religions
spiritualist
Eating Habits
increasingly organic
Wild Fact About Me
I'm Alaskan, born and raised.
My Philosophy
We're all here to learn and become better, more complete, and closer to our source
What Gives Me Hope
my kids and my increasing spiritual awareness
If I were Mayor, I'd make the world a better place by
pay everyone to meditate for an hour a day until they learned to do it on their own. Society would then learn to heal themselves from within.
What/who changed my life and why
The Alchemist (book)
What Bugs Me
stagnancy, fear, intolerance
Passions
change, growth, hope, life, love
Inspirations
simplicity and joy, manifestations, synchronicity, nature
What Scares Me
US Govt/Illuminati, ingorance and those who choose fear, Apathy and indifference
Favorites
Role Models
everyone
Quotation
"Never doubt that a small group of thoughtful, committed citizens can change the world. Indeed, it's the only thing that ever has".
Margaret Mead, 1969
Interests
Spirituality/Philosophy, the great outdoors, family, music, reading, gardening, rocks and crystals, growth, science, learning
Books
Conversations With God by Neal D. Walsch, Secret of Shamballa, The Way of the Peaceful Warrior, A Course in Miracles, The Lightworker's Way, Illusions - Adventures/Reluctant Messiah, Hands of Light, Energy Medicine, The Secret, Witch of Portabello, The Alchemist, Ce
Music
New Age!
Movies

TV Shows
...ROT YOUR MIND
Favorite Foods
Popcorn, spinach salads
Favorite Places
within, anywhere my family is, forest, beach
Can't Live Without
nature, moving water, merlinite, high energy crystals, moldavite, light and love, my higher self, family
Introduce yourself to Jessica
My Butterfly Rewards
Most recent activity (up to 500 gifts shown)
---
I've earned Butterfly Credits