"To Be True To My Word"

Springfield, MA, USA
female, age 118
single, 1 child
Joined Jul 2, 2007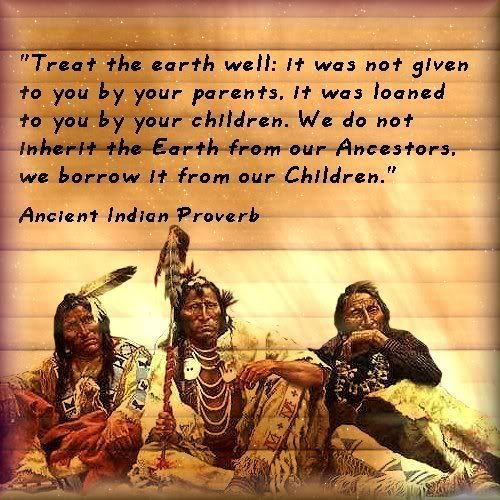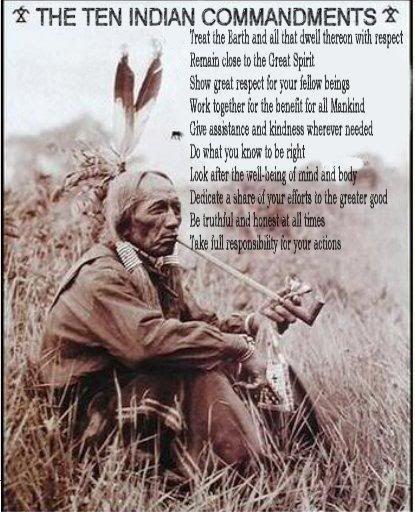 Cherokee Prayer
Oh Great spirit,
grant that I may never find fault
with my neighbor
until I have walked the trail of life in his moccasins.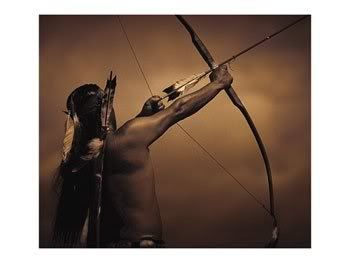 The Teaching of Tecumseh
Live your life that the fear of death
can never enter your heart.
Trouble no one about his religion.
Respect others in their view,
and demand that they respect yours.
Love your life, perfect your life,
Beautify all things in your life.
Seek to make your life long
and of service to your people.
Prepare a noble death song for the day
when you go over the great divide.
Always give a word or a sign of salute when meeting
or passing a friend, or even a stranger, when in a lonely place.
Show respect to all people but grovel to none.
When you arise in the morning, give thanks for the light
and for your life, for your strength.
Give thanks for your food and for the joy of living.
If you see no reason for giving thanks,
the fault lies only in yourself.
Touch not the poisonous firewater.
Abuse no one and nothing,
For abuse turns the wise ones to fools
and robs the spirit of its vision.
When it comes your time to die, be not like those
whose hearts are filled with fear of death,
so that when their time comes they weep and pray
for a little more time to live their lives over again
In a different way.
"Sing your death song and die like a hero going home."
The Cherokee Way of the Circle
When you first arise in the morning, give thanks to the Creator, to the four directions, to Mother Earth, to Father Sky, and to all of our relations, for the life within you and for all life around you.

Remember that all things are connected. All things have purpose. Consider performing a "giveaway" by distributing your possessions to others who are in need. You are bound by your word, which cannot be broken except by permission of those who the promise was given to. Seek harmony and balance in all things. It is always important to remember where you are in relation to everything else and to contribute to the Circle in whatever way you can , by being a "helper" and protector of life. Sharing is the best part of receiving.

Practice silence and patience in all things as a reflection of self-control, endurance, dignity, reverence, and inner calm. Practice modesty in all things, by avoiding boasting and loud behavior that attracts attention to yourself. Know the things that contribute to your well-being, and those things that lead to your destruction. Always ask permission, and give something for everything that is received, including giving thanks for, and honoring all living things.

Be aware of what is around you, what is inside of you, and always show respect. Treat every person from the tiniest child to the oldest elder with respect. Do not stare at others; drop your eyes as a sign of respect, especially in the presence of Elders, teachers, or other honored persons. Always give a sign of greeting when passing a friend or stranger. Never criticize or talk about someone in a harmful, negative way .

Never touch something that belongs to someone else without permission. Respect the privacy of every person, making sure to never intrude, upon someone's quiet moments or personal space. Never interfere in the affairs of another by asking questions or offering advice. Never interrupt others. In another persons home, follow his or her customs rather than your own. Treat with respect all things held sacred to others, whether you understand these things or not.

Treat Earth as your mother; give to her, protect her, honor her; show deep respect for those in the animal world, plant world, and mineral world. Listen to guidance offered by all of your surroundings; expect this guidance to come in the form of prayer, dreams, quiet solitude, and in the words and deeds of wise Elders, and friends. Listen with your heart. Learn from your experiences, and always be open to new ones. Always remember that a smile is something sacred, to be shared. Live each day as it comes.


To Walk The Red Road

Long road winding began in the stars,
spilled onto the mountain tops,
was carried in the snow to the streams,
to the rivers, to the ocean
It covers

Canada

,

Alaska, America

,


Mexico

to

Guatemala

,
and keeps winding around
the indigenous.

The Red Road is a circle of people
standing hand in hand,
people in this world, people between
people in the Spirit world.
Star people, animal people, stone people,
river people, tree people
The Sacred Hoop.

To walk the Red Road
is to know sacrifice, suffering.
It is to understand humility.
It is the ability to stand naked before
the Creator in all things for your
wrong doings, for your lack of strength,
for your discompassionate way,
for your arrogance - because to walk
the Red Road, you always know
you can do better. And you know,
when you do good things,
it is through the Creator, and you
are grateful.

To walk the Red Road
is to know you stand on equal ground
with all living things. It is to know that
because you were born human,
it gives you superiority over nothing.
It is to know that every creation carries
a Spirit, and the river knows more
than you do, the mountains know
more than you do, the stone people
know more than you do,
the trees know more than you do,
the wind is wiser than you are,
and animal people carry wisdom.
You can learn from every one of them,
because they have something you don't:

They are void of evil thoughts.

They wish vengeance on no one,
they seek Justice.

To Walk the Red Road,
you have God given rights,
you have the right to pray,
you have the right to dance,
you have the right to think,
you have the right to protect,
you have the right to know Mother,
you have the right to dream,
you have the right to vision,
you have the right to teach,
you have the right to learn,
you have a right to grieve,
you have a right to happiness,
you have the right to fix the wrongs,
you have the right to truth,
you have a right to the Spirit World.

To Walk the Red Road
is to know your Ancestors,
to call to them for assistance
It is to know that there is good medicine,
and there is bad medicine
It is to know that Evil exists,
but is cowardly as it is often in disguise.
It is to know there are evil spirits
who are in constant watch
for a way to gain strength for themselves
at the expense of you.

To Walk the Red Road,
you have less fear of being wrong,
because you know that life is a journey,
a continuous circle, a sacred hoop.
Mistakes will be made,
and mistakes can be corrected -
if you will be humble,
for if you cannot be humble,
you will never know
when you have made a mistake.

If you walk the Red Road,
you know that every sorrow
leads to a better understanding,
every horror cannot be explained,
but can offer growth.

To Walk the Red Road
is to look for beauty in all things.

To Walk the Red Road
is to know you will one day
cross to the Spirit World,
and you will not be afraid.

WORDS OF WISDOM
Written by Oriah Mountain Dreamer, Indian Elder - May 1994
The Invitation
"It doesn't interst me what you do for a living.
I want to know what you ache for, and if you dare to dream of meeting your heart's longing.
It doesn't interst me how old you are.
I want to know if you will risk looking like a fool for love, for your dreams, for the adventure of being alive.
It doesn't interest me what planets are squaring your moon.
I want to know if you have touched the center of your own sorrow, if you have been opened by life's betrayals or have become shriveled and closed from fear of further pain.
I want to know if you can sit with pain, mine or your own, without moving to hide it or fade it or fix it.
I want to know if you can be with joy, mine or your own, if you can dance with wildness and let ecstasy fill you to the tips of your fingers and toes without cautioning us to be careful, be realistic, or to remember the limitations of being human.
It doesn't interest me if the story you are telling me is true.
I want to know if you can disappoint another to be true yourself, if you can bear the accusations of betrayal and not betray your own soul.
I want to know if you can see beauty even if it's not pretty every day, and if you can wellspring your life from a sacred presence.
I want to know if you can live with failure, yours and mine, and still stand on the ledge of the lake and shout to the silver of the full moon, "Yes!"
It doesn't interest me to know where you live or how much money you have.
I want to know if you can get up after the night of grief and despair, weary and bruised to the bone, and do what needs to be done for the children of the world.
It doesn't interest me who you are, how you came to be here.
I want to know if you can stand in the center of the fire with me and not shrink back.
It doesn't interest me where or what or with whom you have studied.
I want to know what sustains you from inside when all else falls away.
I want to know if you can be alone with yourself, and if you truly like the company you keep in the empy moments."
---
Angels giving comfort in the days after the attacks.


Joined
Jul 2, 2007
Activist Aspirations
Casual
Here for
Meeting Friends, Dating, Job Search, Support a Cause
Group Host of
none yet
Groups
* ~ 5. A Haven For My Friends ~ In Memory & Honor of Agnes Corbett, * ~ 1. People Helping People & PAYING IT FORWARD ~ *, * ~ 10. The Sea ~ *, * ~ GREENSEAS & FRIENDS~HELPING THOSE IN NEED ~ *, Cat Lovers, Dog Lovers, IN MEMORY OF CARE2 MEMBERS WHO HAVE PASSED AWAY, OVER FORTIES SINGLES/ROMANCE & FRIENDSHIP, The Music We Love/D - Lyrics - Chat/Reminisce
Hometown
Miami Springs. Florida
Homepage
Birthday
Dec 05, 1900
About Me
Introduce yourself to emeralddragon
Lifestyle
Activist Aspirations
Casual
Political Leaning
Depends
Wild Fact About Me
deeply romantic .... sensitive and strong belief in ones integrity
My Philosophy
peace - acceptance and tolerance can bring the world together united as one
What Gives Me Hope
children will see beyond the petty greed of the adults and unite to save the world
If I were Mayor, I'd make the world a better place by
If I were President I would take the dollars wasted and put them to use through education - global warming treaties - health care issues to name but a few and I would actually listen to what others say -- I would learn to accept - differences - learn tolerance and make a real effort to unite all of the world. To save the world for our children we must become 1 world and not simply individual countries.
What/who changed my life and why
My students and my daughter changed my life. My recent past 3 yrs.
Favorites
Quotation
Introduce yourself to emeralddragon
My Butterfly Rewards
Most recent activity (up to 500 gifts shown)
---
I've earned Butterfly Credits