I BEG YOU, PLEASE DONATE TO THESE CHINESE GROUPS DESPERATELY TRYING TO SAVE THEIR ANIMALS FROM DELIBERATE TORTURE! IF WE ALL DONATE AT LEAST EACH MONTH, IT WOULD BE A TREMENDOUS HELP!

Please donate to these Chinese groups that are trying hard to save their poor animals from the HELL that exists for animals in Asian countries such as China! They are begging for any support from the world! Here are the links (you might need to scroll down some of the pages to see information if you want to donate, but each page is also worth reading):

http://tacn.org/help-the-animals/
(I believe this group collects donations on behalf of the volunteers involved in the Wuhan Cat Rescue!)
https://donate.hsi.org/ea-action/action?ea.client.id=104&ea.campaign.id=28590&ea.tracking.id=website
(Donate here to HSI's campaign to help end the Dog Meat Trade in China!)
https://www.animalsasia.org/intl/index.html
(Donate button at upper right. This group is also trying to shut down bear farms. In these farms, bile is constantly being extracted from bears, and they are forced to live through it for years. This is thanks to China only caring about not letting animals go extinct. But they don't care about cruelty and suffering. So instead of the bears being killed much faster before, a law now has them suffering for years in captivity with bile constantly sucked out of them. A mother bear was known to have killed her own cubs to save them from torture, and then bashed her own head to death, out of grief as well as to release herself from further suffering.)
http://www.actasia.org/get-involved.html
http://www.duoduoproject.org/donate.html
(Fighting hard especially to stop the Yulin Dog Meat Festival! They work with animal loving communities of the US, China and Taiwan to promote humane outreach & education, legislation, sterilization and rehoming.)
http://www.people4chineseanimals.org/DONATE.html (please be sure to write in the checkout box: "TO CHINESE ANIMALS")
http://www.people4chineseanimals.org/Beautiful_New_World.html
http://www.people4chineseanimals.org/Guang_Yuan_Boai.html
http://www.people4chineseanimals.org/Jaiya-Animal-Rescue.html
http://www.people4chineseanimals.org/Shanghai_Cats.html (this page is also a good read, and includes enlightening information about this horrible cycle of animal Hell in China. For example, cats are not exactly needed as food - they're only served in restaurants! It's a luxury and yet they torture cats so much for this... And it's very sad that these groups must beg so much for our help =( )
http://www.people4chineseanimals.org/Tianjin_Cats_Hope.html
http://www.people4chineseanimals.org/Xia-Men-Animal-Protection-Association-.html

These small groups in China are constantly fighting a very uphill battle to save these poor innocent animals from the absolute HELL that exists there for them... Their government doesn't even care one bit. Please I beg you to donate to every (or any) of them, they are begging for the world to lend support! If each of us donates to them, it can mean such a huge difference. It is HELL there for animals...

If you are not convinced, please read the rest of my billboard below... be careful with the link to the video, it is extremely cruel, and extremely heartbreaking... and this happens to many thousands of innocent animals everyday in China...


~ PLEASE, PLEASE, PLEASE HELP STOP THE INSANE HELL ON EARTH FOR DOGS AND CATS, BEING SKINNED ALIVE IN CHINA!! ~

WARNING: Highly graphic video of tied up cats in China being tortured in public... https://www.facebook.com/photo.php?v=434128363384262

(Edit: The video was removed by Facebook, so the atrocities go on without people knowing about it. Facebook does abusers a favour by hiding evidence of the abuse. Without awareness we cannot fight animal cruelty where it exists.

Here are some frames from the video: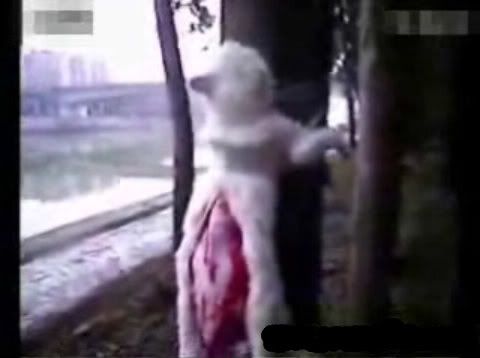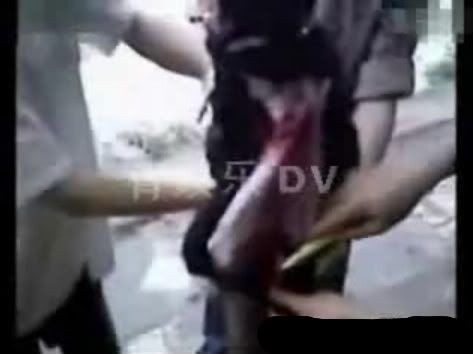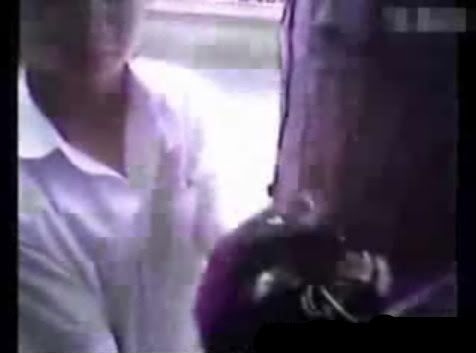 (Note that this was filmed gladly by one of the torturers, and posted up for public for all to see, because China's government and culture allows, and promotes, full animal cruelty... There are NO laws in place against animal cruelty.
At one point the cat nearly passes out from pain but they deliberately wake it back up to make it continue to feel all of it.
People walk past without a care. No one would stop the torturers.)


"I decided to upload this video to show the cruelty committed against animals in China that is not comparable to those acts occurring in Europe or the United States, or in the rest of the world, like some people are pretending repeatedly.. You will never see someone skinning alive a cat in a public place, or in a public park, like seen in this video. You will also never encounter people who are walking by and are watching the horrific scene and going away without saying anything...as if nothing has happened and no horrifically brutal act is being committed.
Anyone who could commit and like this horrific, sadistic torture of tiny innocent animals deserves the same done to them. This is from a country of insanity, where torturing and killing animals who can't fight back is the norm. There is something seriously wrong with China!"

This is what we NEED TO STOP... It is incredibly evil, and it's extremely disturbing to know about... but it will mean absolutely nothing if you do not try to do something about it! No matter how much you might cry or scream, if you do not do anything about it, if you do not get others to know about it, if you don't sign one petition, you are essentially letting the torturers know it's okay. Essentially the same as the people walking past these cats.


We need to stop animal cruelty/neglect in any and every way we can. But while there are many issues of abuse in any country, the term animal cruelty takes on a whole new level of evil in Asian countries, particularly in China and Korea. In places like these, it is quite literally HELL...

Animals such as cats, dogs, raccoons and rabbits are being beaten mercilessly to tenderize their flesh, and then slowly skinned, all while ALIVE. If it's for fur, they are then thrown to a pile of other skinned animals, still alive and may die after hours or days of pain. If they are to be cooked, they are beaten, skinned alive and then trapped in boiling water, crying and screaming in pure agony as they try to desperately scramble out of the pot, only to always slip right back in. Many of these things are filmed because they love torturing animals... and the governments responsible for these countries have no laws to protect animals. The Chinese that do this believe that the more an animal suffers, the tastier its meat is. Bears are also captured and have metal rods stuck into their livers to extract bile. They are forced to live through this constant torture for years before dying. A mother bear has been known to kill her own cubs deliberately so that they don't suffer anymore, and then bashed her own head repeatedly to kill herself. Killing animals quickly first before exploiting them is one thing... but getting creative with ways to torture them for as long as possible, as maximum pain as possible, is entirely another.


So I implore everyone to please especially concentrate your efforts for animal welfare on Asian countries, most particularly China. There are now a growing number of Chinese animal advocates trying desperately to bring change to the way their animals are being treated, but they need to know that the rest of the world is watching and supporting them.

Please click on the links to visit Care for Chinese Animals and join their group. Many images may be very sad and/or disturbing... but this is exactly because of humans exploiting animals so cruelly. The least we owe these poor animals is to actually acknowledge and bear the weight of these things in our minds. And as difficult it may be for us to learn of these horrible truths, imagine how infinitely worse it must be to actually be these poor animals!


Main site's plea for petition signatures: http://careforchineseanimals.net/take-action/

Care2 group (please join!): http://www.care2.com/c2c/group/careforchineseanimals

NEW Facebook Page: https://www.facebook.com/pages/Care-for-Chinese-Animals/174118559316318

Please help in any way you can. Sign petitions, write letters, emails or comments of thanks and encouragement to these Chinese volunteers, or letters/emails to their government to urge for changes to China's treatment of animals. Try to get others involved, expose he horrible truths (they're horrible but they need to be known if we are to give these issues more exposure and make the world more aware). And while we send our encouragement and support to the Chinese animal advocates, we can also try boycott Chinese animal-derived products at the same time. It may be tough as many things are made in Asian countries, but by trying we can at least substantially reduce demand for these items as a result of their incredibly inhumane treatment of animals, thereby adding more pressure to get them to change their cruel ways.

I know it seems like a lot to do, but that's exactly why the animals continue to be forced to live in agonizing hell... we *have* to be bothered enough by it to do something about it. We must not ignore it, because by doing so, you are effectively letting them know that we are okay with it... Too many people don't want to have anything to do with it. It's so easy to just ignore it, but they need us so very very badly. They have no voice of their own, and you cannot hear their desperate screams and crying in skinning camps hidden in the woods...



--------------------------------------------------------------------------------------