"Tougher laws for animal cruelty"

Jonesborough, TN, USA
female
divorced
Speaks: English
Joined Oct 14, 2006


Activities: shopping, Games - Puzzles, Books - Collecting, Music - Concerts, writing, volunteering, gardening, Reading, Writing, Journal Keeping, Arts/Crafts




Fighting for Animals, Fighting for Buddy's Law
In my hometown this past July, a 16 week old black lab puppy was tortured and left for dead in a diaper box at a gas station. A man stopped to put air in his tire and saw the box and heard a whimper. He opened the box and to his horror found the puppy with PVC glue in his eyes, nose, ears and throat. His back legs had multiple fractures. The man took the puppy to the vet were he had to be euthanized due to his injuries . I can't fathom how someone could do this to a sweet, loving and innocent puppy. I cry when I think of what this puppy went through. He was probably wondering what he did wrong and why wont this evil person stop. Animals only want to be loved and they give so much love in return. The puppy in this story is named Buddy and in Mississippi we are trying to get a law passed to make it a felony for animal cruelty. I will fight forever if I have to. Buddy will always be in my heart and I will continue to help support my cause forever.

               
This is Buddy. Please help pass Buddy's law in Mississippi.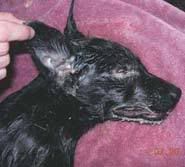 Bring Buddy's Tormenter to Justice
Please help bring justice to Buddy's abuser! Dont let him get away with this!  Please sign the petition posted by Buzby H located in my butterflies setion. Thank you.
http://www.thepetitionsite.com/takeaction/702604239


Please sign this petition for tougher animal cruelty laws in Mississippi. Thank you!
http://www.thepetitionsite.com/takeaction/824671690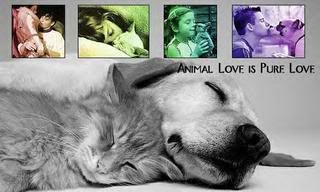 This is one of my Dad's paintings. He was the best artist!



Joined
Oct 14, 2006
Activist Aspirations
Enthusiastic
Here for
Meeting Friends, Job Search, Professional Connections, Support a Cause
Group Host of
Groups
ANONYMOUS R US, Abolish Animal Abuse, African Wildlife Foundation, Against the slaughter of innocent dogs, Animal Activists, Animal Petitions, Animal rights, Canine Concerns: Stop Puppy Mills / Dog Chaining & Fighting, Elvis Presley, Facebook/Care2/CU, Fight For Tougher Laws In MS, Fight For Buddy's Law, I Am, Jane Goodall Institute: Race for the Primates, Let The People Post! more »
Hometown
Pascagoula, MS
Homepage
http://my.care2.com/buddyslaw
Birthday
June 18
Languages
English
About Me
I'm very passionate about animals and doing whatever it takes to help make everyone aware of the amount of cruelty and abuse that happens to these sweet, loving, and helpless animals.
Introduce yourself to Tasha
Lifestyle
Pets
Rocco and Duncan!, dogs
Activist Aspirations
Enthusiastic
Political Leaning
Depends
Religions
Christian - Other
Eating Habits
trying to keep it somewhat healthy!, cheese, Drink Loads Of Water, Coffee - Now!
Wild Fact About Me
My Philosophy
An eye for an eye. If you're cruel enough to hurt an animal, what would you do to a human? We need tougher laws to put these evil people away and hopefully they will get what they deserve in prison. I have NO sympathy for these insane hurtful people.
What Gives Me Hope
People who understand my love for animals, and who are trying to help stop animal cruelty.
If I were Mayor, I'd make the world a better place by
PASS TOUGHER LAWS TO PROTECT OUR ANIMALS!!! To ban abusers from ever owning another animal.
What/who changed my life and why
The dog who was tortured in my hometown. His name was Buddy. The pain and suffering that he went through breaks my heart and the sad thing is, there will be a million more cases like this and worse. Mississippi needs tougher laws and we should not have to beg for that to happen. But as long as I live, I will do what I can to help stop animal cruelty.
What Bugs Me
Animals without a home or love., dogs tied to trees, Dog fighting, laws for abusing animals aren't stricter, Those who hurt others weaker than them, Annoying people, Evil people, liars, injustice, ignorance, Lack of empathy, animal abuse and neglect, Anyone that hurt
Passions
animals, Making others Laugh and Smile, Changing the world a little at a time, laughter, peace, family, love, music, making a difference for animals, making my marriage stronger than ever, helping animals, Saving animals, making a difference!, positive contributions t
Inspirations
individuals with a positive purpose, animals-they love unconditionally, when a pettition is winned, waterfalls, Love and Peace, love, family, dogs, people who save animals, Helping inspires me and I thrive on it !, animals, ANIMAL RIGHTS ACTIVISTS
What Scares Me
How cruel people can be!, Cruelty To Animals, closed minded individuals, not making a difference, lack of compassion, Abusers of Animals and People, Animals in danger of abuse!
Favorites
Role Models
my niece Madison!, Marilyn Monroe for inner beauty &amp, amp, amp, GOD ~ Jesus Christ ~ Holy Spirit, my family and friends, My mother, my father, Kimberly Conrad Hefner, Pam Anderson (for her work with PETA), Albert Einstein, People who make a difference, people
Quotation
"Our lives begin to end the day we become silent about things that matter". Martin Luther King Jr
Interests
shopping, Animal Welfare, gardening, Travel/Adventure, Antiques/collectibles, internet, entertainment, computers, history, photography, writting, pets, Internet, Body/Personal Care, Music, Movies, Pets, TV, Fitness
Books
marilyn monroe, autobiographies, married for life, animal angels, the Holy Bible, Sleeping Beauty Trilogy, magazines, anne rice, psychology, romance novels, Sefl Help Books!, animal liberation
Music
Shinedown, all kinds, Rock and Roll, cold, Elvis Presley, Classic Rock, country, Puddle of Mudd, pink, Kid Rock, Nickelback
Movies
comedy, Scarface, Jerry Maguire, Wedding Crashers, North and South, Walk the Line, Naked Gun, ghost, Fight Club, Forrest Gump, Fried Green Tomatoes, Gone with the Wind, Grease, Pulp Fiction, Shawshank Redemption, The Green Mile, the notebook, dirty dancing, Patch Adams, Pre
TV Shows
Entertainment Tonight, Discovery Channel, Sex and the City, simpsons, Animal Planet, Animal Cops, history channel, emergency vets, friends, American Idol
Favorite Foods
subway, protein bars, cheese cake, chicken, ice cream, veggies, salmon, pizza, chocolate, japanese, All!!
Favorite Places
shopping at different places, My bed, home, the mountains, beach, national parks, Destin, malls, my hometown, colorado, New Orleans
Can't Live Without
laughter, animals, internet, sunshine, friends and family, helping animals, helping others, books, shopping, magazines, my cell phone, water, music, love, Books and Music, A dog, pets, my dog, family, GOD &amp, amp, amp, amp, my friends
Introduce yourself to Tasha
My Butterfly Rewards
Most recent activity (up to 500 gifts shown)
---
I've earned Butterfly Credits