Join the OurStage / Paste Magazine campaign supporting
Not For Sale
, which aims to end slavery in the US and throughout the world. OurStage will donate $2 to Not For Sale for every new registrant.

27 million people are enslaved in the world today!

Not for Sale is a campaign of
students
,
entrepreneurs
,
artists
,
people of faith
,
athletes
, law enforcement officers,
politicians
, social workers, skilled professionals, and
all justice seekers
, united to fight the global slave trade.
Not for Sale aims to
educate
and
mobilize
an
international abolitionist movement
through the innovation and implementation of
open-source activism
. Inside the United States, the campaign identifies trafficking rings and collaborates with local law enforcement and community groups to shut them down and provide support for the victims. Internationally, the campaign partners with poorly resourced
abolitionist groups
to enhance their capacity.
Every single person has a skill that they can give to free an individual living in bondage.
UPDATED INFORMATION ON THESE ACTIVITIES AND WHAT YOU CAN DO TO HELP FIGHT HUMAN TRAFFICKING COMING SOON...PLEASE FOLLOW ABOVE LINKS FOR INFORMATION NOW, THANK YOU!

No country is immune from human trafficking. Victims are forced into prostitution or to work in quarries and sweatshops, on farms, as domestics, as child soldiers, and in many forms of involuntary servitude. Traffickers often target children and young women. They routinely trick victims with promises of employment, educational opportunities, marriage, and a better life. (U.S. Department of State. 2004. Trafficking in Persons Report. Washington, D.C.: U.S. Department of State.)
Human trafficking is the third most profitable criminal activity, following only drug and arms trafficking. An estimated 9.5 billion is generated in annual revenue from all trafficking activities, with at least $4 billion attributed to the worldwide brothel industry. (Ibid.) Human Trafficking: Available Statistics
Due to the "hidden" nature of trafficking activities, gathering statistics on the magnitude of the problem is a complex and difficult task. The following statistics are the most accurate available, given these complexities, but may represent an underestimation of trafficking on a global and national scale.
Each year, an estimated 600,000 to 800,000 men, women, and children are trafficked across international borders (some international and non-governmental organizations place the number far higher), and the trade is growing. (U.S. Department of State. 2004. Trafficking in Persons Report. Washington, D.C.: U.S. Department of State.) Of the 600,000-800,000 people trafficked across international borders each year, 70 percent are female and 50 percent are children. The majority of these victims are forced into the commercial sex trade. (Ibid.) Each year, an estimated 14,500 to 17,500 foreign nationals are trafficked into the United States. The number of U.S. citizens trafficked within the country each year is even higher, with an estimated 200,000 American children at risk for trafficking into the sex industry. (U.S. Department of Justice. 2004. Report to Congress from Attorney General John Ashcroft on U.S. Government Efforts to Combat Trafficking in Persons in Fiscal Year 2003. Washington, D.C.: U.S. Department of Justice.) The largest number of people trafficked into the United States come from East Asia and the Pacific (5,000 to 7,000 victims). The next highest numbers come from Latin America and from Europe and Eurasia, with between 3,500 and 5,500 victims from each. (U.S. Departments of Justice, Health & Human Services, State, Labor, Homeland Security, Agriculture, and the U.S. Agency for International Development. 2004. Assessment of U.S. Government Activities to Combat Trafficking in Persons. Washington, D.C.: U.S. Department of Justice.) The U.S. Response to Trafficking The United States government has taken steps to address trafficking both nationally and globally. The Victims of Trafficking and Violence Protection Act of 2000 (TVPA), and its reauthorization in 2003 (TVPRA), provides extensive protections and services for victims of trafficking found in the United States regardless of nationality. This statute defines "severe forms of trafficking in persons" as:
Sex trafficking in which a commercial sex act is induced by force, fraud or coercion, or in which the person induced to perform such act has not attained 18 years of age; or t
he recruitment, harboring, transportation, provision, or obtaining of a person for labor or services, through the use of force, fraud, or coercion for the purpose of subjection to involuntary servitude, peonage, debt bondage, or slavery. (106 P.L. 386: 114 Stat. 1470, Sec. 103 (8)) victims of trafficking are eligible for benefits through several government channels. In addition, non- governmental, community, and faith-based organizations around the country continue to provide a wide range of social services for both U.S.- and foreign-born trafficking victims. American citizens who are victims of domestic trafficking are eligible for social services such as Medicaid, food stamps, and housing subsidies. Foreign-born victims can access similar services as they move through the "certification" process, which gives such victims legal immigrant status under the TVPA. Foreign victims receive services from grantee organizations who receive funds from OVC and Health and Human Services. The services funded by these offices not only provide victims with the essentials for day to day living, but also the training and educational opportunities that will allow them to become self-sufficient in this country.
U.S. Government Trafficking-Related Links

THE VICTIMS OF TRAFFICKING AND VIOLENCE PROTECTION ACT OF 2000

www.state.gov/documents/organization/10492.pdf
THE VICTIMS OF TRAFFICKING AND VIOLENCE PROTECTION AND REAUTHORIZATION ACT OF 2003

www.state.gov/documents/organization/28255.pdf
ASSESSMENT OF U.S. ACTIVITIES TO COMBAT TRAFFICKING IN PERSONS (AUGUST 2003)

www.state.gov/documents/organization/23598.pdf
OFFICE OF REFUGEE RESETTLEMENT TRAFFICKING EFFORTS

http://www.acf.hhs.gov/programs/orr/programs/anti_trafficking.htm
OFFICE FOR VICTIMS OF CRIME TRAFFICKING EFFORTS

http://www.ojp.usdoj.gov/ovc/help/tip.htm
Justice Isn't Served Until Crime Victims Are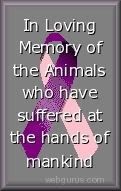 These pictures represent animals I've had a personal connection with, some of whom suffered greatly in the hands of mankind. When an original picture wasn't available, a fascimile was chosen for represention. Their suffering grieved me, was the initial factor pushing me towards activism. I've rebelled against mistreatment of animals all my life. Much to the embarrassment of some family as when the most revered member tried to teach me how to fish. Everyone gathered around the pond and watched as he attempted to show me how to bait the hook, I said I didn't want to touch the worm or kill it. So he baited the hook for me, to my dismay. When my line caught a small fish, was pulled out of the pond, everyone cheered, and I began to cry. I was assurred the fish was ok, would be thrown him back in the pond. I was horrified and said it'd still been hurt. At this point I announced they could go on with their fishing but I was going back inside to be with my grandmother and off I went, as my grandfather stood there dumbfounded by my "outrageous" behavior. I was three years old. I've always loved animals. Wasn't something I was taught. Quite the opposide. People continued to try to "teach" me to conform, unsuccessfully. Is partly in the honor of these animals that I work to make the world a better place. Certainly doesn't stop there. This page is dedicated to the spirits of the abused animals. One in particular - Rosie. She was a circus tiger who lived a sad life and died a brutal death. I was in a television commercial promoting Rosie when I was too young to understand what circus animals lives are reduced to. This page is for Rosie. My dear Rosie Royal. The rest of the world has long since forgotten about Rosie, even though she was once famous. Not so with me, in my heart she will always be. I have wanted to say something regarding the source of inspiration for my work since I started this page. Searched high and low for an original picture of Rosie, but none is to be found. Not a reference anywhere to the tiger who was once the top attraction of the most successful circus outfit in the world but of course as we all know, the show must go on regardless of anything, no matter how tragic. This page is here in hopes that some day the show will fail to carry on and the cruelty will cease. Please remember Rosie. She at least deserves this much. There are specific people to whose lives this page is also dedicated but I cannot list them here for numerous reasons. This page is here for anybody who has suffered injustice and all of those whose lives ended a tragic death due to the abuses of our species and our inability to get along, solve our problems, live with and love one another. I have witnessed and experienced much to lead me in this direction.
IN THE WORDS OF A WOMAN...

The greatest danger to our future is apathy. (Jane Goodall)

Eternity is not something that begins after you are dead. It's going on all the time. (Charlotte Perkins Gilman)
You've got to rattle your cage door. You've got to let them know that you're in there, and that you want out. Make noise. Cause trouble. You many not win right away, but you'll sure have a lot more fun. (Florynce Kennedy)
I am only one; but still I am one. I cannot do everything, but still I can do something. I will not refuse to do the something I can do. (Helen Keller)
There are no right answers to wrong questions. (Ursula LeGuin)
Not out of right practise comes right thinking, but out of right thinking comes right practise. It matters enormously what you think. If you think falsely, you will act mistakenly; if you think basely, your conduct will suit your thinking. (Annie Besant)
I do not want the peace that passeth all understanding. I want the understanding that bringeth peace. (Helen Keller)
An eye for an eye makes the world blind. (HM Queen Beatrix of the Netherlands)
Until we have the courage to recognize cruelty for what it is - whether its victim is human or animal - we cannot expect things to be much better in the world. (Rachel Carson)
The United States of America is still run by its citizens. The government works for us. Rank Imperialism and warmongering are not American Traditions or values. We do not need to dominate the world. We want and need to work with other nations. We want to find solutions other than killing people. Not in our name, not with our money, not with our children's blood. (Molly Ivins)

SPEAKING OF WOMEN...

Everybody today seems to be in such a terrible rush, anxious for greater developments and greater riches and so on, so that children have very little time for their parents. Parents have very little time for each other, and in the home begins the disruption of peace of the world. (Mother Teresa)
This idea of doing it all is the enemy of equality, not the path to it. It's impossible to do two full-time jobs, and an impossible definition of success is just another way of making women feel like failures. Any definition of success has to include social policies that honor families. (Gloria Steinem)
It is hard, if not impossible, to snub a beautiful woman - they remain beautiful and the rebuke recoils. (Winston Churchill)
The finest minds have always understood the peacemaking role of women. (Mikhail Gorbachev)

IT TAKES A BIG MAN...
I cannot think well of a man who sports with any woman's feelings. (Jane Austen)
Any excuse will serve a tyrant. (Aesop)
Violence is the last refuge of the incompetent. ( Isaac Asimov)
Those who stand for nothing fall for anything. (Alexander Hamilton)
Nonviolence means avoiding not only the external violence but also internal violence of spirit. You not only refuse to shoot a man, but you refuse to hate him. (Martin Luther King, Jr.)
The means by which we live have outdistanced the ends for which we live. Our scientific power has outrun our spiritual power. We have guided missiles and misguided men. (Martin Luther King)
If you have men who will exclude any of God's creatures from the shelter of compassion and pity, you will have men who will deal likewise with their fellow men. (St. Francis of Assisi)
Truly man is the king of beasts, for his brutality exceeds them. (Leonardo Da Vinci)
Non-violence leads to the highest ethics, which is the goal of all evolution. Until we stop harming all other living beings, we are still savages. (Thomas Edison)
Whoever fights monsters should see to it that in the process he does not become a monster. And when you look into an abyss, the abyss also looks into you. (Friedrich Nietzche)
It takes twenty years or more of peace to make a man; it takes only twenty seconds of war to destroy him. (King Baudouin I, King of Belgium)
War doesn't make boys men, it makes men dead. (Ken Gillespie)
No man is an island entire of itself...any man's death diminishes me because I am involved in mankind; and therefore never send to know for whom the bell tolls; it tolls for thee. (John Donne)

BIG BROTHER...
Remember that a government big enough to give you everything you want is also big enough to take away everything you have. (Davy Crockett)

The individual is handicapped by coming face to face with a conspiracy so monstrous he cannot believe it exists. (J. Edgar Hoover)

When even one american who has done nothing wrong is forced by fear to shut his mind and close his mouth, then all americans are in peril. (Harry S. Truman)
When the government fears the people, there is liberty. When the people fear the government, there is tyranny. (Thomas Jefferson)
It is not the function of the government to keep the citizen from falling into error. It is the function of the citizen to keep the government from falling into error. (United States Supreme Court)
The only thing necessary for evil to triumph is for good men to do nothing. (Edmund Burke)

WORDS OF WAR...

We were sent to Vietnam to kill communism. But we found instead that we were killing women and children. (John F. Kerry)
War may sometimes be a necessary evil. But no matter how necessary, it is always an evil, never a good. We will not learn how to live together in peace by killing each other's children. (Jimmy Carter)
Every war when it comes is, represented not as a war but as an act of self-defense against a homicidal maniac.
(George Orwell)
War is at first, the hope that one will be better off; next, the expectation that the other fellow will be worse off; then, the satisfaction that he isn't any better off; and, finally, the surprise at everyone's being worse off.
(Karl Kraus)
War does not determine who is right - only who is left. (Bertrand Russell)
Mankind must put an end to war; or war will put an end to mankind. (John F. Kennedy)
There never was a good war, or a bad peace. (Benjamin Franklin)

DIP
LOMACY...
We will not build a peaceful world by following a negative path. (Martin Luther King, Jr.)
If you want peace, work for justice. (Pope Paul IV)
All beings tremble before violence. All fear death. All love life. See yourself in others. Then whom can you hurt? What harm can you do? (Buddha)
I destroy my enemies when I make them my friends. (Abraham Lincoln)
Better than a thousand hollow words is one word that brings peace. (Buddha)
If we cannot agree, let us at any rate agree to differ, but let us part as friends. (Mohammad Ali Jinnah)
It is in the shelter of each other that the people live. (Irish Proverb)

THE FIGHT - MINUS THE HYPE
I went into the army believing that if you want peace you must prepare for war. I now believe that if you prepare thoroughly for war you will get it. (Sir John Frederick Maurice)
Do you know what astonished me most in the world? The inability of force to accomplish anything. In the long run the sword is always beaten by the spirit. (Napoleon Bonaparte)
I hate it when they say, "He gave his life for his country". They don't die for the honor and glory of their country. We kill them. (Admiral Gene R. LaRocque)
The soldier, above all other people, prays for peace, for he must suffer and bear the deepest wounds and scars of war. (Douglas MacArthur)
In war, there are no unwounded soldiers. (Jose Narosky)
I hate war as only a soldier who has lived it can, only as one who has seen its brutality, its futility, its stupidity. (Dwight D. Eisenhower)
War would end if the dead could return. (Stanley Baldwin)
Once and for all the idea of glorious victories won by the glorious army must be wiped out. Neither side is glorious. They all want the same thing - not to lie under the Earth, but to walk upon it. (Peter Weiss)
SAVING THE CHILDREN...
I arrived at Green Peace. Two children whom I should not have recognized as mine ran out to meet me. (Julia Ward Howe)
Children laugh an average of three hundred times or more a day; adults laugh an average of five times a day, we have a lot of catching up to do. (Heather King)
Words of wisdom are spoken by children at least as often as scientists. (James Newman)
The most interesting information comes from children, for they tell all they know and then stop. (Mark Twain)
Children are remarkable for their intelligence and ardor, for their curiosity, their intolerance of shams, the clarity and ruthlessness of their vision. (Aldous Huxley)
If you must hold yourself up to your children as an object lesson, hold yourself up as a warning and not an example. (George Bernard Shaw)
Children are always reaching. (Walt Disney)
Children always turn to the light. (David Hare)
Keep me away from the wisdom which does not cry, the philosophy which does not laugh and the greatness which does not bow before children. (Kahlil Gibran)
There are certain realities we must speak of with our children that were not present when I was a child. (Gloria Estefan)
Good words will not give me back my children. (Chief Joseph)
WHERE AMONG US, IS GOD?
The God of peace is never glorified by human violence. (
Thomas Merton)
Man is a muslim who never hurts anyone by word or deed, but who works for the benefit and happiness of God's creatures. (
Abdul Ghaffar Khann)
A spiritual person tries less to be godly than to be deeply human. (Rev. William
Sloan Coffin, Jr. )

IS IT LOVE?
The bible tells us to love our neighbors , and also to love our enemies; probably because they are generally the same people. (G.K. Chesterson)
Where there is hatred, let me sow love. Where there is injury, pardon. Where there is doubt, faith. (St. Francis of Assisi)
I believe love is primarily a choice and only sometimes a feeling. If you want to feel love; choose to love and be patient. (Real Live Preacher)
To love deeply in one direction makes us loving in all others. (Anne-Sophie Swetchine)
We cannot really love anybody with whom we never laugh. (Agnes Repplier)
When we lose one we love, our bitterest tears are called forth by the memory of hours when we loved not enough. (Maurice Maeterlinck)
Surely, it is not true blessedness to be free from sorrow while there is sorrow and sin in the world. Sorrow is a part of love and love does not seek to throw it off. (George Eliot)
That's all non-violence is - organized love. (Joan Baez)
The moment we choose to love we begin to move towards freedom. (Bell Hooks)
Miracles occur naturally as expressions of love. (Marianne Williamson)
Where there is great love there are always miracles. (Willa Cather)
One word frees us of all the weight and pain of life: that word is love. (Sophocles)
WHICH WAY IS UP?
The real miracle is not to walk either on water or in thin air, but to walk on Earth. (Thich Nhat Nanh)
Thou shalt not be a victim. Thou shalt not be a perpetrator. Above all, thou shalt not be a bystander. (Holocaust Museum, Washington, D.C.)
You can stand tall without standing on someone. You can be a victor without having victims. (Harriet Woods)
I'm not disturbing the peace. I'm disturbing the war. (Ammon Hennacy)
We must be the change we wish to see. (Mahatma Gandhi)
While you are proclaiming peace with your lips, be careful to have it even more fully in your heart. (St. Francis of Assisi)
You cannot uneducate the person who has learned to read. You cannot humiliate the person who feels pride. You cannot oppress the people who are not afraid anymore. (Cesar Chavez)
TO BE AT PEACE...
If there is to be peace in the world, there must be peace in the nations. If there is to be peace in the nations, there must be peace in the cities. If there is to be peace in the cities, there must be peace among neighbors. If there is to be peace between neighbors, there must be peace at home. If there is to be peace at home, there must be peace in the heart. (Lao Tzu)
There is no way to peace. Peace is the way. (A.J. Muste)
If you want others to be happy, practice compassion. If you want to be happy, practice compassion. (Dalai Lama)
IN PERFECT HARMONY...
If children are not introduced to music at an early age, I believe something fundamental is actually being taken from them. (Luciano Pavarotti)
Music is the movement of sound to reach the soul for the education of its virtue. (Plato)
If there is something to be changed in this world, then it can only happen through music. (Jimi Hendrix)
A song will outlive all sermons in the memory. (Henry Giles)
That which comes nearest to expressing the inexpressable is music. (Aldous Huxley)
Music expresses that which cannot be said and on which it is impossible to be silent. (Victor Hugo)
Music is the medicine of the mind. (John A. Logan)
This will be our reply to violence; to make music more intensely, more beautifully, more devotedly than ever before. (Leonard Bernstein)

Music is well said to be the speech of angels. (Thomas Carlyle)
Litany of Remembrance
In the rising of the sun and it's going down, we remember them.
In the blowing of the wind and in the chill of winter, we remember them.
In the opening of buds and in the rebirth of spring, we remember them.
In the blueness of the sky and in and in the warmth of summer, we remember them.
In the rustling of leaves and in the beauty of autumn, we remember them.
In the beginning of the year and when it ends, we remember them.
When we are weary and in the need of strength, we remember them.
When we are lost and sick in heart, we remember them.
So long as we live, they too shall live, for they are now a part of us, as we remember them.
[
Take nothing for granted. Know your rights, use them. Remember freedom comes at a price. Give respect where it's due. Always read the fine print. If you've never learned to think for yourself, start now.