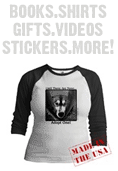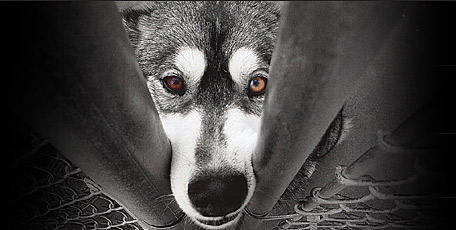 Please Visit YouTube for more info on the Dancing Bears:
http://www.youtube.com/freethebears
Save the Endangered Moon Bear!http://moonbears.org/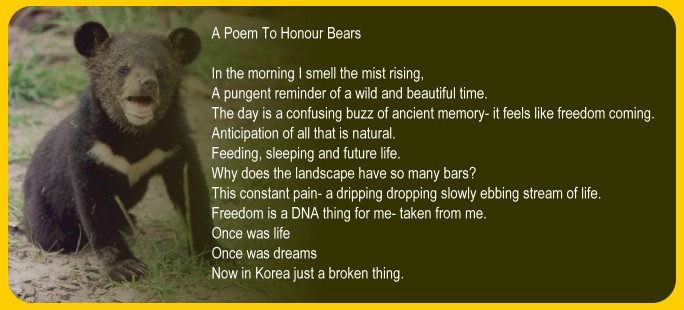 "Lonesome George"
Every now and then George closes
his eyes for a few centuries ...
the stars stop for the occasion
and the sun goes out,
his night lit only by dream
"Hello, big boy," she says,
shell new and lustrous,
green as the deep sea;
and her eyes
deep as the dark gems
that glow deep
where it roots...
George, lifting his nose
skyward
still seeing her
behind his closed eyes
moves forward
slow as lava oozing
from the bottom
of the sea his scaled feet
arch like trees first planted
then pulled up from
their roots...
"I'm coming," he says.
Written by,
Steve Campbell

("Lonesome George" is the name given by biologists to the largest of the few surviving male Galapagos Tortoises of a species indigenous to one of the islands in the group.
There are no surviving females.)
"In wildness is
the preservation of
the world."
- Henry David Thoreau
Elephant News: http://www.elephant-news.com/
LINKS:My Blog: 'Save Animals!':

http://julesrs007saveanimals.blogspot.com/

My CURRENT TV Page:

http://current.com/people/julesrs007

'Shark' - Animal Cruelty Investigations and Campaigns

http://www.sharkonline.org/

IFAW - Animal Rescue Blog:
http://www.animalrescueblog.org/
The ALF -

http://www.animalliberationfront.com/ALFront/WhatisALF.htm


ANIMALS ASIA FOUNDATION (AAF):
http://www.animalsasia.org/index.php?module=7&lg=en

International Animal Rescue (IAR):
Dedicated to the rescue and rehabilitation of suffering animals
-
http://www.iar.org.uk/


Progressive Animal Welfare Society (PAWS):
http://www.paws.org/
PETA TV - Animal Rights TV -
http://www.petatv.com/
Animal Welfare Institute - http://www.animalwelfare.com/

Pet-Abuse.Com -
http://www.pet-abuse.com/Pet-Abuse.Com


Animal Law Coalition - Advocating for animals to live and live free of cruelty and neglect:
http://www.animallawcoalition.com/
uncagedfilms.com - Home:
http://www.uncagedfilms.com/
HSUS - Wayne Pacelle 'A Humane Nation':
http://hsus.typepad.com
STOP THE SEAL HUNT!:
http://feeds.feedburner.com/StopTheSealHunt?format=xml


Stop the Seal Hunt Boycott Canada!:

http://www.boycott-canada.com/info/facts.htm
Animal World -

http://www.suprememastertv.com/bbs/board.php?bo_table=download&sfl=ca_name&stx=aw&sop=and



HELP END KILL SHELTERS!
Humane America Animal Foundation
is a non-profit adoption advertising charity. Their mission (and passion) is to help get homeless pets out of the shelters and into loving homes.This site has web-banners (& more) that you can use to help get the word out. Together, we can end to kill-shelters. Please visit:
http://www.1-800-save-a-pet.com/index.html


THE BLUE BEAR OR THE GLACIER BEAR
John Hyde - Picture of Lynn Schooler's book - The blue bear
There is few documentation and pictures about this wonderful bear from the family of the American black bear. I pull out my main informations from the beautiful book of Lynn Schooler : " The blue bear" .
As Lynn Schooler says : " We only find this blue bear or glacier bear in Alaska in the coastal stretch of 800 kilometres between The Prince William Sound in the North west and Ketchikan in the South. The only official census ever made, estimate that blue bears are about hundred in this area.
This bear " has the colour of a winter sky, it has the same pale blue-grey that the granite blocks that the glaciers leave when they are removing, and this bear leave only in Alaska."



© Lynn Schooler
This photograph was taken by Lynn schooler ( see his portrait in my topic "portraits and interviews ")

Here is what he says in his book : " We can spend our own life to go over the fjords and the fields of ice of Alaska without seeing one blue bear. Writing these lines, I had a look on my photograph (the one you can see above)
It's a second rate photograph - fuzzy and bad composed - and nevertheless it's one of my precious material ownership. This photograph is precious for me , not only because it's one of a blue bear ( and there is much less blue bear photographs in this world than canary yellow diamond) but because I had to track down the blue bear during almost ten years before to take this photograph.
In a word and above all, when I took this photograph, It was just in a second, ten years of friendship with an exceptionnal man ( Michio Hoshino).Moreover all the story of his book can be summed up in this photograph.