"Its The Quality of Life"

USA
male
married, 4 children
Speaks: English
Joined May 23, 2013











Movie - May You Be Blessed
We Send You Our Blessings



http://mybeautifulamerica.com/LivingDesert.htm
Save Mother Earth and Our Parks
http://www.americanforests.org/




"My Job is to make this a better place than I found it"
Be a Humble Leader ... A Guardian to those
less fourtunate - youll never forget it.




What a shame if all you believe exist is what is shown statistically.I feel very sorry for you indeed if you are ruled only by what you can measure,because Im intrigued by the unimeasureable. Im intrigued by dreams,not only by what is here. I dont give a damn what is here I can see it Thats fine you can measure it if you want to spend your time measuring it,but I am concerned with what is ot there. There is so much that we dont see, we dont touch , we dont feel, we dont understand
"Leo Bascacuglia"

----------------------------------------------------------------------------------------------------------------------------------------------
(((Life Is A Gift Share it w/ Others)))
If theres one thought that Id like to share with my friends and loved ones LOVE, PROTECT, and SERVE others without a doubt, question ...... asking for anything in return. Be that Guardian Angel - keeping others in sheeps clothing away from causing any kind of harm. Be the beacon of light to that friend in need. Life is too preciouse .... and we all could use a hand
w Peace and Love Bryan

www.ncvc.org
http://www.familywatchdog.us/Search.asp
Stop Child Abuse

PHYSICAL ABUSE

kicking, punching, pushing, pulling, slapping, hitting, shaking, cutting, burning, pulling hair, twisting arm, throwing the victim, throwing things at victim, hitting victim with objects
SEXUAL ABUSE
(Any unwanted sexual contact)
forcing to have sex, pinching, slapping, grabbing, poking the child's breasts or genitals, forcing to watch or participate in group sex
EMOTIONAL ABUSE
verbal threats, making victim feel stupid, or crazy, humiliating victim, overpowering victim's emotions, disbelieving victim, bringing up past issues, degrading victim, blame the victim for things, turning the situation against the victim, laughing in victim's face, ignoring victim, comparing victim to others, making victim feel guilty, threatening with words or objects
NEGLECT
Not providing for a child's physical and emotional needs
http://child-abuse.com/
Stop Hunger
http://www.unitedfoodbank.org/
http://www.savechildrennow.org/
http://www.stophungernow.org/
http://www.one.org/
Thirty Million People A Year Die Of Hunger Thirty Million People A Year Die Of Hunger
Thirty Million People A Year Die Of Hunger
A Lesson in Life
Everything happens for a reason. Nothing happens by chance or by means of good or bad luck. Illness, injury, love, lost moments of true greatness and sheer stupidity all occur to test the limits of your soul. Without these small tests, if they be events, illnesses or relationships, life would be like a smoothly paved, straight, flat road to nowhere.
If someone hurts you, betrays you , or breaks you heart, forgive them. For they have helped you learn about trust and the importance of being cautious to who you open your heart to.
If someone loves you, love them back unconditionally, not only because they love you, but because they are teaching you to love and opening your heart and eyes to things you would have never seen or felt without them.
Make every day count. Appreciate every moment and take from it everything that you possibly can, for you may never be able to experience it again.
Talk to people you have never talked to before, and actually listen. Hold your head up because you have every right to. Tell yourself you are a great individual and believe in yourself, for if you don't believe in yourself, no one else will believe in you either.
You can make of your life anything you wish. Create your own life and then go out and live it.


My Morning Prayer

Dear Lord, I thank you for this day. I Thank you for
my being able to see and to hear this morning. I'm
blessed because you are a forgiving God and an
understanding God. You have done so much for me and
you keep on blessing me. Forgive me this day for I
have sinned. I ask now for your forgiveness. Keep me
safe from all danger and harm. Let me start this day
with a new attitude and plenty of gratitude. Let me
make the best of each and every day and give my best
in all that is put before me.
Clear my mind that I can hear from you. Broaden my
mind that I can accept all things. Let me not whine
and whimper over things I have no control over. Let me
continue to see sin through God's eyes and acknowledge
it as evil. And when I sin, let me repent, and confess
with my mouth my wrong doing, and receive the
forgiveness of God. And when this world closes in on
me, let me remember to slip away and find a quiet place
to pray. It's the best response when I'm pushed beyond
my limits. I know that when I can't pray, You listen
to my heart. Continue to use me to do Thy Will.
Continue to bless me that I may be a blessing to others.
Keep me strong that I may help the weak. Keep me
uplifted that I may have words of encouragement for
others.
I pray for those that are lost and can't find their way.
I pray for those that are misjudged and misunderstood.
I pray for those who refuse to share a word from you.
I pray for those who don't know you intimately.
I believe that God changes people and God changes things.
I pray for all my sisters and brothers. For each and every
family member in their households.
I pray for peace,love and joy in their homes, that they
are out of debt and all their needs are met.
I pray that every eye that reads this knows there is no
problem, circumstance, or situation greater than God.
Every Battle is in His hands for Him to fight.
I pray that these words be received into the hearts of
every eye that sees them and every mouth that
confesses them willingly. This is my prayer. Amen.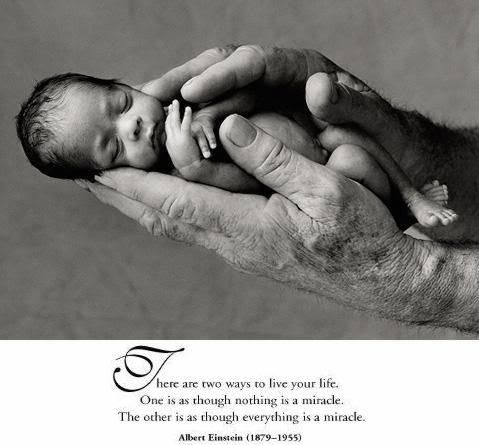 SU2C
www.su2c.org



--One can be unhappy by oneself, but to be truly tormented,
one must love.
--Love is harder to accept than to give.
--To love is to embrace life. To love fully is to embrace both
death and life.
--The secret of happiness is simple: be loving, giving,
caring.
Why, then, are so many unhappy?
Because they are afraid.
--Love only yourself, and you are alone.
Love only one other, and the two of you are alone.
Love only your family, and your family is alone.
Love only your nation, and your nation is alone.
There can be no communion, not even with yourself,
except through love of God.
My dear Friend Jaquelline V. sent this to me, *Thank You* my dear friend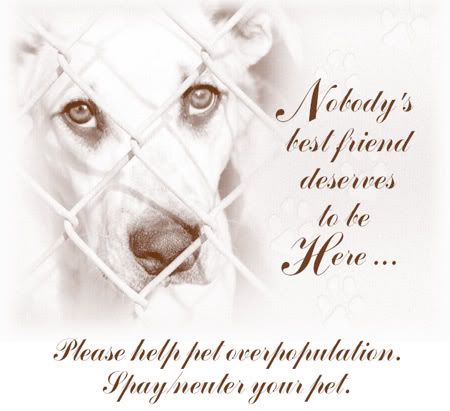 I died today.



You got tired of me and took me to the shelter. They were overcrowded and I drew an unlucky number. I am in a black plastic bag in a landfill now.


Some other puppy will get the barely used leash you left. My collar was dirty and too small, but the lady took it off before she sent me to the Rainbow Bridge.


Would I still be at home if I hadn't chewed your shoe? I didn't know what it was, but it was leather, and it was on the floor. I was just playing. You forgot to get puppy toys.



Would I still be at home if I had been housebroken? Rubbing my nose in what I did only made me ashamed that I had to go at all. There are books and obedience
teachers
that would have taught you how to teach me to go to the door.


Would I still be at home if I hadn't brought fleas into the house? Without anti-flea medicine, I couldn't get them off of me after you left me in the yard for days.


Would I still be at home if I hadn't barked? I was only saying, "I'm scared, I'm lonely, I'm here, I'm here! I want to be your best friend.


Would I still be at home if I had made you happy? Hitting me didn't make me learn how.

Would I still be at home if you had taken the time to care for me and to teach manners to me? You didn't pay attention to me after the first week or so, but I spent all my time waiting for you to love me.

I died today...

Spread this around if you please
Joined
May 23, 2013
Activist Aspirations
Casual
Here for
Meeting Friends, Support a Cause
Group Host of
Groups
(AGR) A Green Road, A Dog-Gone Good Natural Pets Group, ANGELS, Activists & Damn Proud Of It!, All Animals Great And Small, All Mental Health Support, All Natural HealthWorks!, Amnesty International, An Attitude of Gratitude, And The Forecast Is, Animal Angels - HeartReach, Animal Fanatics, Animal Lovers, Animal Rights vs. Animal Welfare more »
Hometown
Waukesha , Wi
Homepage
Birthday
Jan 01
About Me
I enjoy the simple pleasures in life - the mountains and streams,Mother Earth's beauty as a whole / sooooo now Im an Irish brwn eyed rebel rowser that gives a damn about our future as a whole ...... Im a Republican / dont leave trash talk because life is a delicate balance through issues we face and the choices we make Love and Prayers to you All
Introduce yourself to Bryan
Lifestyle
Activist Aspirations
Casual
Political Leaning
Conservative
Wild Fact About Me
Im a Warm Bear type ,....
Grizzly to bite for Freedom/All together Good Joe
My Philosophy
Talk straight and love one another unconditionally ... Ive a fiance and shes one of a kind; packs a punch - BUT I LOVE HER BUNCHES "KATHY"
What Gives Me Hope
Past ,Present and deffinetly the future- Changing. If you could find a mix between Barry Goldwater&Harry Truman and Bill Clinton and your going to have one hell of a President .... need someone to get it done
If I were Mayor, I'd make the world a better place by
Make sure that there were Jobs, a Federal Medical Program based for all,Schools funded (children are our future) Bring the military back home to make sure the States were a better place to live. Sure wouldnt screw around with Social Security.
What/who changed my life and why
Leo Buscaglia's Books,gave me a better outlook
Favorites
Quotation
Love the Lord , your family and friends, Go past your comfort zone,always give to others,Dont lie .... and be yourself.
Introduce yourself to Bryan
My Butterfly Rewards
Most recent activity (up to 500 gifts shown)
---
I've earned Butterfly Credits