"to save animals from extinction"

Baraboo, WI, USA
female
married, 4 children
Speaks: Uto-Aztecan, spanish, English
Joined Aug 22, 2003





Brother Wolf... Proud Comanche Warrior !!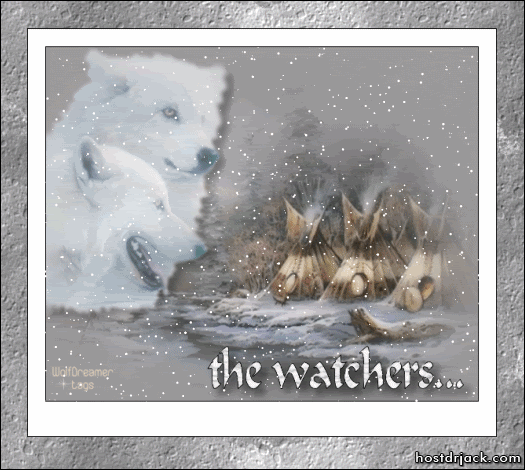 This band sings a version that will knock your socks off ... A Navy Vet
Sings The Lead. <http://www.starspangledbannerchallenge.com/>
TAG to SNAG for my "FrogsRus" Group, for Members made by Tj H. . Click on TAG to go to my Group




Mommy's Girl Forever ~ Daisy Mae ~1990 to
2006. ~ RIP ~ My Beloved, My Soul. xoxo


Baby Dottie, 1999 in Wimmin Pool.
May 1st, 1999 ~ April 25th,2014

RIP ~ Pup-pup. Mommy misses you so much. My Heart aches. xoxo

The Rainbow Bridge ~
RAINFOREST grp.

The Unforgettable Cute Knut of Berlin Zoo, Germany who Wowed the World. RIP ~~
St. Michael the Archangel, sent by the Almighty to protect us.
Gorgeous Brave & Sacred Wolf Pups.
First North American Jaguara seen in over a hundred years in the 21st Century. What a Hunk !!
My Personal Protection System. Isn't he just sooo Fierce ?
Backyard Birds Group ~
Peace and Tranquility ~~


Joined
Aug 22, 2003
Activist Aspirations
Enthusiastic
Here for
Meeting Friends, Support a Cause
Group Host of
Groups
'' GARDEN OF FRIENDSHIP '', Animal Advocates, Art Gallery, Artistic And Bent, Care for Chinese Animals, Care2 Feedback and Suggestions, Dog Lovers, FrogsRus, GRAPHIX & SIGGIES FOR THE TAKING, Graphics Galore, IN MEMORY OF CARE2 MEMBERS WHO HAVE PASSED AWAY, Kitchen Cat, Mandala And Tag Creative Studio, Mission Earth more »
Hometown
Chicago
Homepage
http://www.care2.com
Birthday
April 18
Languages
Uto-Aztecan, spanish, English
About Me
I love our planet and all God's creatures.
Introduce yourself to Vinnie
Lifestyle
Pets
Baby, Puppy S., Spot, Daisy Mae, Munchkin, Fluffie, Ducky, Dottie
Activist Aspirations
Enthusiastic
Political Leaning
Depends
Religions
Christian - Catholic
Eating Habits
Chocolate - Lots of it
Wild Fact About Me
I take crazy chances to get that perfect shot with my camera.
My Philosophy
Speak to others, just as you would like them to talk to you, with RESPECT.
What Gives Me Hope
If I were Mayor, I'd make the world a better place by
What/who changed my life and why
What Bugs Me
injustice, bullying, Drunk Drivers, people who steal and harm others, people who rape, people who WON'T use their minds!, liars, arrogance, Any one that would hurt an animal
Passions
earth, nature, writing, water, trees, photography, my friends, MY CHILDREN!!!, learning, laughter, God's Creations, books, animals
Inspirations
People waking and seeing their own light, togetherness, to fulfill my purpose on earth, rain, ocean, god, friends, Birds chirping, animals
What Scares Me
War - Cruelty - Greed - Indifference, Ignorance and evil, hate, cruel people, abusers, "Big Brother"
Favorites
Role Models
Nelson Mandela, Mother Teresa, Jesus Christ
Quotation
You have nothing to fear but fear itself.
Interests

Books
TRUE CRIME, sci-fi, Mysteries, Anything to do with animals and nature, bible, Anything by Stephen King or Dean Koontz, anne rice
Music
the beatles, Rock and Roll, Heavy Metal, classical, all kinds
Movies
Star Wars, titanic, The Green Mile, Mothra: Terror Over Tokyo, Fried Green Tomatoes, Wizard of Oz, The Prince
TV Shows
Old sifi, Law and Order SVU, Law and Order, CSI, MONK, LUCIFER, Law and Order, GRIMM, I like thrillers, history channel, Discovery Channel, Animal Planet
Favorite Foods
fish, strawberries, seafood, mexican food, lobster, ice cream, cheese, coffee, chocolate
Favorite Places
Scotland, England, America, Belgium, my pets, My bed, rivers, nature, lakes, home, forests
Can't Live Without
my bed, God, love, laughter, water, my dog, my animals, freedom, friends, family, computer, coffee, chocolate, books, animals, air
Introduce yourself to Vinnie
My Butterfly Rewards
Most recent activity (up to 500 gifts shown)
---
I've earned Butterfly Credits