Hi and welcome to my page. I'm Care2's self appointed Click to Donate ambassador. It is such an easy way to help and I encourage all Care2 members to make a point of clicking as often as they can. Clicks have fallen the last several years...

I strongly believe in harnessing the power of the internet to do good in the world. Please join me in supporting click to donate sites here at Care2 and elsewhere. Here are some of my favorites:

https://www.tchforegon.org/
http://www.brotherearth.com/
https://greatergood.com/
http://www.freekibble.com/
Please listen to Care2 member Soren Groth's music to donate to worthy causes! You can listen to his tunes while clicking at many great click to donate sites at http://www.beats4change.org/action/listen.html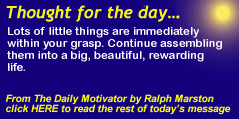 Here are some beautiful and uplifting thoughts and quotes for you to enjoy~

"No man made a greater mistake than he who did nothing because he could only do a little."
- Edmund Burke, Brittish political philosopher.
"I will love the light for it shows me the way, yet I will endure the darkness because it shows me the stars."
- Og Mandino
"The ultimate test of a moral society is the kind of world that it leaves to its children."
- Dietrich Bonhoeffer, German Theologian.
"Let yourself be open and life will be easier. A spoon of salt in a glass of water makes the water undrinkable. A spoon of salt in a lake is almost unnoticed.
- Buddha.
"Let us be grateful to people who make us happy; they are the charming gardeners who make our souls blossom."
- Marcel Proust
"The purpose of life is not to be happy. It is to be useful, to be honorable, to be compassionate, to have it make some difference that you have lived and lived well."
- Ralph Waldo Emerson
"
A pessimist sees the difficulty in every opportunity; an optimist sees the opportunity in every difficulty."

- Winston Churchill
If There Is Righteousness In The Heart
If there is righteousness in the heart,
there will be beauty in the character.
If there is beauty in the character,
there will be harmony in the home.
If there is harmony in the home,
there will be order in the nation
If there is order in the nation,
there will be peace in the world.
So let it be.
—Scottish Blessing
One of my favorite poems:
My Life is but a weaving
between my Lord and me;
I cannot choose the colors
He worketh steadily.
Oft times He weaveth sorrow
And I, in foolish pride,
Forget He sees the upper,
And I the under side.
Not til the loom is silent
And the shuttles cease to fly,
Shall God unroll the canvas
And explain the reason why.
The dark threads are as needful
In the Weaver's skillful hand,
As the threads of gold and silver
In the pattern He has planned.
He knows, He loves, He cares,
Nothing this truth can dim.
He gives His very best to those
Who leave the choice with Him
Author Unknown