A Muslim or Atheist President? Not Likely Says New Poll
A new Gallup poll reveals that while an increasing number of Americans would vote for a gay or lesbian president, a Muslim or atheist-identifying potential POTUS is likely to be left out in the cold.
The poll found that nine out of 10 Americans would vote for a presidential candidate who is black, a woman, and identifying as either Catholic, Hispanic, or Jewish.
However, a significantly lower level of support was found for an atheist president, at just 54%, or a Muslim president at 58%.
In full, the question asked:
Between now and the 2012 political conventions there will be discussion about the qualifications of presidential candidates — their education, age, religion, race, and so on. If your party nominated a generally well-qualified president who happened to be _______, would you vote for that person?
The results update a question Gallup first asked in 1937 in reference to a female, Jewish, or Catholic candidate, which has periodically been asked since then, with additional candidate characteristics added to the list.
The overall breakdown looks as follows: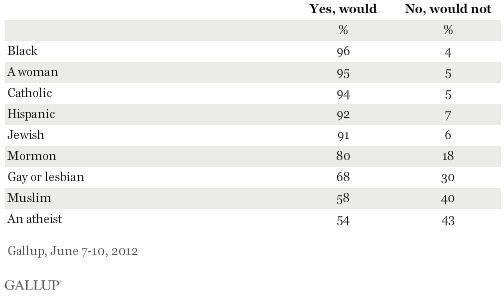 Support for a black president, a woman president and a Jewish president have stayed relatively unchanged since the last poll in 1999. It may be of interest to note that 2012 is the first time that Gallup has asked about support for a Muslim president.
Other polls in the past year have shown a deep mistrust of atheists among the American public, and indeed atheists were again the lowest rated group in the poll–though Gallup is quick to point out that acceptance of an atheist president surpassed 50% last summer and has continued its upward trend.
When respondents were asked if they would support a gay or lesbian president, 68% of respondents said yes. This is up 42% from when the question was first asked in 1978, and 9% up on 1999.
On this issue however the breakdown showed a sharp contrast between Democratic and Republican voters, with 82% of Democrats in favor of a gay and lesbian candidate, compared to 68% of Independents and 56% of Republicans. This may further add to the idea that support for gay rights has now become a democratic litmus test.
When it comes to a Mormon president, the poll may also have demonstrated a mild "Romney effect," that is to say an increase on previous years in Republican-identifying support for a Mormon Commander in Chief, with 90% of Republican respondents saying yes to a Mormon president.
Says Gallup:
When Gallup asked the same question in February 1999, Republicans were only slightly more likely than Democrats, 81% to 75%, to say they would vote for a Mormon for president. There was a similar six-percentage-point party gap (72% Republican, 66% Democrat) in a February 2007 poll, in the early stages of the 2008 presidential campaign and Romney's first run for president.
However, the overall figure of support has remained fairly unchanging over the years, especially in more recent times among Democratic voters. This has led Gallup pollsters to speculate that, unlike with other groups which have seen a steady upward trend, there may be a ceiling effect at play that has capped off the figure of support for a Mormon POTUS.
A familiar age-related pattern was also demonstrated in the Gallup poll. Fewer than half of senior citizens would vote for a candidate who is gay, an atheist, or Muslim, said the poll. However, as Gallup puts it, "At least seven in 10 young adults, those under age 30, would vote for a presidential candidate of any background."
As an interesting conclusion, Gallup wonders if the cap on support for a Mormon president may be indicative of a looming cap on other demographics like a gay or atheist president and that, while upward momentum seems swift at the moment, we may expect it to eventually reach a ceiling which will be hard to break.
Results for the poll are based on telephone interviews conducted June 7-10, 2012, with a random sample of 1,004 adults, aged 18 and older, living in all 50 U.S. states and the District of Columbia. For results based on the total sample of national adults, there is a 95% confidence that the maximum margin of sampling error is +/- 4%.
Related Reading:
Atheists About As Trustworthy As Rapists To The Faithful
Atheists Rank #1 in Religious Literacy in America
Image used under the Creative Commons Attribution License with thanks to Alan Klim.