We post and share all
reality-check news, information, opinions and updates concerning the always politically inexperienced President Barack Obama.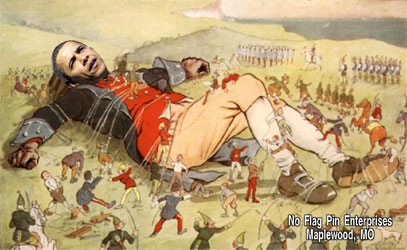 Code of Conduct
Visibility: open
Membership: open

For Example:
Obama's Job Plan or Job Act (aka: American Jobs Act) is Just Another Stimulus Package (JASP) wrapped in pretty words hidden inside just another empty speech designed for the gullible of mind.
It no doubt looks and sounds great on the surface, but if you look deeper into it, then you will see its hollow illusory nature and soon come to realize that Obama already knew that it would never fly ... it was only another beefed-up campaign rally election speech instead, so ...
Of course Mr. Obama will continue to do what he always does best:
#1. Look Real Good.
#2. Give Pretty Speeches.
#3. Keeps A Straight Face Knowing Fully In Advance That Anything He Puts Forth Will Surely Fail Or Come Up 2 1/2 Years Late & $1+ Trillion Dollars Short.
Well heck, for that matter even I could stand before the U.S. Congress and succeed at #1 and #2 above, but I could never ever in good conscience commit to #3 for any reason, but that's just me.
*For Instance:
Please explain to us (anyone may champion an answer to this) as to why Obama has waited 2 1/2 years to pen a jobs legislation bill (American Jobs Act) and why he has further and still is pressing for more stimulus funding (aka: American Jobs Act).

When his administration was warned back in early 2009 to produce 2+ million new jobs beginning NLT late 2009 ... and after Obama had promised to do all this back in Campaign 2008 by rebuilding America's infrastructure with green alternative technologies and using the tried-and-true FDR state-to-state voluntary reconstruction work programs.
The only reason that I refrain from attacking the American Jobs Act at the moment, is due to watching the televised dramatic 'speech' where Obama says 15 times "PASS IT NOW!" "PASS IT NOW!!" "PASS IT NOW!!! ... etc. ... and then He goes on to say "and in two weeks we will tell you how we will pay for it" in another televised(?) Part 2 ZZZZ ZZZ ZZZZ !!

After 20 days earlier unveiling the anticipated jobs program and then returning for a 10+ day continuation of his extravagant and posh Martha's Vineyard vacation ...
While we wait to begin starving and losing our homes and other personal property ...
Which most of it is being U.S. Government confiscated by the way!!!
Can you stop for just a minute and see it from our concerned point of view, then answer with a rational explanation?
NO Republicanophobia or Anti-Social Racism!
"The Anti-Obama Nation" - Click Here to Get the Latest Controversial News, Videos & Commentary Right Now!! @ Facebook
Host have not shared any Shares with this group.
Feeds from the Web
There are currently no feeds available.
No group connections were found