The group is about the Killer
Whale Morgan who was found stranded in shallow water and was later transferred to the Dutch Dolfinarium with the intention to be released her into the wild as soon as she was better. ~The struggle to free Morgan~
~A young killer whale was found in the Wadden Sea in the Netherlands on the 23rd June 2010.
~The whale, a female, was rescued by Dolfinarium Hardewijk for rehabilitation and was given the name Morgan.
~She was 3.5 m long and was extremely underweight at 430 kg at the time she was rescued.
~Based on her length, which was compared with lengths and tooth growth layers of Norwegian killer whales from an International Whaling Commission report, she was estimated to be 1-2 years old.
~After 5 weeks visitors were allowed, while Morgan was still recovering.
~Help of many international experts of killer whales and dolphins of expulsions was rejected.
~ Help from SeaWorld was accepted.
~There was a report written by not independent and in some cases incompetent experts advised to not set her free.
~The release plan written by more than 40 independent experts, which means a roadmap explains HOW Morgan can be released is completely being ignored.
~Failure to release DNA and other information, where international experts asked for so they can find her family.
~Claim that Morgan has a right to privacy while hundreds of visitors can show her on daily bases.
~Ignoring the various sightings of killer whales near where she was found, almost one year after her stranding.
~Failure to examine whether this group orcas may be her family, but wrongly claim that they were white-beaked dolphins.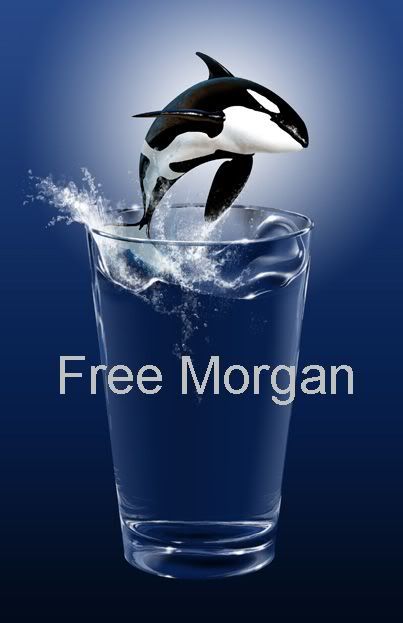 Update;
Last update: July 19, 2011 12:03 info.
AMSTERDAM-Tuesday 17 July 2011
Orka Morgan gets an adoptive family in the Loro Parque in Tenerife Spanish zoo when Dolpinarium get's its way Director Marten Foppen Dolphinarium said this on Tuesday.
For the welfare of Morgan, it is important that as soon as possible she will be in contact with peers, according to the Dolphinarium.
The Dolphinarium has put in a request for licensing Morgan's transfer at the Ministry of Economic Affairs, Agriculture and Innovation and wait for the allocation of this license.
Foppen: ''Speed ​​is now offered in the interest of Morgan. We hope that the Coalition also recognizes Orca
and refrain from delaying lawsuits.''

SeaWorld
The orcas are being cared for by the Spanish park attendants who are trained by the U.S. SeaWorld. They have over forty years of knowledge about the care and transport of killer whales is more than 40 years back. More expertise isn't there. We could not find a better place for Morgan,''said Marten Foppen.
The stay of killer whales in Tenerife, called Orca Ocean, was built in 2006 and according to Dolphinarium,one of the most modern accommodation for such animals in the world. The animals swim in 22 million liters seawater that directly comes from the adjacent Atlantic Ocean.
Host have not shared any Shares with this group.
Feeds from the Web
No group connections were found