Let us shake hands together to
work for uplift the down trodden communities : Awareness about social evils, education, health, employment and coordination with other part of the society. Stop honour killings, save female foeticides, water as well.
Dear friends,
TAKE ACTION: CAMPAIGN AGAINST HONOUR KILLINGS IN INDIA - KADYAN KHAP INTERNATIONAL
We the Citizens, Members of the Civil society with a deep sense of anguish, would like to draw your attention to the shocking and appalling fact that over the years a large number of couples are being killed across the country for honour.
So called Honor based violence occurs in communities where the concepts of honor and shame are fundamentally bound up with the expected behaviors of families and individuals, particularly those of women. The most extreme form is - honour - killing, but in other circumstances, the victim can be subjected to long-term low level physical abuse and bullying as a punishment for bringing dishonor on the family. Such crimes include battery, torture, mutilation, rape, forced marriage, imprisonment within the home, and even murder. These crimes are intended to protect the family honor by preventing and punishing womens violations of community norms for behavior, particularly sexual behavior. These crimes are often collective and premeditated.
In the recent times the cases has been on the increase and in current scenario when the State has remained mute spectators there is a lot of fear spread among the young generation and couples who are married and some of them intending to get married that they may face the wrath of such feudal forces. Many a times the pressures are so intense that the couples resort to suicide. In the recent months cases have come to light where couples are being killed, publicly humiliated and declared as brothers and sisters. Couples have faced social ostracisation from the society. Many have been killed in cold murder after torture. The victims have approached the law enforcement agencies and still faced severe trauma and humiliation. The law enforcement agencies continue to be mute spectators while doing lip service work and have been mostly confined to intervention after an incident has happened.
We demand the following:
1. As fast as possible come out with the New Law on Honour Killings as already announced by the Government.
2. The Prime Minister should make a statement on Honour Killings and the need to curb them.
3. Issue strict Instructions to the States to prevent Honour Killings and take proactive steps to prevent such killings.
4. The Central and the State Government need to come out with a paper on what steps they have taken to implement the Supreme Court Directions in 2006 in Lata Singh Vs State of Uttar Pradesh.
5. Immediately come out with a National Plan of Action.
6. Immediately a National Level Meeting of State Secretaries and DGP is needed to plan out the preventive steps needed to curb such crimes.
7. The Central Government should ask the State Government /State DGP to convene a SSP level meeting and give clear instructions for the protection of such couples.
8. Come out with various help lines numbers and special cell where such couples can approach the administration for protection.
9. Constitute fast track courts for cases of Honour Killings.
10. Immediately amend the Special Marriage Act and reduce the period of registration of Marriage from one month to one week.
We would like to remind the Government of India its duty to protect the rights of citizens, which is obligatory on them under Articles 14, 15 (1) & (3), 19 , 21 and 39(f) of the Constitution of India.
We would also like to remind the Government of India its obligations and commitment to protect its citizens from such violence under the United Nations Convention on the Elimination of all forms of Discrimination against Women (CEDAW) of which India is a signatory and has also ratified the convention. It is also against the spirit of Universal Declaration of Human Rights and International Covenant on Civil and Political Rights.
We demand that the Govt take urgent steps as mentioned above so that such Honour Killings are stopped.
Please support this petition and circulate it widely around in your circle.
PETITION:
http://www.change.org/peti

tions/view/campaign_agains

t_honour_killings_in_india

_-_kadyan_khap_internation

al
Regards,
Abhishek Kadyan,
Media Adviser to the International Organisation for Animal Protection
- OIPA in India.
Sukanya Kadyan,
Spokesperson to PFA Haryana.
Naresh Kadyan,
http://stophonourkillings.

webs.com/
Convener, Kadyan Khap International.
Inter-caste ties behind most honour crimes
Just 3% cases due to same gotra marriages, says new survey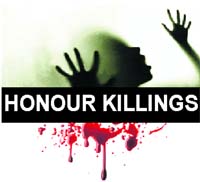 Study finds that killings in Haryana, Punjab & UP are result of patriarchal society's intolerance for girls' empowerment
New Delhi, July 5
Barbaric honour crimes that have come to stay in the northern states of Punjab, Haryana and Uttar Pradesh appear more rooted in girls' empowerment than in same gotra marriages that Khap panchayats are happily advocating.
Preliminary findings from a study commissioned by the National Commission for Women (NCW) reveal that 72 per cent of the 326 documented honour-related crimes in the aforementioned vulnerable states over the past one year involve couples that entered into inter-caste marriages.
Only three per cent of these cases — data collected from authentic sources like the police and court records — involve youngsters in same gotra marriages where the issue of Jat pride and Khap panchayats actually comes into play. As many as 15 per cent crimes happened in situations where couples married without the consent of families. Seven per cent happened where youngsters entered into contentious wedlocks having run away from their houses while one per cent involved couples in inter-religious weddings.
The findings point to a new reality — honour crimes are happening primarily in situations where girls are walking out on families to exercise their own choice of marrying a boy from another caste or someone their parents didn't consent to. Plainly put, girls are paying a price for making personal and professional choices."This assumption is not an exaggeration. During our research, we went through all the cases minutely and found that the trend is more about a patriarchal society's intolerance for girls' empowerment than anything else. In Haryana alone, more boys than girls are now dropping out of school; more girls than boys are landing themselves good jobs. This is not going down well with the system. That's why girls' families are the largest perpetrators," Ravi Kant, president, Shakti Vahini today told TNS. He is also the petitioner in the honour killing PIL filed in the Supreme Court, which has issued notices to eight state governments.
The researchers are also attributing the crimes to fears of property division among families. "When girls marry against parents' choices, there is always a possibility that she might claim her property share as per the Hindu Succession Act of 2005. In arranged marriages, that's less likely. This fear is another cause behind honour crimes. As for Khaps, they are just drawing political mileage out of the situation," Kant said.
If you are a Non-US resident, in the "City" category next to "State" click the link marked "Non-U.S." and choose your country from the drop-down arrow. Remember to fill out all other fields. However, if you are like me and your country does not carry any Postcode, I entered "N/A" for Not Applicable and it worked for me.
There is also a Facebook Event:
http://www.facebook.com/ev

ent.php?eid=12992747037204

5&ref=ts