UPDATE FROM THE FIELD


A young and very handsome bull gazes back at his admirers. BFC file photo by Stephany.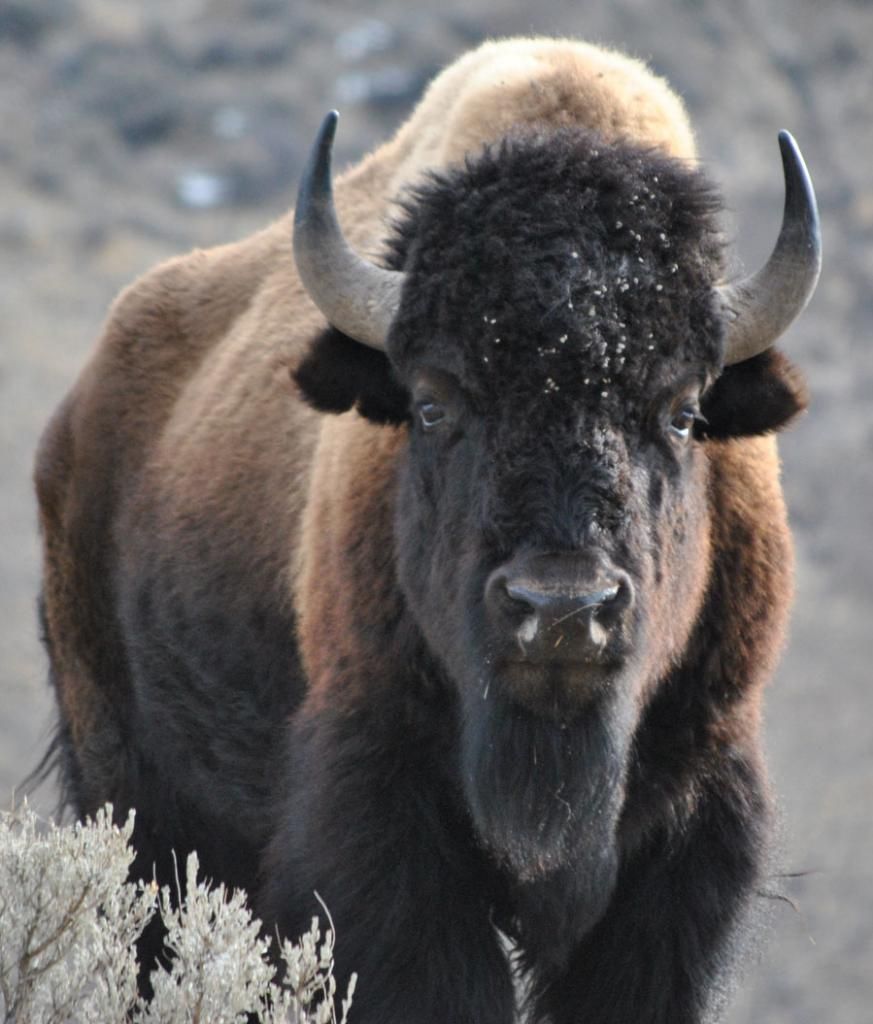 Since our last Update, 17 more wild buffalo -- mostly mature bulls and pregnant cows -- were killed by Nez Perce and Umatilla treaty hunters, all within three days. The majority were killed at the very edge of Yellowstone National Park, at Beattie Gulch, the place we now call "the killing fields." The ravens and eagles have had their fill of the gut piles. To be sure, the buffalo have had more than their fill of loss of family, of human intolerance and disrespect, and they made it clear that they would not stand idly by while state, federal, and tribal entities planned their capture and slaughter while simultaneously gunning them down at the park border.
Buffalo graze and relax on Church Universal & Triumphant (CUT) land, something very new for BFC and the buffalo! Buffalo are now relatively safe here; safe from hunting, but potentially in danger from government hazing and capture.

Hundreds of wild buffalo had been inhabiting the lands made newly available to them in the Gardiner Basin, north of Yellowstone National Park. While no hunters were in town, buffalo were simply living their lives, enjoying a little extra room, and mourning the relatives they had recently lost to hunters. On Thursday, Yellowstone officials posted closure signs around the Stephens Creek bison trap, making clear their plans to soon start capturing and slaughtering buffalo. A stir of unease filled the air, and the buffalo felt it more than any of us. On Friday morning, after seven buffalo had been shot at Beattie Gulch, hundreds of wild buffalo responded.

Wild buffalo on the run!

It was late-morning. Our hearts were heavy with the deaths of the buffalo we had just witnessed and the wakes we had seen just days before. We were high in the hills above the gate to Yellowstone, looking through scopes and binoculars to locate other buffalo. Then it began: at first we saw a fairly large group running full tilt toward the south for over ten miles as the road goes, away from hunters and away from the trap! As we watched, the buffalo just kept coming. By the hundreds they ran, wild and free, away from certain death and capture! As we counted them, more arrived, as if word had gotten out: death and danger to the north. Buffalo are wise beings, and we have no doubt that they sensed the fate that awaited them. More than four-hundred and fifty wild buffalo, all but a few small, scattered groups, promptly fleeing the landscape where they were vulnerable. On this day, the buffalo saved themselves.

Please read below to learn about the ways you can help wild buffalo right now, and help raise awareness by sharing this email with all of your friends and contacts.

Wild is the Way ~ Roam Free!
~ Stephany