After 7 years...it all still seems unreal June 13, 2007 9:21 AM



Sometimes I wonder if the pain will ever stop.Sometimes I know that it will...other times,like today...I'm not so sure.It's been 7 years today since I lost my husband and son....such a very hard day....and I wonder if it will ever get any easier to face June 13th every year????

     I've written this many times before...posted the only pictures I have on my computer of my angels...but today...I feel I must do it at least one more time.I pray with all that I am...that time will allow me to let this day be easier....until then...

I love you John...forever I will.....

My Matthew....my babyboy,hugs and so many kisses.

              I miss you.

~Traci Michelle~
If I knew it would be the last time
That I'd see you fall asleep,
I would tuck you in more tightly
and pray the Lord, your soul to keep.

If I knew it would be the last time
that I see you walk out the door,
I would give you a hug and kiss
and call you back for one more.

If I knew it would be the last time
I'd hear your voice lifted up in praise,
I would video tape each action and word,
so I could play them back day after day.

If I knew it would be the last time,
I could spare an extra minute
to stop and say "I love you,"
instead of assuming you would KNOW I do.

If I knew it would be the last time
I would be there to share your day,
Well I'm sure you'll have so many more,
so I can let just this one slip away.

For surely there's always tomorrow
to make up for an oversight,
and we always get a second chance
to make everything just right.

There will always be another day
to say "I love you,"
And certainly there's another chance
to say our "Anything I can do?"

But just in case I might be wrong,
and today is all I get,
I'd like to say how much I love you
and I hope we never forget.

Tomorrow is not promised to anyone,
young or old alike,
And today may be the last chance
you get to hold your loved one tight.

So if you're waiting for tomorrow,
why not do it today?
For if tomorrow never comes,
you'll surely regret the day,

That you didn't take that extra time
for a smile, a hug, or a kiss
and you were too busy to grant someone,
what turned out to be their one last wish.

So hold your loved ones close today,
and whisper in their ear,
Tell them how much you love them
and that you'll always hold them dear

Take time to say "I'm sorry,"
"Please forgive me," "Thank you," or "It's okay."
And if tomorrow never comes,
you'll have no regrets about today.
Sweet memories of my precious angels........
My wonderful husband, John.....2-16-64 / 6-13-00 
 My beautiful son, Matthew...1-20-95 / 6-13-00
Always you are here with me...always we will love you,time can't make you go away and time only makes the sweet memories stronger...I love you my angels...into eternity.....
[
send green star]
anonymous
June 13, 2007 10:06 AM



Traci dear, what can i say, i can relate to the pain you describe, its not easy to lose a beloved one, its hard to deal with the pain .... Just pray to God, pray as much as you can and im sure your pain will not go away but it will for sure be less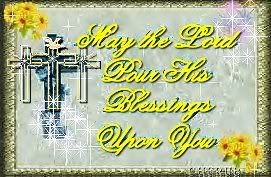 [report anonymous abuse]
June 13, 2007 11:04 AM

Traci, I am so very sorry for your pain
[
send green star]
This wretched journey June 16, 2007 4:50 PM



Tracy, My heart reaches out to you, as we approach our painful day, we remember yours so long ago. The yearning of the heart, to build a heavenly stair, which if you were to ascend, you'd no come back down again.

I know each ticking minute, is painfully slow recalling, the last words, the last looks, the last sight, each emblazoned in the mind, they will never fade away.

Somehow we lift out heads, to seek some forlorn hope, to see the world a-new, through fresh eyes, not washed with daily tears. For you the 13th June, for us the 7th July, they are just days to the rest of the world. But to us they will always be special, the days we lost our love, lost our innocent laughter, lost our will to go on.

There must be a better life, where hope is reborn, the horison lifts, the mists clear and laughter returns. But for now the limping gait, the stout walking stick, the love of good friends, sustains us day by day.

We will return to life, we will overcome our grief. We will never forget, but the pain will be bearable one day. Till then here is my arm, lean on me and I'll lean on you, together we will hobble on, toward the rising sun of hope.

David

[
send green star]
June 21, 2007 1:09 AM






This post was modified from its original form on 21 Jun, 1:10

[
send green star]