Wasilla 9-year-old's gift touches neighbor's heart - A real tear jerker!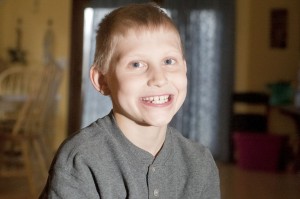 WASILLA — For the fewer than 10 families who make up South August Circle, theirs is a tight-knit neighborhood.
Mike Weldon has a reputation as being the go-to neighbor. He'll start a furnace for someone who isn't home, is patient when the local children on the street question him about his construction projects, and when the snow flies, he plows the whole area for his neighbors.
That spirit of looking out for one another is why Weldon wasn't surprised Monday when the Bristol family, which lives three doors down at the end of the road, saved his house from a wood stove fire. Weldon wasn't home at the time, but the Bristols noticed the fire and, not knowing if Weldon or his dog were home, investigated quickly and called 911.
"They saved my place," said Weldon, estimating the fire caused about $2,000 damage.
Weldon said he feels grateful and thankful for the Bristol family's quick action, but it's what happened after the fire that really surprised him and had this construction worker by trade welling up with tears.
While talking to emergency responders who were mopping up after the fire, 9-year-old Timmy Bristol ran up to Weldon and handed him an envelope.
"Actually, I didn't get to see what it was until later," Weldon said. "He ran up to my truck all welled up and said, 'Mr. Mikey, can I give you this?' I didn't look at it because I was in the middle of a conversation with (the Red Cross)."
It wasn't until he was settled in at the Grandview Inn and Suites for the night that he remembered Timmy's envelope.
"I went down into my truck and got it," Weldon said. When he opened it and saw what his young friend had given him, "it just choked me up, it really did."
Inside that envelope were some of Timmy's most prized possessions, things he wanted Weldon to have after the fire. Talking about the selfless act on Thursday, Weldon displayed the contents of the envelope:
• A piece of an old dog lead. The lead belonged to Weldon's No. 1 dog and he had given it to Timmy a while back.
• A spooky candy gummy hand.
• All of little Timmy's money — three pennies.
• A Red Robin coupon good for $1 off any gourmet burger or pizza.
• Five baseball cards (Rafael Mendez, Mel Hall, Jim Eisenreich, Eric Anthony and Mike Felder).
That Timmy would give his most prized possessions to him during a trying time "means so much to me you'll never know," Weldon said.
On his way home after his family discovered the fire, the boy said he began thinking about how he could help Weldon and decided he would share his prized belongings with his friend.
"The baseball cards were some of my favorites, but I wanted to be nice and do something for him," Timmy said. "When we were coming back from the fire, it just popped up in my mind to do it."
The boy said he thought about how badly he'd feel if all of his possessions were suddenly gone.
"He was pretty upset, pretty distraught," recalled mom Marie Bristol, who also said the act of kindness wasn't surprising to her.
"I wasn't shocked he would do that," she said. "I think I was more shocked Mike wanted to let other people know about it. I am proud, a proud mom. That is who Timmy is, and he's a good kid."
Thursday was the first time Marie saw everything Timmy had given to Weldon. She was surprised to see her book of stamps among the loot, but said that's OK.
"He loves his baseball cards," she said. "And what's funny about all of those things is he actually won that (Red Robin coupon) and he's been begging me, &lsquo
lease take me to Red Robin, please.' Then he said to me the other day, 'well, at least I got to give it away.'"
As for the three pennies, Timmy said he would've given more, but he had already spent the other money he had.
"I spent my $2 on cookies and brownies," he said, adding some advice for what Weldon can do with those pennies. "Use the three pennies for one of his tools that costs more than three cents."
The experience has served to reaffirm the value of neighbors, Weldon said.