WOMAN DISTRACTS INTRUDERS IN TIME TO GET GUN AND SHOOT
Woman Distracts Intruders in Time to Get Gun and Shoot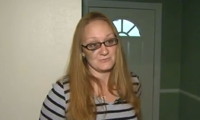 Imagine what could have happened. A mother and six-year-old child are at home when she hears a noise inside her house. When she checks, she finds not one, but three armed intruders demanding money. One of the men pulls out a roll of duct tape to use on her. What happened next? She made it to her gun and shot one of them.



And unfortunately, this is a common occurrence that gets little to no coverage in main stream media, guess its counterproductive in their politically driven agenda. I bet if the woman and child were shot we would be hearing about it for the next few weeks.
Too bad she couldn't have had an automatic rifle, -illegal- and in cases like this, is why they shouldn't be. I've asked before, what if it was more than one that broke into your home? The one man here, wrestled her gun from her after she shot one. She was damned luckier than all get out that he didn't kill her.
Yep. We'd be hearing about it with a lot more coverage that is for sure if the woman and her child had been shot, as it suits their purpose of trying to make sorry, but gullible people, believe that their main objective is to get the bad boys out of the hands of criminals, which if they even make a play at that, that's what it will be-play acting so they can say, "See what we've done!" -to cover their main objective.
Thats correct, no one can possibly predict how much ammo is required in a defense scenario without knowing the circumstances prior to the event even occurring, the wonderful thing about an AR is that its a light weight weapon with virtually no recoil allowing for use by those who have difficulty with heavier recoiling firearms, and the large capacity capabilities better assures you dont run out of ammo before the threat is eliminated.
GOOD for this woman!!!!!!!! Thank God she had God on her mind in the need of help! He answered her!!!!!!! This is another story that has to get out here on Care2 to all of the anti gun people! Ivy did you add this story onto the Care2 news!?!? If not and you do not want to let me know...I WILL!!! Thank God she was not hurt or killed or her son!!!
What if all three of these creeps had been drugged up? As from articles we have read, ones drugged up sometimes have been known to take several bullets and still walk out to an ambulence. How many bullets does anyone think it might have taken her in that case? WHY in the hell would anyone care how many bullets it would have taken???? These people who think we ought to have these guns banned, are clueless I guess to these kind of scenarios happening for real, or IMO, just don't care, in which in a case like this mother and son here, could have been murdered by the creeps, because she didn't have enough bullets!! If someone is breaking into your home, I figure you have the right to not be sure you are protected adequately, not be able to fire enough bullets, or protect yourself at all. THAT person or THOSE people though, have NO RIGHT to determine how someone else chooses to protect themselves and their family. If a criminal or criminals break into your home, they deserve what the hell they get, and it does not matter if it's one bullet or a thousand! Make sure the job is done however many it takes! But that is what this thing in office and his comrades want only for themselves and their families, their criminal friends, gangs, terrorists, drug cartel, Black Panthers, and NOT for decent responsible citizens! He and his ilk can go to hell.
Submitted it Carol, check it to see if I did it ok...thanks, Ivy
Sherry,
Without getting into detail here, I can with experience attest to the fact that unlike what we see in the movies, seldom does a man take a single shot and fall over dead, if determined enough they can continue fighting until a vital organ is hit and destroyed or until they bleed out. Both law-enforcement and any of our many veterans returning home can give great insight towards this.