Comment by Jim Campbell, Citizen Journalist, Oath Keeper and Patriot.
If Barack Benghazi Obama has proved anything during his tenure in office, it is that his negotiation skills are woeful.
The black moron V. The Muslim Midget
The U.K. Telegraph
Inspectors from the International Atomic Energy Agency have been unable to visit the facility since August 2011 and Iran has refused repeated requests for information about the site, which is 150 miles south-west of the capital, Tehran.
Western governments and the IAEA have held information about activity at Arak for some time.
Water vapor, circled, is seen being emitted from forced air coolers at the Arak heavy water production plant earlier this month, showing that the facility is operational Photo: DigitalGlobe Inc/McKenzie Intelligence Ltd
But today's exclusive images are the first to put evidence of that activity into the public domain.
The details of Iran's plutonium programme emerged as the world's leading nations resumed talks with Tehran aimed at allaying fears over the country's nuclear ambitions.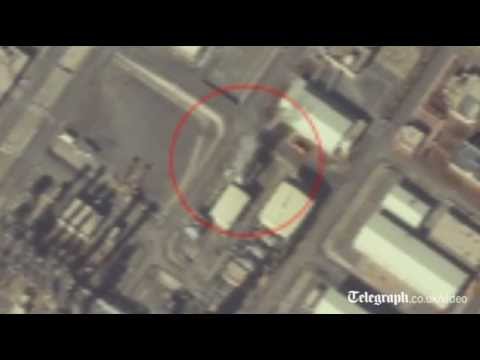 The new images also show details of the Fordow complex, which is concealed hundreds of feet beneath a mountain near the holy city of Qom. At talks in Kazakhstan yesterday, world leaders offered to relax sanctions on Iran in exchange for concessions over Fordow, which is heavily protected from aerial attack.
Iran insists that its nuclear facilities are for peaceful use, but Western governments fear that Tehran is seeking a nuclear weapon – or at least the ability to build one.
The striking image of steam over the Arak heavy-water complex is a vivid demonstration that the regime has more than one pathway to a potential nuclear weapon