About the good Terrorists. About the bad Terrorists.
It is again typical of the western politicians and media, how different as they assess terrorist attacks.
If attacks are directed against the 'enemy', then that's fine, no regret is expressed, they are even pleased.
But is directed an attack against their own people, then one can no more recover from sheer being in a wax, and even threatens with war.
In this case the two events are probably from the same source.


As on May 10 were committed in the Syrian capital, two bomb attacks against a prison, which killed more than 70 people and nearly 400 were injured, media reports have sober.
Not a word about the incredible suffering that mainly hit civilians in morning rush hour.

Was indeed carried out by 'good terrorists' where the West stands behind.
It was one of many massacres by the 'Syrian Free Army' (FSA), which have taken place over the last six months in Syria.

Even the bombing of the Syrian military leadership last Wednesday, in which the defense minister, his deputy, a brother of Assad and the intelligence chief was killed, was valued rather positive.
No one has condemned this cowardly action by a suicide bomber who sparked a suicide belt in the meeting room.

The FSA has committed to two suicide attacks.
She was later sentenced by Western governments ?
Certainly not, because that's good terrorism.

How amazing the difference in the coverage of the attack in Burgas and the reaction of the politicians.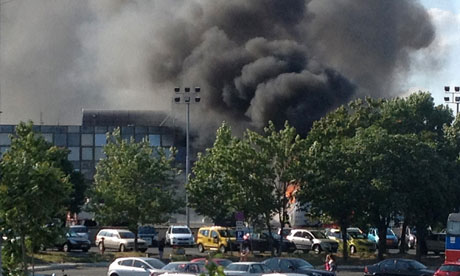 Here were five Israelis, a Bulgarian bus driver as well as the alleged suicide bomber killed, the Bulgarian authorities reported.
Clearly, an act which is totally unacceptable and must be condemned, just as every other attack killing and injuring people.
It was not yet known what exactly happened; Netanyahu has accused Iran as a mastermind.
Foreign Minister Avigdor Lieberman vowed revenge and said the Lebanese 'Hezbollah is behind the attack, in close cooperation with the Iranian Revolutionary Guards.'
Evidence for these allegations, the Israeli government has not made public until Saturday.
Barack Obama condemned the bloody attack as 'barbaric terrorist attack.'
more:
http://www.project.nsearch.com/forum/topics/about-the-good-terrorists-about-the-bad-terrorists