Black Elk on Peace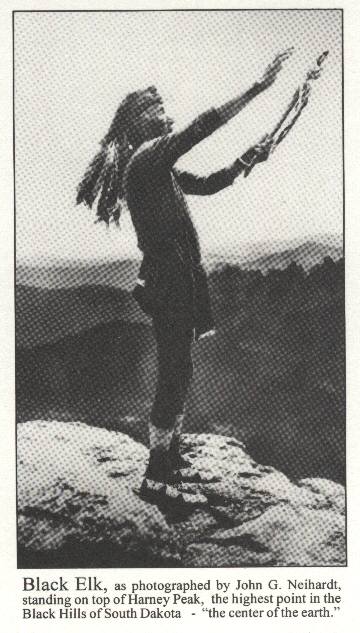 'The first peace, which is the most important, is that which comes within the souls of people when they realize their relationship, their oneness with the universe and all its powers, and when they realize that at the center of the universe dwells the Great Spirit, and that this center is really everywhere, it is within each of us'.
- Black Elk, Oglala Sioux
.
Medicine Man - Black Elk's story of The Great Circle
https://www.youtube.com/watch?v=FKu-Iv9DlK8
.
a little tidbit
The great sioux nation considers the Black Hills ( pe'sla) the center of the earth
it is called the Black hills because it looks black from space due to forest density
it was auctioned off by the private owner last year on my birthday
but due to a deal made that day (my birthday present forever) the sioux nation was able with online and private donations to buy back stolen land promised by treaty,but at least it will remain pristine forever,as there will now be no delvelopment on the 40,000 or so acres of wakan (sacred) land.
some clown is now trying to sell back wounded knee,a graveyard for 4 million,
it's not happening again, there was enough infighting between the tribes over the last purchase,many were against the principle of buying back their own land that was stolen and promised back in treaties, but there was no other way to save it from possible development.
Interesting.
What do you think about Johnny Depp saying he'd promise to buy Wounded Knee and give it to the Lakota Nation? Or was it to the Oglala Sioux Tribe?

This post was modified from its original form on 21 Dec, 11:55