How You Can Help Victims Of The Joplin Missouri Tornado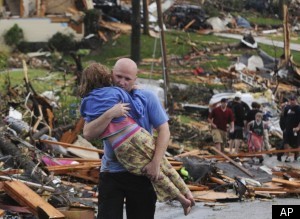 CNN reports that President Obama has already sent federal aid to the afflicted region, including Federal Emergency Management Agency teams and supplies.
Other organizations have begun to answer the tornado victims' calls for help, and are eager for volunteers and donations.
Missouri's State Emergency Management Agency is encouraging all who can to donate funds or commit to volunteer in the short-term or long-term recovery efforts.
The Heart of Missouri United Way launched a Joplin Relief Fund, where 100 percent of all donations will be given to relief efforts in Joplin. Text "JOPLIN" to 864833 to make a $10 donation, or visit the organization's website for more information
http://www.huffingtonpost.com/2011/05/23/joplin-missouri-tornado_n_865608.html
Early monday morning a Convoy of Hope (nonprofit organization which serves throughout the world through international children's feeding initiatives, community outreaches, disaster response and partner resourcing) tractor-trailer loaded with water and food left the World Distribution Center heading to Joplin, MO. More trucks and disaster response teams followed and took more food, water and snacks.
Thanks I have already donated to the Red Cross for Joplin Missouri.