~~~~~~~ KEEP MAKING WAVES ~~~~~~~

Action Alert shared from Jean-Michel Cousteau's Ocean Futures Society

http://org2.democracyinaction.org/o/6122/p/dia/action/public/?action_KEY=8017


I have been following the case of the young orca, Morgan, with particular interest. Morgan was captured on June 23, 2010 by the Dolphinarium Harderwijk off the north coast of the Netherlands—a rare event since no orcas have been sighted in the area since 1947.
Morgan was severely underweight and in poor health. The Dutch government permitted her capture on the basis that she be rehabilitated and released promptly after her health returned. Using her vocalizations, it was determined that Morgan most likely belonged to a pod from the Norwegian herring-eating population. It was predicted that she would have to stay in captivity for 3-6 months to return to a healthy weight and finish antibiotics. On December 10, 2010, the dolphinarium announced that she would not be returned to the wild.
In July, 2011, it was announced that Morgan would be moved to an amusement park called Loro Parque, in the Canary Islands, and the Dutch government issued a permit for her to be exported.
The time has come to view captivity of whales and dolphins as a part of our history –
not a tragic part of our future.
Every effort should be made to firstly move Morgan out of the concrete tank she has been imprisoned in. She should immediately be moved to a facility where rehabilitation can begin. Once Morgan has begun the rehabilitation process it would be logical that a safe enclosure for her could be installed in the area where orcas have been observed this summer off Norway. Once there, Morgan and the wild orcas could communicate acoustically and their reactions be monitored.
It is important that animal activists and concerned citizens put pressure on the Dolphinarium and the Dutch government to give Morgan a chance to live a life of freedom in the open sea.
Please take action - join myself and Ocean Futures Society in supporting the Free Morgan Expert Board and their plans for a humane program which would give Morgan a chance at freedom.
Warm Regards,
Please do send an email to our minister to ask about Morgan.
We have just 3 days to get the word out,before court will decide about Morgan
Please also paste the @ from the Orca Coalition into bcc
BCC: info@orkacoalitie.nl
To state Secretary H. Bleker and CITES
I was surpriced to heard on
...
Wednesday July 27, that a transport certificate through your Ministry has been issued to the Dolphinarium to export orca Morgan to the themepark Loro Parque in Tenerife.

Why did the Ministry issue this transport certificate while independent orca experts have indicated that orca Morgan is an excellent candidade for a release and has to be enforced by law, regulations and agreements.
How is this cetificate possible since there is an upcoming court case wednesday 3 August?

Awaiting your swift response, I remain.

Sincerely,
(your name)

Note/Send your E-protest
~~~> https://secure2.wdcs.org/view_e_protest_common.php?e_protest_select=51&&select=753
Please Free Morgan ! PLEASE TAKE ACTION ! !
Animals
Cher
- 90 days ago - secure2.wdcs.org
WDCS has joined a number of other orca experts in the Free Morgan Group. The Group is trying to secure Morgan's rehabilitation in a natural environment in the hope that an appropriate orca group can be located in her home waters in the North Atlantic
Petition already signed,
Ioana
, You signed on
January 3, 2011
.
Your signature has been delivered to:
The Dutch Government
I sent the email to
infotiek@minlnv.nl
Thank you Valerie.
Anonymous
I sent the mail to the Dutch Government, to 60 embassies and consulates in the world, I filled the form for the French Embassy to the Ambassador and sent a mail to the Netherlands Tourism office in France.


I hope we will succeed.


Valérie
This post was modified from its original form on 14 May, 8:02
Write or Sign for Freedom!!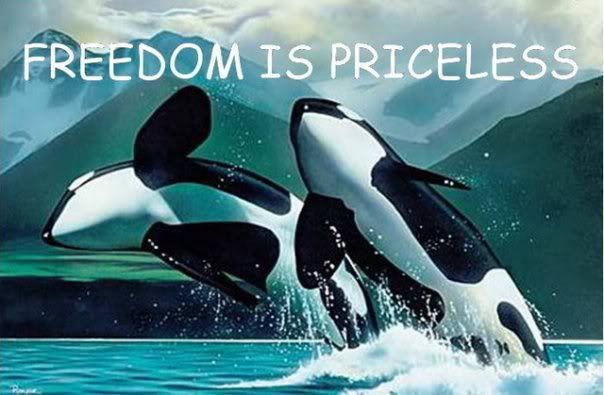 http://www.thepetitionsite.com/2/Free-Morgan-The-Orca/
Write a letter!!
You can write to the Dutch government.
You really can make a difference, no matter where you live – Amsterdam, Alaska, Argentina, or Africa.
One of the best ways to get governments and organizations to act is to put pressure on them.
Sample letters are provided below.
Please feel free to copy and paste, or write your own text, if you'd prefer. Contact the Dutch Ministry of Economic Affairs, Agriculture, and Innovation, which is the government agency responsible for Morgan: infotiek@minlnv.nl
Mr. Maxime Verhagen
Deputy Prime Minister of the Netherlands
Minister of Economic Affairs, Agriculture and Innovation
Dr. Henk Bleker (State Secretary)
Minister for Agriculture and Foreign Trade Ministerie van LNV
Postbus 20401
2500 EK Den Haag, Netherlands
tel: + 31 77 465 6767
You can also contact the Dutch Embassy or Consulate in your home country. Here is a link to a listing of Dutch embassies and consulates. http://www.embassyworld.com/embassy/netherlands1.htm
Here is a sample letter to the Dutch Government:
Dear ____________;
I am writing to express my concern for the young orca, Morgan, who was captured and brought to the Harderwijk Dolfinarium in June, 2010.
Morgan should be released back to the wild.
A concrete tank is no place for a wild animal who can swim up to 100 km per day.
Captive orcas do not live as long as they do in the wild.
They can develop physical and psychological problems in captivity.
For example, two trainers were killed by captive orcas during the winter of 2009-2010 at Loro Parque in Tenerife and at Seaworld in Orlando.
Orcas don't belong in captivity.
Please do not let the reputation of the Netherlands be blemished by a decision to wrongly confine Morgan to captivity.
Please ensure that you make a decision consistent with Dutch nature policy which claims to ensure that nature is preserved for future generations.
There are international orca experts ready to assist with a relocation plan. Please ensure that Morgan is brought back to the ocean, where she belongs. Thank you.
Sincerely,
(your name and address)