"To make many changes in the world; but mostly to find a cure for breast cancer."

Sekroshki, Siberia, Russian Federation
female, age 29
married
Arctic angel
Speaks: English as a 2nd Language, Russian, Ukrainian
Joined Dec 1, 2005


Causes: Animal Welfare, Against Factory Farms, Anti-Hunting, Zoo Reform, Against Anti-Semitism, Breast Cancer Survivors, Breast Cancer Awareness, Cancer Awareness, Children's Welfare, Civil Rights, Con

Activities: Aerobics, Arts/Crafts, Astronomy, Massage, Meditation, Movie watching, Listening to Music, Music - Concerts, Music - Concerts - Symphony, Needlepoint / Sewing / Weaving, Painting, People Watching, Photography, Prayer, Quilting, Reading, Running / Jogging




The Greatest Things I've Ever Learned
The 10 Greatest Things that I have Ever Learned (In No Particular Order:)
1. The greatest thing you'll ever learn, is just to love(TRUE love) and be loved in return. Whether it turn out good or bad, you have the experience, and the great teachings of the other person with you forever, and your heart is pushed to new limits of compassion.
2. There is no black and white when dealing with people, they are all grey matter...some darker than others, but every bad person has their good traits, and every good has their bad.
3. Every day could be my last. Everyone thinks about it, sure, but how many people really pull this into effect? Most people don't think of the consequences of waiting to say "I'm sorry" or "I love you"...and then it's too late. My mothers death has taught me this...there is no time to waste on petty shit, and you have to let the people you love know how you feel while there's still time to do so.
4. UNCONDITIONAL LOVE: "Family is not always one's flesh and blood, it is an extension of your heart." When you love, love without condition, and you will find that your relationships with those you love get so much better, and they will treat you with much more respect and love in return for your care.
5. Know your passions and don't let them go. If you are interested in something, or you love someone, don't let opportunities slide...after all, you might only have one. Learn what's important to you and pursue it while the opportunity is ripe. Procrastinating results in a lot of wasted life.
6. No matter how much you think you're hurting....the people you love are hurting more than you are, just knowing that your heart is broken. This does not mean you should keep your emotions from them, but consider the empathy of others.
7. Failure is NOT AN OPTION.
8. There are things far worse than death...but they are worth the endurance to come out as a better person, to learn and to grow. They are COMPLETELY neccessary in order to appreciate the beautiful moments that life gives us from time to time.
9. Secrets hold death, and lies only build walls. Be cautious with strangers, of course, but never keep a secret or tell a lie to your family. It will only turn out bad.
10. Learn to love yourself, TRULY love yourself unconditionally. When all else is lost...all you have is you.
Another one thing: There's no place like home!
This is my lovely lil Siberian home: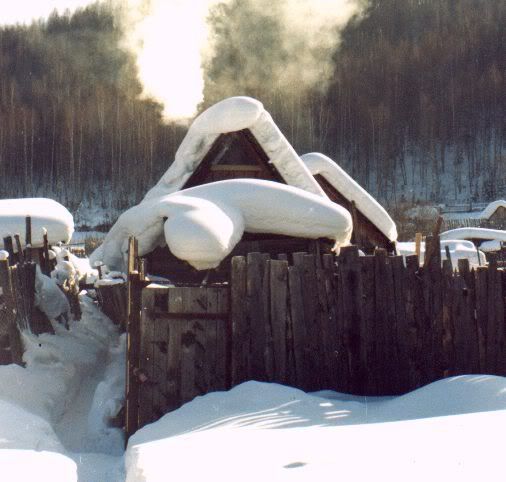 Joined
Dec 1, 2005
Activist Aspirations
Enthusiastic
Here for
Meeting Friends, Job Search, Support a Cause, Other
Group Host of
Groups
CARTOONS LOVERS, Care2 Feedback and Suggestions, Care2 Princesses of Causes, Demanding Tougher Penalties for Animal Abuse!, Gaia: The Earth Force United Coalition., Living A Simple and Frugal Life, RAH!! (Revolution Against Hatred), The Men's Room, The Mettā Circle Café, WE ARE challenged ;)...disABLED people are not stupid, ~Colours of the Wind~
Hometown
Sekroshki
Homepage
Birthday
March 28, 1988
Languages
English as a 2nd Language, Russian, Ukrainian
About Me
It's hard to say because I am sure that I see myself in a different light than others do. I view myself as an intellectual, as I spend most of my time studying and learning. I'm a very strong, passionate, powerful person, and I love unconditionally.
I'm very creative, I like to play the guitar, bass, mandolin and piano, I like to cook, and I create beautiful portraits when I'm inspired. I'm quite a loner and there are few people that don't end up driving me nuts. I'm not a shy person-but I am very quiet, unless inquired. I'm hoping that I will find a couple of good friends on care2. I'm a very good friend and I pride myself in that I am the most loyal trustworthy person you'll ever meet. There are times when I do get cocky, overconfident I must say, but like I said I am a quiet person so you're not likely to hear much of it. I've been through a lot in my life-and I'm proud of myself because I've managed to do something that most people never can-I truly love myself 100%. Some people think I'm concieted. I don't really care. I love me.
I love Russia-it is my heart and soul-I am a very patriotic person. I would like to meet other Russians on care2. I love Ukraine also and would love to meet some Ukranians. I feel so lonely =p I also have a passion for learning other languages =)
Introduce yourself to Ya Takoy
Lifestyle
Pets
Birds - Exotic, Cats, Cats - Exotic, Dogs, Fish, Hermit Crabs, Horses, Turtles
Activist Aspirations
Enthusiastic
Political Leaning
Liberal
Religions
Jewish
Eating Habits
Love Carbs
Wild Fact About Me
I sing at the top of my lungs when I'm home alone =D
My Philosophy
EVERY LIVING BEING DIES ALONE

I know you think this must be impossible; and if you don't understand it feel free to message me and I will explain.
What Gives Me Hope
The Ten Greatest Things That I Have Ever Learned, In No Particular Order Except that 1 and 4 Are Most Important:

1. The greatest thing you'll ever learn, is just to love(TRUE love) and be loved in return. Whether it turn out good or bad, you have the experience, and the great teachings of the other person with you forever, and your heart is pushed to new limits of compassion.

2. There is no black and white when dealing with people, they are all grey matter...some darker than others, but every bad person has their good traits, and every good has their bad.

3. Every day could be my last. Everyone thinks about it, sure, but how many people really pull this into effect? Most people don't think of the consequences of waiting to say "I'm sorry" or "I love you"...and then it's too late. My mothers death has taught me this...there is no time to waste on petty shit, and you have to let the people you love know how you feel while there's still time to do so.

4. UNCONDITIONAL LOVE: "Family is not always one's flesh and blood, it is an extension of your heart." When you love, love without condition, and you will find that your relationships with those you love get so much better, and they will treat you with much more respect and love in return for your care.

5. Know your passions and don't let them go. If you are interested in something, or you love someone, don't let opportunities slide...after all, you might only have one. Learn what's important to you and pursue it while the opportunity is ripe. Procrastinating results in a lot of wasted life.

6. No matter how much you think you're hurting....the people you love are hurting more than you are, just knowing that your heart is broken. This does not mean you should keep your emotions from them, but consider the empathy of others.

7. Failure is NOT AN OPTION.

8. There are things far worse than death...but they are worth the endurance to come out as a better person, to learn and to grow. They are COMPLETELY neccessary in order to appreciate the beautiful moments that life gives us from time to time.

9. Secrets hold death, and lies only build walls. Be cautious with strangers, of course, but never keep a secret or tell a lie to your family. It will only turn out bad.

10. Learn to love yourself, TRULY love yourself unconditionally. When all else is lost...all you have is you.
If I were Mayor, I'd make the world a better place by
Fund a cure for breast cancer; ASAP!
What/who changed my life and why
My mother changed my life. She taught me most of the greatest things that I have ever learned. She battled breast cancer for 4 years before her death, but she gave it her all and persevered for that long, out of love for her children. I admire her for being so strong and will never forget all that she has done for me and taught me. The greatest thing, being love. RIP Pamela J. Mink 1956-2005
You are loved and missed.

The movie that has most changed my life would have to be "Everything Is Illuminated". It's not something I think I could put down in words but I really believe that everyone needs to either watch the movie or read the book.
What Bugs Me

Passions

Inspirations

What Scares Me

Favorites
Role Models
Eugene Hutz!!!!!, Sigmund Freud, mother, Carl Marx, Carl Jung, Tim Burton, Cancer Survivors, Joe Genaro, Kurt Vonnegut, Leo Tolstoy, Jonathan Saffron Fouer (sp?)
Quotation
"The Greatest Thing You'll Ever Learn, Is Just To Love, And Be Loved In Return." -Moulin Rouge

"Kill them with kindness!"-My mother

"Every Living Being Dies Alone."-Donnie Darko
Interests
Agriculture, Air Purification, pets, Wildlife, Anthropology, Antiques/Collectibles, Apparel, Art/Design, Artifacts/Traditional Pieces, Archaeology, Automobiles, Bed and Breakfast, Biology, Body/Personal Care, Books - Author, Books -
Books

Music
Gogol Bordello, Beat Happening, tATy, The Dead Milkmen, Crass, Blonde Redhead, ....ect
Movies
Everything is Illuminated, Donnie Darko, Moulin Rouge, Corpse Bride, Big Fish, The Chumscrubber, The Goonies...and pretty much anything m, Grumpy Old Men 1 & 2, Mean Creek, A Life Less Ordinary
TV Shows
That 70's Show, RoseAnne, The Fresh Prince Of Bel-Air, The Simpsons, South Park, Drawn Together, Futurama, Perfect Hair Forever, Robot Chicken, ATHF, Inuyasha, Family Guy, American Dad, Sealab 2021, The Brak Show, Friends, Sailor Moon, Yep I do approve
Favorite Foods
Pizza, Baked Potatoes, Pomegranite Juice, Garlic Bread, Kiwi Fruit, raspberry sorbet
Favorite Places
Odessa, Ukraine
Can't Live Without
Books, Love, Writing, Music, Potatoes, Guitars, My hubby and my brother
Introduce yourself to Ya Takoy
My Butterfly Rewards
Most recent activity (up to 500 gifts shown)
---
I've earned Butterfly Credits