DEFENDRE LES REQUINS
Des millions de requins sont tués tous les ans – vous pouvez les aider!



DEFENDRE • PRESERVER • PROTEGER

CHANGEZ VOTRE REGARD SUR LES REQUINS.
Le premier projet des Shark Angels est un court métrage (voir ci-après) qui montre les requins sous un autre jour, qui permettra aux hommes de mieux les comprendre, et de lancer un appel à l'action pour les sauver.
REALITE :
Les chutes de distributeurs automatiques de boissons tuent chaque année, plus de personnes que les requins.
MYTHE :
Les requins sont des mangeurs d'homme sanguinaires et de vulgaires machines à tuer.


LES REQUINS SONT EN DANGER:
100 millions de requins sont tués chaque année - par des palangres, par des pêcheurs "sportifs", ou au moyen d'une pratique barbare appelée pêche aux ailerons de requins. Les requins pris sont hissés sur des bateaux, leurs ailerons sont tranchés alors qu'ils sont encore vivants. Ces animaux sans défense sont ensuite rejetés à la mer.
Incapables de nager sans leurs ailerons, ils coulent au fond de l'eau et meurent à l'issue d'une longue agonie. Avec 90% des populations de requins éliminés dans le monde, les requins sont décimés plus vite qu'ils ne peuvent se reproduire. Cela menace la stabilité de l'écosystème marin partout dans le monde. Les requins sont des prédateurs marins terminaux vitaux. Ils ont aidé à réguler la vie marine dans les océans pendant plus de 400 millions d'années, et sont essentiels à la santé de la planète, ainsi qu'à la survie de l'espèce humaine.


CE QUE VOUS POUVEZ FAIRE :
• REFUSER d'acheter ou de consommer des produits dérivés de requins.
•DENONCER publiquement les restaurants ou magasins qui vendent des produits dérivés de requins, et exiger qu'ils cessent de le faire.
• INFORMER votre entourage sur la cause des requins et leur importance pour l'écosystème.
• ENCOURAGEZ tous ceux que vous connaissez à voir le très récompensé documentaire « LES SEIGNEURS DE LA MER (SHARKWATER)».
LES HOMMES TUENT 100 MILLIONS DE REQUINS PAR AN...ET POURQUOI?
AILERONS pour des bols de soupe fade
DENTS pour des bijoux
PEAUX pour des porte-monnaie
CEINTURES
MACHOIRES pour les souvenirs
CARTILAGES gélules et poudres pour des cures médicinales douteuses
HUILE DE FOIE DE REQUINS pour des cosmétiques produits de soins cutanés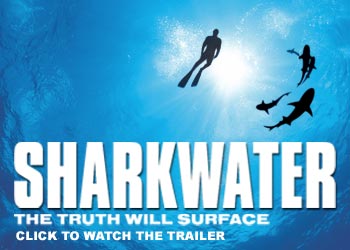 The life is short and we haven't really more time to lose!
Sharks furrow and shape our Oceans since more 400 million years. They survived at several massive extinctions and today they are threatened from extinction by the worst of the predators in the world : the MAN.
Who is the man to decide who are going to live or who are going to die?
The shark is a predator judged wrong dangerous, suffering of the offence " to look nasty ".
One year ago, I didn't know nothing about sharks apart from "Les dents de la mer (JAWS??)"And there was this day of march 2008 where I saw the interview of a man incredibly sincere : Rob STEWART. I saw his film-documentary: SHARKWATER and my life has been completely distressed.
Several feelings submerged me:
1) The anger in front of a such nonsense
2) The guilt to have been so long unaware
3) The despair in front of the little of interest that this ecological disaster cause to the man
I watched the massacre, I still hear distinctly the noise made by the knife carving the fine of the shark: seeeckkkk!!! A shiver go through me whenever…
I invite you to watch below, a Joe ROMEIRO (333-productions) video: THE DAY IS COMING who is working to change our shark's perception with an extraordinary humility.
As far as I'm concerned, I probably wouldn't have the chance to cross one these fascinating predators (I think he would take to one's fines seeing me…ha ha!) but it doesn't matter much to me,
the essential is that we let them to live…in peace.
We are ALL concerned by this disaster and don't react mean that we don't be worth better than these barbarians.
I can't continue to live burying myself head in the sand…and you??