"An advocate for the ethical treatment and welfare of Animals"

Orlando, FL, USA
female
divorced, 1 child
Speaks: English
Joined Oct 5, 2005


Causes: animalwelfare, against factory farms, Animal Welfare, animal rights, Boycotting Proctor Gamble, BOYCOTT CHINA!, stop dophin and whale slaughters, stop seal slaughtering, stop fur trade, banning circus animals, ban puppy mills, Ban Factory Farms, Ban Horse Slaug

Activities: Boating - power, Cafes, Camping, Cave Exploration, Dance, Fishing, Horseback Riding, Jewelry Making, Wine Tasting, Wildlife Observation, Whale Watching, Walking, Volunteering, Adventure Travel, Travel, Snorkeling, Scuba Diving, People Watching, Music -




Because I don't have the time to acknowledge everyone individually, this is a blanket

"THANK YOU"

for your green stars and comments. You are ALL very special people!


My only purpose here is to educate and bring awareness to the harsh reality of animal cruelty that is rampant across the nation.

Thank you!



---
---
My heros are all the animals who endure pain and suffering at the hands of humans, and all the while, show love.
To be chained and left to starve to death...to be caged and tortured daily, to be brutally attacked and mutilated by people with sadistic and psychotic rage, or just for their entertainment pleasure; and still they show love and loyalty.
For all the cruelty that animals endure....for those who have died, and those who WILL die by man....they are who my heros are.
Tobey was a victim of extreme animal cruelty by 3 teens. And justice was NOT served!!!


Memories of Tobey

TRIBUTE TO A SPECIAL BABY

"What cruel hands must cause thy pain and anguish so to mend thy own intentions for self-inflicted pain. To inflict thy pain on this poor creature that once in range became the target for your misery. As I see this poor creature lie there wagging its tail still keeping hope, I wonder what pain and anguish it can endure before giving up, thy own words and blows that scar so deep as they seem pour salt on an open wound. What cruel hands did cause this pain?" (Author Unknown)

REQUEST FROM THE RAINBOW BRIDGE

Weep not for me though I am gone,
Into that gentle night.
Grieve if you will, but not for long,
Upon my soul's sweet flight.

I am at peace, my soul's at rest,
There is no need for tears.
For with your love I was so blessed
For all those many years.

There is no pain, I suffer not,
The fear now is all gone.
Put now these things out of your thoughts,
In your memory I live on.

Remember not my fight for breath,
Remember not the strife,
Please do not dwell upon my death,
But celebrate my life. (Author Constance Jenkins)
---
---
Mercy - You captured the hearts of 1,000's and your death has prompted more awareness to animal cruelty. For that we are grateful, and we will continue the fight to stop it!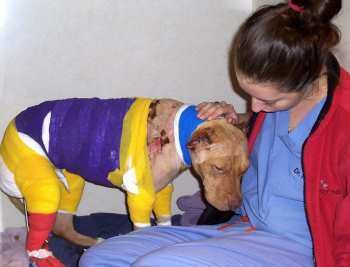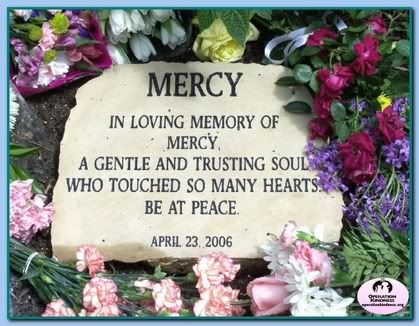 Visit my Blog

The Reality of What Humans Do


Visit Me on MySpace !




Joined
Oct 5, 2005
Activist Aspirations
Rabid
Here for
Meeting Friends, Professional Connections, Support a Cause
Group Host of
Groups
Elephant Lovers, Little Seniors Last Hope Rescue
Hometown
Florida
Homepage
http://paws4life.blogspot.com/
Birthday
Sept 11
Languages
English
About Me
I'm pretty much a loner, although it's not my preference...still in search of my best friend for life.

I live a very casual lifestyle, but I like to indulge in extravagance on occasion. Lover of the ocean and enjoy living in close proximity to it.
Introduce yourself to Anita
Lifestyle
Pets
dog
Activist Aspirations
Rabid
Political Leaning
Depends
Religions

Eating Habits
love good flavorful food, Love spicy food, Love any well cooked ethnic foods!, love dark chocolate, fairly healthy, garlic, eatting what I like!, Coffee - Now!, Junk Food Junkie
Wild Fact About Me
My Philosophy
What Gives Me Hope
Tomorrow
If I were Mayor, I'd make the world a better place by
Make animal abuse/cruelty a felony offense and ALL States would adhere to the laws. Ban the sale of animals in pet stores. Prohibit BYBers and Puppy Milling. Hunt them out and shut them down! Same goes for Dog fighting rings.
What/who changed my life and why
What Bugs Me
Cruelty To Animals, Chain E-Mails, Any one that would hurt an animal, animal testing, Animal Cruelty, animal abusers, animal abuse/neglect/cruelty/testing, Abuse of any kind, stupidity compounded by ignorance, ignorance by choice, Ignorance and stupidity, Ir
Passions
Boycott Proctor and Gamble, boating, fishing (catch and release), Eating! I really like delicious food!!, Traveling and learning new things, Saving Dogs, making a difference, animals
Inspirations
early morning walks along the beach, sunsets on the beach, sunrise on the ocean, Ocean waves late at night, the sound of the ocean
What Scares Me
our government, snakes, The moral direction of our society!, Violent people, Ignorance and evil, drug addicts, Disrespect for others, cruel people, Criminals that are young and violent, abusers
Favorites
Role Models
don't like the concept much
Quotation
Interests
pets, Artifacts/Traditional Pieces, Meteorology, Aviation, News / Media, Community Development, Pets, Broadcasting, Construction/Carpentry, Forensics, Internet, Travel/Adventure, Psychology, Pets, Oceanography, News / Media, Marine Studi
Books

Music
Country, Bluegrass, Classical, best of all, JIMMY BUFFET! Still like the old disco
Movies
Not really into movies
TV Shows
Any news program, documentaries, investigative reports, Deadleast Catch, Dirty Jobs, John Rattzenburger's Made In America, lots more learning programs
Favorite Foods
just good food in general, Ethnic Cuisine, cheese, coffee, chocolate
Favorite Places
my room, Manhattan (NY), Florida Keys, Washington DC, mountains, parks, the ocean
Can't Live Without
good food, my pets, computer, coffee, chocolate, animals
Introduce yourself to Anita
My Butterfly Rewards
Most recent activity (up to 500 gifts shown)
---
I've earned Butterfly Credits