BULLFIGHTING: The Murderous "Fiesta" We're SO Ashamed Of
The following article is about the other side of the
horror
that is bullfighting, the side that most people don't know about. (For those who don't know, let me explain before you read it that other animals are involved in a bullfight as well as the bull: horses ridden by 'picadors', ie,
'men'
with sharp lances who torture the bull from the safety of the horses' back during the same bullfight where the other
'man'
, the matador (literally translated as "killer", though Spanish campaigners know them as murderers), endlessly tortures and kills the bull. These horses' abdomens are charged at by the bull who is in agony, which cuts them open making their intestines hang out. But this is not all.) The following was written by a bullfight critic who had access to all areas and saw it all:
There was a mad horse among the horses taken to a bullfight. Nobody wanted to ride it, and it was unwise to take it to the ring. Do you know how they managed to control its wild fury? Think of something repugnantly hateful and monstrous. Have you thought of something yet? Well it's much worse than that. They took its eyes out. They pulled out its eyes, coldly, calmly. Overwhelmed with pain, the beast took to the ring with a tamed step...

...I have been in the horses' patio at the Madrid bullring during a bullfight afternoon. I have seen the picadors' assistants sink their hands inside the horses' bloody abdomen to fill the huge wounds with coarse cloth. An incessant pain going through the poor animals' legs, they shook their backs and their mutilated tails, trembling with horrible suffering. Blood dripped through the many reddened threads. Afterwards, to revive the moribund beast, the assistants threw a barrel of water at it, and the victim of the long torture wobbled again under the weight of the picador, and staggered to the ring.

After that visit, I could have written a chilling article, describing the many acts of cruelty I saw and heard, an abridgement of wicked acts of cruelty, of brutality, which adhered to the memory of good-hearted people. Only one thing would have been equal to the horror of such an article: its futility.

That's not all... the horses' vocal chords are cut to stop them from screaming in agony, their ears stuffed with wet newspaper so that they can't hear the bull (though they can smell him and are just as terrified), and now their eyes covered so they cannot see what awaits them. How brave of the bullfighters and what a fair fight, huh?!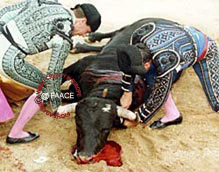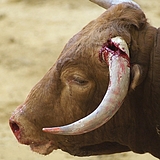 AT THE END OF THE 'FIGHT', THE TORTURE CONTINUES:
WHILE HE'S
STILL ALIVE
, THEY CUT OFF HIS EARS AND TAIL...
Then, ALIVE STILL, the bull is lowered on to a lorry, hanging by his horns, where he will be stabbed to death.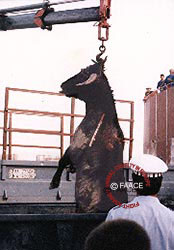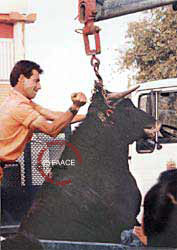 PLEASE
SIGN petitions to ban bullfighting:
http://e-activist.com/ea-campaign/clientcampaign.do?ea.client.id=11&ea.campaign.id=655
http://www.faace.co.uk/campaigns.htm
http://www.league.org.uk/petitions_details.asp?Petiti
THE ACTS OF THE BULLFIGHT and other facts:
http://www.faace.co.uk/bfacts.htm
http://www.league.org.uk/content.asp?CategoryID=1514
WWW.STOPOURSHAME.COM
Please visit and sign:

CRIMES AGAINST ANIMALS

Warning:
pictures in the above site will upset those who are too sensitive.
"ONLY A SADIST CAN ENJOY THE SUFFERING OF OTHERS" Torture is not necessary to have fun
PLEASE TAKE ACTION AGAINST BULLFIGHTING:
http://www.banbloodsports.com/av07-bfs.htm#01
http://www.petition-anticorrida.com/signer2.php
http://www.faace.co.uk/campaigns.htm
On the whole, the majority of Spaniards (a large percentage, around 80%) are either not interested in bullfights or against them (just one proof of this is the result of the recent general elections where, out of over 94 parties including the main two, a mainly unknown party called PACMA - Anti Bullfighting Party Against Cruelty to Animals - came 14th... a very significant figure, especially bearing in mind the fact that it's a party with no funds that people know through word of mouth!). The bullrings have less and less attendance and about half the people attending are foreign. They survive mainly because the government supports them with subsidies coming from our taxes (to which most of us object but can do nothing about), and from the European Parliament (shame on them too).

We need all the support we can get, so letters/emails to your European Member of Parliament demanding that this extremely cruel spectacle be banned (don't forget you're paying through your taxes too, which the European Parliament uses to help them!), letters to any travel agency that promotes them by selling package tours which include bullfights, boycotting them too and letting them know, etc. Pocsy celebrities such as Madonna and Celinne Dion should also be targeted, as they support bullfights (surprise surprise), etc. Other celebrities who support bullfighting are the ugly Severiano Ballesteros, the even uglier, up-his-own-arsehole Almodovar (I never liked him before I knew about his support for bullfights, so just imagine now), Adrien Brody and Penélope Cruz (amongst, unfortunately, many others).




Boycott Spanish goods and tourism, do everything you can, and don't forget that these spectacles of horror also occur in France and South America. Boycott our country!
It's strange and ironic to think that bullfighters are uncultured people who have a low educational level, performing in their ridiculous clownish outfits for supporters who are mainly upper class twats. One of these twats is the king and at least two of his children (Elena and the prince whatsisface), unlike the Queen who is against them (ironic also that they're married!). The only respectable (unwillful) presence is that of the bulls and the horses, bless the poor creatures' souls.PLEASE FIGHT THIS EVIL
.
Visit
http://stopbullfighting.wordpress.com/
Click for interesting information that not many non-Spaniards know:
http://www.addaong.org/congres/eng/index5.html
ART?
CULTURE?
LA TORTURA NO ES ARTE NI CULTURA
TORTURE IS NOT ART NOR CULTURE
"Pitiful, theatrical bullfighting is currently the last remnant of a barbaric past, which still disgraces our civilisation. If the bull is a symbol of nature, then time and time again we are seeing to its ritual destruction, allowing ourselves to be entertained by its downfall. The significance of this attitude in terms of the future of our biosphere is alarming to say the least." --Desmond Morris, British Zoologist, Ethologist, Painter and Writer


GO VEGAN!
MEAT is the dead body
of someone who wanted to live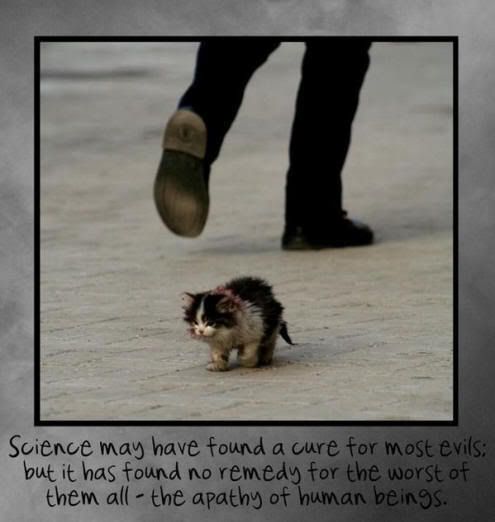 "Barbarism in the Afternoon: Bullfighting, Violence, and the Crisis in Human Identity"
by Dr.Steven Best
"We have enslaved the rest of animal creation and have treated our distant cousins in fur and feathers so badly that beyond doubt, if they were to formulate a religion, they would depict the Devil in human form." -
William Ralph Inge


Spain is the third largest of the European countries and, without question, one of the most beautiful on the vast continent. From the surreal architecture of Antonio Gaudi in Barcelona to the stunning Moorish palaces of Granada, from the snowcapped mountaintops of the Sierra Nevada to the hilltop towns of Pueblos Blancos, from the gorgeous beaches of Costa del Sol to the marvel of the Balearic Islands, from the frantic metropolis of Madrid to the serenity of Ordesa National Park, Spain offers a treasure trove of beauty sure to steal your breath away.

The Spanish people have a beautiful language, a rich and varied culture, and a fascinating history established by Phoenicians, Africans, Celts, Carthaginians, Greeks, Visigoths, Arabs, and other peoples. Unfortunately, like nearly every other nation and culture, Spain has "traditions" of extreme animal cruelty that are central to their cultural identity. Like Italians who behead geese, Pakistanis who attack bears with dogs, English who hunt foxes, Canadians who kill baby seals, and Americans who fight cocks, many Spaniards are horribly cruel to animals. At their worst, Spaniards – and the moronic tourists who flock to their bloody rites -- can be bloodthirsty barbarians, Dionysian devotees who succumb to mystical rapture during the torture and killing of animals.

Bullfighting is as pervasive in Spain as baseball is in the US, and bullfighters claim the same celebrity status as do sports stars here. But Spain honors unique cruelties that are unthinkable in the US.

Spain seems to be at a crossroads of change, however, as their blood sports have come under fire both domestically and internationally. Spain is a critical test for whether or not human beings can overcome their violent traditions and construct new identities no longer rooted in violence toward other species.

As I write this, thousands of revelers from around the globe swell the streets of Pamplona for the Encierros -- the annual "running of the bulls." By their own estimation, these moral misfits are having the time of their lives while helping to torture and kill bulls during the eight days of the San Fermin festival.

As this dark cloud hovers over northern Spain, where cruelty to animals is a cause for celebration and joy, I shudder in horror over the sad spectacle of human cretinism as I brood over the possibility of a viable future for such a disturbed and demented species. I contemplate how much the future of humanity depends on its ability to end wicked traditions, to stop hating animals and the natural world, and to adopt an ethics of reverence for life. Of course humans are cruel to one another and need to bring peace to interpersonal relations, but their war against nature is far more costly and arguably lies at the root of the current evolutionary impasse. In so many ways, the "animal question" is central to the human question.

Nothing less is at stake than the future of humanity and biodiversity. With its deep-seated traditions that tie the Eros of joy to the Thanatos of death and violence, Spain is a flashpoint for human transformation.

"Of all animals, man is the only one that is cruel. He is the only one that inflicts pain for the pleasure of doing it." --Mark Twain

"Compassion for animals is intimately connected with goodness of character; and it may be confidently asserted that he who is cruel to animals cannot be a good man."-- Arthur Schopenhauer

One automatically associates animal abuse in Spain with bullfighting, but bullfighting is only one form of animal cruelty featured in national "fiestas." Throughout the year, there are ten to twenty thousand fiestas, and every town and village has their own patron saint they honor with prolonged celebrations. Fiestas can be secular or religious in nature, but they always involve animal torture. Perversely, fiestas are most popular during religious holidays and particularly during Easter Week – with nary a word of objection from the Catholic Church. Spaniards also delight in rituals of animal cruelty on October 4, St Francis of Assisi's day, and they mark January 17, the day honoring San Antonio Abad, Spain's patron saint of animals, with chicken beheading competitions.

Animal rights activists in the US are rightly horrified by the animal abuse inherent in circuses and rodeos, but it pales in comparison to the catalogue of evils showcased in Spanish fiestas. Spaniards light the horns of a bull on fire and laugh at his torment while exploding firecrackers. They wrestle ponies to the ground and cut off their manes and tails. They suspend pigeons and squirrels in pots that they pelt with stones until the animals fall. They bury birds with their heads sticking up in order to decapitate them with swords. They throw ducks with clipped wings into the sea so that swimmers can rip them apart in tug-of-war contests. They grease pigs for catching contests that badly maul the animals. They string geese up by their feet and wrench their heads off.

Some fiestas are particularly infamous, such as the goat fiesta of Manganeses de la Polyorosa where villagers throw a goat from a church (!) tower. If the goat survives, it is drowned in the town fountain. Every year in the village of Villanueve de la Vera, drunken revelers drag a donkey into the streets and beat it to a bloody pulp. The "running of the bulls" in Pamplona is held every July. Each day for a week, six terrified fighting bulls are set loose in the cobbled streets as thousands of mindless daredevils try to dodge their deadly horns. The party ends with the brutal killing of the bulls. In the annual Fiesta of San Juan in Coria, Spain, tourists and locals armed with blowpipes shoot bulls with darts until their bodies are a bloody mess, and then they castrate and kill them.

These are dramatic examples of what author Jim Mason (An Unnatural Order: Uncovering the Roots of our Domination of Nature and Each Other) describes as "misothery" – human hatred and contempt for animals. Beginning at least with the emergence of agricultural society ten thousand years ago, human beings constructed their cultural and personal identities to a large degree as species identities, premised upon a sharp line of opposition between their animality and that of all other species. They thereby endowed themselves with special privileges by virtue of their powers of reason, speech, technology, or, in the Christian tradition, their alleged likeness to God. The result is what Mason calls the "dominionist" worldview whereby human beings arrogate to themselves supreme authority over the Earth and its living inhabitants.

A steady decline in reverence for animals is present in the transition from the Egyptian deification of bulls to the Greek naturalization of hierarchy to the bloodletting of the Roman Colosseum where sometimes thousands of animals a day were slaughtered for "entertainment." Once a rigid opposition between human and nonhuman animal is made in theory, it is perpetually established in practice through rituals of domination. Animals become objects onto and through which human beings release and generate aggression. In endless "contests" ranging from bullfighting to rodeos to alligator wrestling, "civilized man" asserts, affirms, and celebrates his superiority over "wild nature."

The tragic flaw in the human species is its historical need to define itself not only as radically different from all other species, but also as infinitely greater and more advanced. This schizophrenia is a general human phenomenon, but Spaniards have elevated cruelty to an "art form," which in fact is how they view bullfighting.

Dr. Steven Best is Associate Professor and Chair of the Philosophy at University of Texas, El Paso.
---
Joined
Apr 18, 2006
Activist Aspirations
Enthusiastic
Here for
Support a Cause
Group Host of
none yet
Groups
Canine Concerns: Stop Puppy Mills / Dog Chaining & Fighting, Care2 Feedback and Suggestions, Cat Lovers, For Those Who Have No Voice, Friend Of The Week, INTERNATIONAL PEOPLE FOR ANIMALS - IPFA, International Organisation for Animal Protection - OIPA in India, People against bullfighting, Protect our Wild Predators, SEA SHEPHERD CONSERVATION SOCIETY - Outreach on Care2, ThePetitionSite Center, Warriors for the Voiceless, Whale Call Cafe
Hometown
Homepage
Birthday
Jan 21
Languages
Spanish, English
About Me
A dog sits waiting in the cold autumn sun
Too faithful to leave, too frightened to run.
She's been here for days now with nothing to do
But sit by the road, waiting for you.
She can't understand why you left her that day.
She thought you and she were stopping to play.
She's sure you'll come back, and that's why she stays.
How long will she suffer? How many more days?
Her legs have grown weak; her throat parched and dry.
She's sick now from hunger, and falls with a sigh.
She lays down her head and closes her eyes.
I wish you could see how a waiting dog dies.
~ Author Unknown
Introduce yourself to Marisa
Lifestyle
Pets
5 cats rescued from the street
Activist Aspirations
Enthusiastic
Political Leaning
Religions

Eating Habits
100% VEGAN, Dark 85% chocolate, Tea with soya milk, VEGAN Spanish omelette - no eggs!, - ask me for the recipe! -
Wild Fact About Me
My Philosophy
Live and let live.
What Gives Me Hope
The many wonderful Spanish activists who give so much of their time and effort to help animals, at demos and brave actions. I really, really love them all dearly!
Logging into Care2 when I feel I'm so alone trying to defend animals... seeing how many more people do care and are active defenders gives me extra strength to continue the fight.
If I were Mayor, I'd make the world a better place by
I would make it illegal to kill, full stop - not just humans but ANY CREATURE. All creatures would have equal rights. A killer or mistreater of any animal would get arrested and tried in court just like killers of humans. I'm not religious, and I find the "Thou shalt not kill" commandment really misused for people's comfortable convenience. It does NOT say Thou shalt not kill men or women, it commands not to kill FULL STOP! That includes any creature, any species, anything that's alive, but as with most religions we conveniently adapt it and say it only means humans. VERY HYPOCRITICAL and very selfish, but that's how we are.
What/who changed my life and why
Taking a walk in Cornwall in 1985, I walked past a gate where a group of cows had gathered. I stopped to look at them and say hello, and they were all looking into my eyes, and as I looked into theirs, I 'woke up', I couldn't believe I actually ate those beautiful, innocent, gentle creatures, and thought, How can I let some cruel, careless bastard kill you so I can eat your flesh?! - I became a vegetarian there and then, and from that moment on I haven't tried any meat or fish. Now I'm a vegan.
What Bugs Me
BULLFIGHTS - they must be banned!, Animal cruelty of any kind, Cruelty of any kind, That killing is legal, Greed, Animal trade, Disrespect for other c, People who don't recycle
Passions
People who passionately defend animals
Inspirations
My vegan grandmother, My mother, Animals, Nature
What Scares Me
The HUMAN species!, Ignorance
Favorites
Role Models

Quotation
"IF BULLFIGHTING IS ART, CANNIBALISM IS GASTRONOMY" - Manuel Vicent, Spanish writer and journalist

"Animals are my friends, and I don't eat my friends." ~ George Bernard Shaw

"Hunting is not a sport. In a sport, both sides should know they're in the game." ~ Paul Rodriguez (To which I would add: and have the same weapons.)

"I have always held firmly to the thought that each one of us can do a little to bring some portion of misery to an end." ~ Albert Schweitzer

"While we ourselves are the living graves of murdered beasts, how can we expect any ideal conditions on this earth?" ~ George Bernard Shaw

"But you must not forget it. You become responsible, forever, for what you have tamed." ~ from The Little Prince

"I am only one, but still I am one; I cannot do everything, but still I can do something; and just because I cannot do everything, I will NOT refuse to do the something that I can do." ~ Helen Keller

"The love of all creatures is the noblest attribute of man." ~ Darwin

"The weak can never forgive. Forgiveness is the attribute of the strong." ~ Mahatma Gandhi

"For the life of the flesh is in the blood. No soul of you shall eat blood." ~ The Bible's book of Leviticus

"Do not wait for leaders. Do it alone, person to person." ~ Mother Teresa

"Thou shalt not kill any living thing, for life is given to all by God, and that which God has given, let not man taketh it away." ~ Jesus, Gospel of the Holy Twelve, (earliest known recorded words of Jesus)

"The soul is the same in all living creatures, although the body of each is different" ~ Hippocrates

"The surest sign that intelligent life exists elsewhere in the universe is that it has never tried to contact us." ~ Calvin and Hobbes (Bill Watterson)

"Everyone who is seriously involved in the pursuit of science becomes convinced that a spirit is manifest in the laws of the universe – a spirit which is vastly superior to that of man and one in the face of which we with our modest powers must feel humble." ~ Albert Einstein

"What is man without the beasts? If all the beasts were gone, man would die from a great loneliness of the spirit. For whatever happens to the beasts, soon happens to man. All things are connected." ~ Chief Seattle

"Almost always the creative, dedicated minority has made the world better." ~ Martin Luther King Jr.

"Every day you are invited to make choices.
Align your choices with your values... and change the world." ~ Nonviolenceunited.org

"It is a waste of energy to be angry with a man who behaves badly, just as it is to be angry with a car that won't go." ~ Bertrand Russell

"If you want the rainbow you have to put up with the rain." ~ David Nisbet's Care2 profile (Dolly Parton?)

Un mal no justifica otro.
Interests
ABOLISHING BULLFIGHTS!, ABOLISHING CRUELTY!
Books
Mundo al Reves (Angel Padilla)
Music
Whatever touches my soul, The Beatles, Chopin, Mozart
Movies
Stand by Me, The Seventh Seal, Rear Window, A Matter of Life and Death, Anything Marx Brothers, Anything Monty Python, The Rutles, Time Bandits, It's a Wonderful Life
TV Shows
The League of Gentlemen, '60s series The Prisoner, Monty Python's Flying Circurs!, Fawlty Towers, American Dad, The Wonder Years, Frasier
Favorite Foods
Vegan!, Crunchy peanut-butter'n' banana sandwich, VEGAN Spanish omelette - no eggs!, - ask me for the recipe! -, 85% chocolate
Favorite Places
Earth
Can't Live Without
Hope
Introduce yourself to Marisa
My Butterfly Rewards
Most recent activity (up to 500 gifts shown)
---
I've earned Butterfly Credits