"Voice for the Voiceless"

Gerrans, Cornwall Uk, SW, United Kingdom
female, age 64
married, 2 children
Cornwall's Voice for Animals & Photographer/Just Nice Photos ( ,com )
Speaks: English, Greek
Joined Mar 17, 2002





People should never give away their gifts – but this gift was intended to and needed to be given, to the world …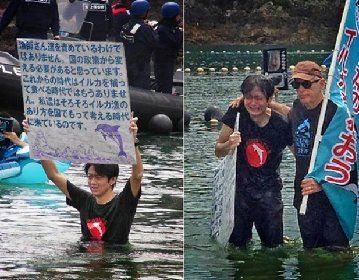 Shepherds of The Seas - take a few moments to read all about it and listen to this amazing song here -
http://www.maria-daines.com/music-143.html
Also on soundcloud – free download.
https://soundcloud.com/maria-daines/shepherds-of-the-seas

I hope this song will live on, reach hearts and change minds.
I hope it will help to bring an end to this horrific emotional and physical slaughter our dolphins and whales – everywhere !!
How lucky am I to have had two amazing songs written for me by this lady who's voice reaches the depth of one's soul !!!
Add your voice of support for Satoshi Komiyamas Fight Against The Dolphin Slaughter here:
http://takeaction.takepart.com/actions/add-your-voice-support-satoshi-komiyamas-fight-against-dolphin-slaughter?cmpid=action-share
Please sign and share this petition: http://www.thepetitionsite.com/3/stop-the-dolphin-slaughter
Please write short, to the point, always be polite letters !-
STOP THE SLAUGHTER & KIDNAPPING for CAPTIVITY !!!
Email addresses to send your letter can be found here
http://callofthecove.wordpress.com/embassies/
The Most Radical Idea in History!
7 October 2013
By Roland Windsor Vincent

Animal Rights is the most radical social and political idea in human history. It flies in the face of thousands of years of religious practices and beliefs! It defies human self-interest, arrogance, cruelty and bigotry. Animal Rights re-defines what it means to be a human being. It is the closest people have ever come to being spiritual, caring and compassionate creatures.

It is a philosophy more radical than democracy. More radical than ending human slavery! More radical than any religion. More radical than any concept in history.

Animal Rights is the radical notion that animals have as much right to be on this planet as humans have. As much right to live. The rights not to be exploited, enslaved or murdered. The same rights we as humans declare for ourselves.

Having compassion for animals is not the same as supporting animal rights.
Just as having compassion for children is not the same as supporting human rights.

Loving your dog or cat has nothing to do with Animal Rights. Even Hitler loved his German Shepherds. I'm sure people who shoot cows in the head all day long or slit the throats of sheep and pigs have dogs at home who are like family!

To embrace Animal Rights one must reject the notion that animals are property, or that we have the right to exploit or enslave or murder them! This flies in the face of conservative dogma that private property is sacred, the Holy Grail of conservatism.

What changes would be required to achieve our goal?
Nothing less than a quantum shift in law, government, and politics.

For animals' rights to be assured, owning them must be prohibited! Radical changes in government would be required! Governments would have to guard animals' interests even more zealously than peoples' interests! Intentional harm to all animals would be crimes, just like intentional crimes against humans.

It would mean the end of capitalism as we know it. The end of profitting on animal exploitation, suffering and death. The end of animals as food, clothing, testing subjects, and entertainment. No more hunting, rodeos, sea parks, or bullfighting. No cat or dog death camps, no factory farms, slaughterhouses, horse racing, or fur.

In short, we're talking about changing civilization as we know it.

Rather far from our present circumstances. And hardly likely to be embraced by moderates, let alone conservatives.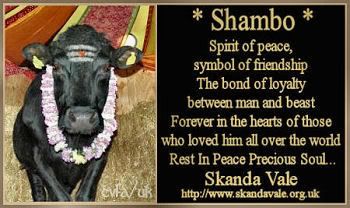 Shambo 'For Mary Alice'

When you are helpless I will be able
When your head is bowed I am your cradle
Though they take your body, I embrace your soul
By candle light your spirit, whole
Your burden, my strength
My tears, your release
Ascend to heaven, proud beloved beast
Always know that I stood brave and true
For those that live on, I will fight for you
And in your name let each be spoken
N'er this peace, this love be broken.

Maria Daines
2007

"Nobody is allowed to close his or her eyes and pretend they cannot see the suffering, nobody can relieve themselves of the weight of responsibility- when an animal is badly treated; when the cry of animals dying of thirst in transport reaches no one; when slaughterhouses are filled with so much cruelty; when animals die in pain for our dinner plates; when animals suffer because of ruthless people we should all be blamed….
Respect for life requires us all to seek opportunities to help animals in every possible way, knowing as we do the scale of evil caused to animals" Albert Schweitzer.




Photography takes an instant out of time, altering life by holding it still. - Dorothea Lange -
Joined
Mar 17, 2002
Activist Aspirations
Enthusiastic
Here for
Meeting Friends, Professional Connections, Support a Cause
Group Host of
none yet
Groups
ANIMCORD: Would you like to save abandoned animals?, Activists 4 Abandoned Animals, American Eskimo Dog Rescue, Animal Activists, Aquarium Enthusiasts, CANADIANS PROACTIVE & GLOBAL CITIZENS, Care for Chinese Animals, Cat Lovers, Dog Lovers, Get Out The Progressive Vote!, Greenpeace, Guinea Pig Group, Healthy Cooking, International Wildlife Rescue more »
Hometown
Gerrans, Cornwall - England
Homepage
http://twitter.com/CornwallsVoice
Birthday
Nov 06, 1953
Languages
English, Greek
About Me
Cornwall's Voice for Animals.UK
' Animal Rights/Human Rights ' on Twitter: http://twitter.com/CornwallsVoice


Representing: The International Organization for Animal Protection
NGO affiliated to the UN Department of Public
Information http://www.oipa.org/
Introduce yourself to Mary Alice
Lifestyle
Pets
Budgies, Cats, Dogs, Fish
Activist Aspirations
Enthusiastic
Political Leaning
Indifferent
Religions
Spiritualist
Eating Habits
Vegetarian
Wild Fact About Me
Everything I do - I do completely - in my work it is said that I start the spark, and watch it burn until it is a raging fire - :) To make right, so many wrongs in this world !
My Philosophy
Never to do or say to others what I would not want done or said to myself. I have a very sore tongue sometimes !
What Gives Me Hope
All the beautiful things our wonderful and beautiful planet has given us - open your eyes everyone - there is so much beauty out there if only you just take a look around you ! We forget to appreciate what we have - the simple things in life ... how do we get this back, hey hang out with a little child for a day, they notice everything - things we have forgotten about as we grow :) !
If I were Mayor, I'd make the world a better place by
Work with the heart - just apply good old fashioned, common sense ( which doesn't seem to happen any more these days )
What/who changed my life and why
Emma Penno Petch
November 4th. 1908 - October 10th. 1994




This is dedicated to the memory of my mother ( Emma Penno Petch ) who passed away on October 10th. 1994. She was a remarkable woman; author, artist, activist in American Indian Rights, and Animal Welfare, most importantly a fantastic mother who taught me the real meaning of loving all forms of life, and how important it is to respect and not abuse in any way, that which mother nature has given us. It is because of her support and strength that I was able to do the things I have done in my life, the places I have gone and the people I have met...she tought me to fight for the rights of all living things - and I have done my best to live up to her standards, her belief's, and to do only what would make her proud !
She has been always here with me, watching over and guiding me ~ this page is just a my small way to say thank you for those treasured years !
It is with such pride that I publish here, an article that she wrote on December 12th., 1936
It is my favourite as it holds true to me also as this is what she impressed on me when I was a child also and like her, I have come home too !

______________________

A Canadian Goes To Cornwall
By
Emma Penno Petch

' Onward '
A Paper for Young Canadians
Toronto, December 12, 1936
____

Emma P Petch August 1994
Falmouth Cornwall

When, from early childhood, my grandmother told me of Cornwall, it was of a dear magic land, where cherries grew round and fat and black, with a girth at the base of the tree like " yon wash tub "; where the fields were not all square like ours, and there were poppies in the corn. And every field had a name; there was Upper Groggley and Lower Groggley, Gold Diggings and Little Danby. One could lean from the window and pick sweet pears from the cottage wall; it was a wonderful place where everybody ate five times a day. And when the colts came home from the downs, one could tell by the looped strand of its mane which one had a pixie for a rider.
Cornwall was a wonderful land of primroses and cream and cider; and of folk who sang at their work. And not far off was a strange sea with its lifting tides and fishing boats and treacherous caves where smugglers met. And some day I must go there .....
It was my fortune, twenty years later, to go to Cornwall. And now I can tell you what we found:
Cornwall's a little place, but so full of things it is as if the Maker piled them in one on top of the other. In reading the adventures of Arthur's knights, one may have wondered how they ever encountered one adventure right after another in such incredibly short order. But that mystery vanishes when one sets out to walk a Cornish lane. For - why, one is always coming to something ! If it isn't a magic well, it's a hill. steep as the slant roof of a house and with a view of distant pyramids about a clay pit; or else it's a quick brown river with maybe an old grey mill and water-wheel. Or it's four stout horses - not abreast, like ours, but one after the other - hauling sheaves up the incredible steepness of another cornfield. If it isn't pink foxgloves against a grey wall, it's a pink sheep in a meadow. All English sheep are dipped, and the dip makes them a positive and luscious pink like early strawberries.
And from the slope of that same meadow one sees the little fields spread like a quilt; " not all square like ours, " but square, round, oblong, crooked - convenient for a laborer swinging a scythe. And each has its encircling hedge, which may be just a mound of earth where primroses grow, or stones splashed with lichen, or more probably a low mound of earth and stone on which grows a thick screen of green shrubbery. No doubt mice like Mrs. Tittlemouse live under these hedges; and I wouldn't put it past the pixies, either ! And every field has it's name; there is Upper Groggley and Lower Groggley, Gold Diggings and Little Danby. The little fields are still there - but I did see a tractor ploughing them.
Cornwall, we found, is just as dear and just as magic as granny said; but with earth as firm and real as in Ontario. We also learned that one may actually become tired while climbing up the pixie downs ( for they go up as well as down ), and really full from eating five times a day. We went to good hotels, at first; we wore our best cloths, we sat up straight in our chairs and were faultlessly served by a waiter. But then we found some friends; they took us in, and gave us hot pasties and blackcherry jam with Cornish cream; they went with us to see the sea, with its strange lifting tides and fishing boats and fearsome caves where the smugglers met; they talked of their forbears and ours. And though we had never seen their faces before, we felt we had always belonged. but only now found our way home.

Emma moved from Canada to her beloved Cornwall in 1970 and passed away in Falmouth
on October 10th 1994.
She always said "These years here have been the best years of my life ! "
And I can say the same !


******
Mother's biggest passion - Animals
Mother's faourite flower: A Single Red Rose
Mother's Favourite Hymn: Amazing Grace
She had such a strong love and admiration for the Native American Indian People - and for her love for a man that I have always respected and admired, Grey Owl .

My Thanks To Her, For giving to me so much love over the years !
And forever watching over me - and my family and guiding me in my work for animals !


Mary Alice
What Bugs Me
wars, slaughter of animals, racism of any kind, Selfishness, Animal Abuse, Human Abuse, Dishonesty
Passions
Music That Stirs The Soul, gardening, Animal rescue, Photography of beauty around me, photography and graphic design, Helping animals and people
Inspirations
My Mother and her attitude towards life
What Scares Me

Favorites
Role Models
I have many people from the past and in
Quotation
"Of all the creatures, man is the most detestable. Of the entire brood, he's the one that possesses malice. He is the only creature that inflicts pain for sport, knowing it to be pain. The fact that man knows right from wrong proves his intellectual superiority to the other creatures; but the fact that he can do wrong proves his moral inferiority to any creature that cannot."
- Mark Twain -
American Novelist
Interests
photography, music
Books
FACTUAL TRUE LIFE
Music
folk, bluegrass, country, blues, rock
Movies
Earthlings, Beyond The Mask
TV Shows
animals and documenteries
Favorite Foods
Anything hot and spicy and flesh free !
Favorite Places
In front of a fireplace at night!, Any place with snow!, www.justnicephotos.co.uk, Home - even though I love to travel, with people who are true and loving :)
Can't Live Without
Air, Water, Plants/Trees, Animals Love, And sometimes human companionship !
Introduce yourself to Mary Alice
My Butterfly Rewards
Most recent activity (up to 500 gifts shown)
---
I've earned Butterfly Credits