"to live with grace and help others along the way"

Kearney, NE, USA
female
single
Speaks: English, French
Joined Oct 19, 2005





Hello again,
It's been great reconnecting with some of you on Facebook but it's nice to be back in butterfly habitat :-) Sorry that I've been gone for so long. It's been "annus horriblis" times two since I was last here. You can catch up on all of the details by visiting my blog
Pam's Coffee Conversation
You can also catch up with me at the page for
PamelaKemp.com
. Going forward I will do my best to pop into Care ever few days and add fresh content every week or so. I look forward to chatting with you again and I hope that you enjoy the page -- Pamela Lyn



* * * * *

I have learned:

"SUCCESS is many things to many people, but if you have the courage to be true to yourself, to live up to your potential, to be fair with others, and always look for the good in any situation... Then you will have been the best you can be, andthere's no greater success than that."

-- Linda Lee Elrod


*****



"The ultimate measure of a man is not where he stands in moments of comfort and convenience, but where he stands at times of challenge and controversy."
Martin Luther King Jr., Strength to Love, 1963




"Few men are willing to brave the disapproval of their fellows, the censure of their colleagues, the wrath of their society. Moral courage is a rarer commodity than bravery in battle or great intelligence. Yet it is the one essential, vital quality for those who seek to change a world which yields most painfully to change. " --
Robert F. Kennedy, 1966 speech




******







" If a man be gracious to strangers, it shows that he is a citizen of the world, and his heart is no island, cut off from other islands, but a continent that joins them." --
Francis Bacon
" I know not with what weapons World War III will be fought, but World War IV will be fought with sticks and stones. "
-- Albert Einstein
" Too many of us look upon Americans as dollar chasers. This is a cruel libel, even if it is reiterated thoughtlessly by
the Americans themselves." -- Albert Einstein
"All I would tell people is to hold onto what was individual
about themselves, not to allow their ambition for success to
cause them to try to imitate the success of others. You've
got to find it on your own terms." -- Harrison Ford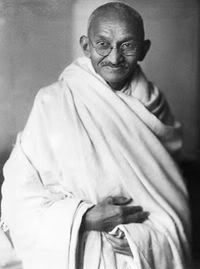 "The function of a civil resister is to provoke response. And
we will continue to provoke until they respond. They are not in control. We are."

"When I despair, I remember that all through history the way of truth and love has always won. There have been tyrants and murderers and for a time they seem invincible but in the end,they always fall--think of it, ALWAYS."
-- Mahatma Gandh




photos courtesy of Corbis.com & Getty Images
Joined
Oct 19, 2005
Activist Aspirations
Enthusiastic
Here for
Meeting Friends, Professional Connections, Support a Cause
Group Host of
none yet
Groups
"Fitness Friends", "Women's Joy in Jesus", $ Boycotts $, (APPPN) A Petition Posting & Peoples Network, (PTT) Peace Think Tank, Care2 Feedback and Suggestions, Choose Peace and Tolerance!, DONE with Dubya (Formerly Down with Dubya), Free Burma!, Global Healing, Graphics Galore, Habitat for Humanity, Help The Prisoners, Homeless Civil Rights and Civil Liberties more »
Hometown
Homepage
http://www.pamscoffeeconversation.com
Birthday
Nov 01
Languages
English, French
About Me
Since 2006 I have been the primary family caregiver for an elderly parent who suffers from the respiratory conditions of Asthma & COPD as well as a neurological condition known as NPH (Normal Pressure Hydrocephalus). As an offshoot of my role as a family caregiver I blog about my experiences and use various social platforms to advocate on behalf of caregivers and other individuals with similar health conditions. I am currently using social media to raise awareness of issues facing family caregivers as well as persons with neurological or respiratory related illnesses. I am currently working on a draft of a proposal to create a non-profit which will address this issue. Also, in the near future I hope to complete a book which chronicles my mother's health issues and my struggles as her caregiver.
Introduce yourself to Pamela
Lifestyle
Pets
none at present time
Activist Aspirations
Enthusiastic
Political Leaning
Liberal
Religions
Christian - Other
Eating Habits
Coffee - Now!
Wild Fact About Me
A diverse taste in music that includes R&B, Rock, Country, Celtic, New Age
My Philosophy
"To whom much is given much is required" -- author unknown
What Gives Me Hope
my faith, little children, sunrises and the loyalty and devotion of pets
If I were Mayor, I'd make the world a better place by
Use my office as a "bully pulpit" to advocate for social and environmental responsibility. I probably would not stay in office long.
What/who changed my life and why
Martin Luther King Jr. and Robert F Kennedy because of their visions to make this world a better place
What Bugs Me
people who exploit others, people who take advantage of others, people who twist the message of Jesus, cruelty, hypocrisy
Passions
nature, spirituality, broadening my horizons, LIFE!!!
Inspirations
The Great Spirit
What Scares Me
IGNORANCE!
Favorites
Role Models
Dame Judi Dench, Christiane Amanpour, Jesus Christ, Martin Luther King Jr., Oprah Winfrey, Maya Angelou, Marianne Williamson, Erin Brokovich, Dixie Carter as Julia Sugarbaker, Tina Turner
Quotation
" My religion consists of a humble admiration of the illimitable superior spirit who reveals himself in the slight details we are able to perceive with our frail and feeble mind." and "There are only two ways to live your life. One is as though
nothing is a miracle. The other is as though everything is a
miracle." - Albert Einstein
Interests
cultural studies, cooking, poetry and writing, poetry, political activism, social activism, herbs, history, music, Mythology / Folklore, wildlife, Spirituality/Philosophy
Books
The Bible, everything by Alexandre Dumas, Anything by Marianne Williamson, Anything by Stephen King, Anything by John Grisham, The Prophet-Khalil Gibran
Music
Classic Rock, Country, Southern rock...you can't get any better, some classical, world music, Christian Worship music, Classic R and B, Contemporary Celtic
Movies
An Affair to Remember, Arsenic and Old Lace, The Insider, Amistad, The Bishop's Wife, The Constant Gardener, Dear Frankie, Erin Brokovich, Braveheart, Gladiator, Hotel Rwanda, The Lord of the Rings trilogy, The Star Wars ( original trilogy), Kingdom of Heaven, It's A W
TV Shows
BBC America, PBS in general, Victory Garden, Leverage, Bill Moyers Journal, Ramsey Kitchen Nightmares, How Clean Is Your House, Law and Order (all of them), The Vicar of Dibley, Animal Planet, Food TV, Midsomer Murders
Favorite Foods
Seafood, Fresh fruits, southern american soulfood, cajun italian, greek, Virtually anything from the grill
Favorite Places
Montreal - Quebec - Canada, Savannah, North Carolina, New Hampshire- White Mountains, farms, mountains
Can't Live Without
love, my faith
Introduce yourself to Pamela
My Butterfly Rewards
Most recent activity (up to 500 gifts shown)
---
I've earned Butterfly Credits