"I want to survive the destructive stupidity of the human species and retain the qualities of a humanist with acceptance and love of our frailty."

Rome, NY, USA
female
married, 5 children
Speaks: English
Joined Jun 27, 2000





Alex


The Canada goose is perhaps one of the most magnificent migratory birds of North America. Who doesn't remember the days when great flocks of Canada Geese flew overhead in perfect formation on their way to their winter habitats and on their return to their great nesting areas of Canada? And, how we were in awe of such a sight, one of the few experiences of a growing urban society to see wildlife, although ever so briefly.

But, In recent years, a once small population of "resident", non-migratory Canada geese, the remnants of hunting stocks, have grown in numbers so that in many of our communities, the Canada goose is seen as a nuisance and is the source of a growing controversy, pitting neighbor against neighbor and institution against institution, on what to do about it.

Canada Goose Facts
• Life expectancy about 20 years
• Weight: 20-25 pounds
• Migration is a learned process
• Migratory geese flight range 2 – 3 thousand miles
• Resident geese flight range: 100 –200 miles to find food, water, and safety.
• Resident geese can fly long distances as their migratory cousins, but generally have learned that it is not necessary.
• Migratory geese do not become resident geese unless they are injured.
• Mating season: February to March
• Geese mate for life and will stay together during all seasons.
• Geese will find a new mate if mate dies or is killed.
• Migratory geese nest in Canada.
• Geese nesting in the U.S. are "resident" geese who were born here.
• Resident geese were imported to the area for rebuilding dwindling numbers for conservation or hunting. The urban nuisance was not anticipated.
• Nesting Season: Mid March to mid May
• Age of geese when they begin to nest: 3 years
• Geese return to the general area of their birth each year to mate and nest. Sometimes the exact site, sometimes a nearby pond or other body of water.
• The instinct to return to their general area or birth is very strong.
• Migratory geese fly 2,000–3,000 miles to return to these sites.
• Resident geese do not know how to migrate.
• When geese are chased from their traditional nesting area or the nesting area has too many nesting pairs, they find alternative sites to nest … sometimes farther from water, sometimes in nearby ponds, sometimes on rooftops or balconies. They will hide their nests.
• Geese prefer isolated sites near water to nest. Islands are their favorite location.
• Nests are usually on the ground, in the open.
• Sometimes geese nest in brushy or swampy areas not subject to flooding.
• When egg laying begins the "Father" goose will stand sentinel watch nearby, but not so close as to give away location of nest to a predator. When a solitary goose is seen during nesting season a nest is somewhere in the vicinity.
• The eggs in a nest are called a "clutch"
• Average number of eggs in a nest: 5
• Mother goose lays 1 egg approximately 1_ days apart until full clutch is obtained.
• Eggs not being incubated are cool to the touch.
• Mother goose waits until all eggs are laid before she begins to sit on nest to incubate eggs
• Incubation time: 28 – 30 days
• Undeveloped eggs (still fluid) will sink or float vertically with the wider portion of the egg pointing down.
• Developed eggs will float horizontally or at a slight angle and break the surface of the water. At that point they are one to two weeks away from hatching.
• All geese eggs in a single clutch hatch on approximately the same day
• Baby geese are called "goslings".
• Natural predators of geese are foxes, raccoons, owls and snapping turtles
• Goslings can fly approximately 2-3 months after hatching.
• During June adult geese lose wing feathers and are unable to fly. This is called molting.
• Molting season runs from early June to late July.
• Geese can fly again approximately 6 weeks after molting.
• Generally by early August all geese (except injured geese) are able to fly.
• During the molt geese need to be near water (any water) for easy escape from predators. The molting area needs an easily accessible food supply.
http://www.geesepeace.org/geesepeaceframeintro.html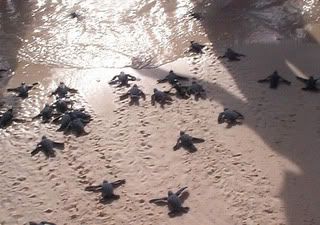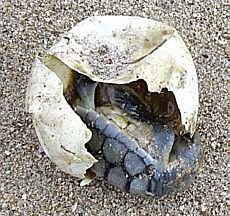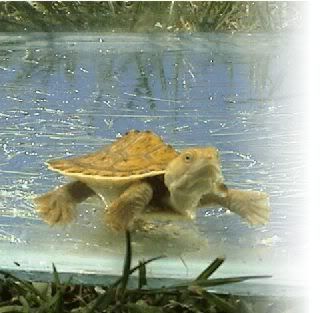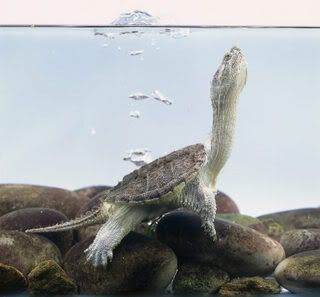 Marine Turtles
Sea turtles, air-breathing reptiles with streamlined bodies and large flippers, are well adapted to life in the marine environment. They inhabit tropical and subtropical ocean waters throughout the world. Of the seven species of sea turtles, six are found in U.S. waters: green, hawksbill, Kemp's ridley, leatherback, loggerhead, and olive ridley.
Although sea turtles live most of their lives in the ocean, adult females must return to beaches on land to lay their eggs. They often migrate long distances between foraging grounds and nesting beaches.
Status of Marine Turtles
All 7 species of marine turtles are listed under the Endangered Species Act (ESA); 6 of those species fall under the jurisdiction of the NOAA Fisheries Office of Protected Resources. Green turtles and olive ridley turtles have breeding populations that were listed separately under the ESA, and therefore, have more than one ESA status.
(E = "endangered"; T = "threatened")
More Here:
http://www.nmfs.noaa.gov/pr/species/turtles/
Tortoises and freshwater turtles are among the most endangered orders of animals. There are about 300 species of tortoises and freshwater turtles in the world (the exact number is debated.) IUCN's Red List Authority has so far assessed approximately 200 species and has already found 122 to be threatened. Analysis by CI, IUCN, and partners suggests that at least 40% - possibly more than 60% - of all tortoise and freshwater turtle species are in imminent danger of extinction.
Despite this dire situation, few organizations have made concerted efforts to protect tortoises and freshwater turtles. While marine turtles have received significant attention for nearly half a century, their freshwater counterparts have not been as fortunate. CABS' Tortoise & Freshwater Turtle Conservation Program (TFTCP) is an active participant in global conservation efforts to help rescue these animals from the brink of extinction.
Source: http://tinyurl.com/39rj7t

+++++++++++++++++++++++++++++++++++++++

Hometown
Homepage
Birthday
March 15
Languages
English
About Me
relentlessly curious
stubborn
frugal
gives a damn
Introduce yourself to Vi
Lifestyle
Pets
cat
Activist Aspirations
Casual
Political Leaning
Liberal
Religions
Seeker
Eating Habits
Coffee - Now!
Wild Fact About Me
I am a boring person
My Philosophy
I link, therefore, I am!
What Gives Me Hope
The next generation that is awake and thinking
If I were Mayor, I'd make the world a better place by
....I would listen to people, not money!
What/who changed my life and why
Kurt Vonnegut, because he validates my world view and confirms I am not crazy.
What Bugs Me
lack of ciritical thinking
Passions
My Children and grandchildren
Inspirations
courageous people
What Scares Me
bushes
Favorites
Role Models
Patricia Brooks Coupeville WA
Quotation
The more taboos and prohibitions there are,
the poorer the people become.
The more deadly weapons there are,
the more our fears turn us numb.

When craftiness spreads far,
the more bizarre what is done,
The stricter the laws there are,
the less the robbers run.

Lao-tzu (abt.551-479 BCE)
Interests
World Events, Spirituality/Philosophy, propogating house plants, herb gardening
Books
C S Lewis, Robert A. Heinlein, Isaac Asimov, Tolstoy, Tolkien, Vonnegut, Douglas Adams' books, Arthur C Clarke
Music
Everything but rap
Movies
Hitchhiker's Guide to the Galaxy, Starship Troopers (1997), i robot, Harrison Bergeron, Breakfast of Champions, Catch 22, Lord of the Rings series, SPACE ODESSEY 2001, Harold & Maude
TV Shows
C-Span junkie
Favorite Foods
Everything, except...., Negative Pigs' Feet, Negative Limburger Cheese, Negative Anchovies
Favorite Places
Woods/Forests, Mountains and the ocean, Water locations
Can't Live Without
My Children/Grandchildren, my computer!
Introduce yourself to Vi
My Butterfly Rewards
Most recent activity (up to 500 gifts shown)
---
I've earned Butterfly Credits